As always, I had forgotten the way to his house in Chandigarh. We later cursed Corbusier (in Hindi) for designing a cold city with straight lines, without any landmarks. The door to Malkit Singh's house was open. He told me that no one could steal anything from him. That he had nothing.
"Well, if a thief breaks in just for art, he deserves to take it all," he had said. That was my last rendezvous with him.
Today, my cellphone has been ringing since morning. Everyone is talking about Malkit Singh, who died on Friday (January 19). He was 75.
An "art critic" had a major problem with me when I told her that he had died the day he was operated upon more than a year back. Yes, he had told me, "I see the deep wound on my chest every day. Sometimes I open my shirt and look into the mirror. Who knows, what all was taken away?"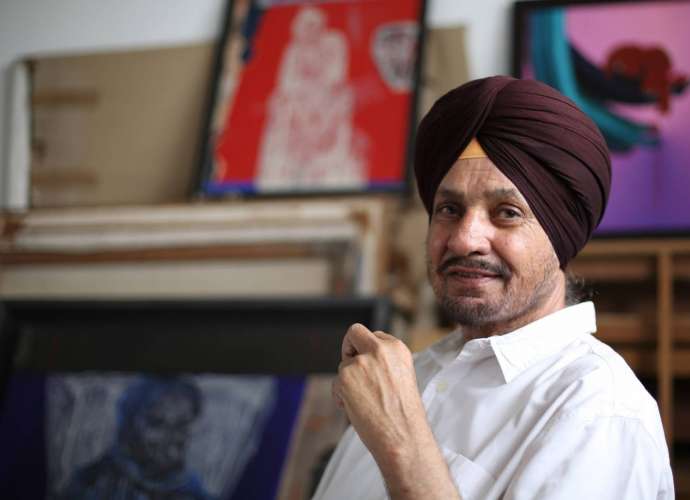 He had said that in all seriousness and then laughed. The tall, well-built man was not even a shade of his former self after the surgery. The "interview" with him on that day had lasted for two hours. The photographer had almost slept. I think Singh too had dozed off. It was lunchtime, but his helper hadn't come on that day. So he made tea for us. There was a half-empty bottle of Johnny Walker Red in the kitchen. "Small pleasures of life, you see. After all, one has to keep the heart beating. What do the doctors know?" He had served biscuits. Offered a strange fruit. "I don't know its name, but it grows in PGI. Eat it and your woman will always stay happy." I don't remember touching the biscuits.
That day we spoke about his last work, "Waiting", for a very long time. He gave a detailed account of his surgery, what was going on around the operation table. "The doctors had sharp instruments, the technicians kept looking at me. Suddenly the women staff there appeared to be 'rudaalis'… It seemed they would start the mourning ritual anytime. I sank," the 74-year-old had said.
Originally, conceived as a series, Singh decided to stop at one painting after remembering his trip to Japan post-Tsunami. When he had asked the organisers if he could paint the tragedy (Tsunami), they refused.
"They said they didn't want to remember the bitterness of the past, the rage of the ocean."
But how could an artist like him escape the past?
(Ironically, he was someone whose ultra-modern apartment had its every corner adorned with images from his village, Lande in Moga district.)
"I cannot, no matter how hard I try. You know, everyone I knew in my village has passed away… all my friends. But I still go there regularly. I see their houses, the places, the labyrinths where we hid, the corners that sheltered our gossip. I also visit my fields where I had scattered the ashes of my dead family members. I don't know if anyone will do that with mine."
For Singh, who wanted to paint "Baramasi" (the 12 months and their interrelationship), recording and archiving his experiences on paper and canvas was indispensable.
"Everything cannot have a shade, so I write too. I need to record some instances… A beautiful gypsy Muslim woman pleading with my mother to let her marry me, the letter from a Pakistani fighter pilot who was originally from my village and refrained from bombing it during one of the India-Pakistan wars, of my wife in Canada whose illness has made her forgot my name. She used to call me 'Major', like many others in my village."
Singh had stressed that like in life, one should not always look for logic in art.
"You just need to dig deeper and believe in the voice. I too am hearing something… 'go to Toronto and visit your wife. She is suffering'. She won't die unless I tell her my name."
Now that he can't go, someone will perhaps tell her that 'Major' is no more. She will perhaps recall his name again. Or maybe she won't.