The year, so far, has seen ladies on the Bollywood screen land karate chops on evil cops, valiantly fight the trauma of molestation, wear the pants in a marital relationship with aplomb, and land in Pakistan in search of love.
Akira, Pink, Ki & Ka and Happy Bhag Jayegi may not define flawless cinema, but these films focus on a pleasant trend: If the past few years saw the quiet rise of films that let the mainstream heroine take centrestage, this year shows Bollywood is trying to create uncharted spaces for female protagonists.
Many have hailed the flurry of heroine-dominated releases over the past weeks as a drastic sign that the industry, having emerged from its days of politically incorrect sexism, is finally learning to accord the right regard to women.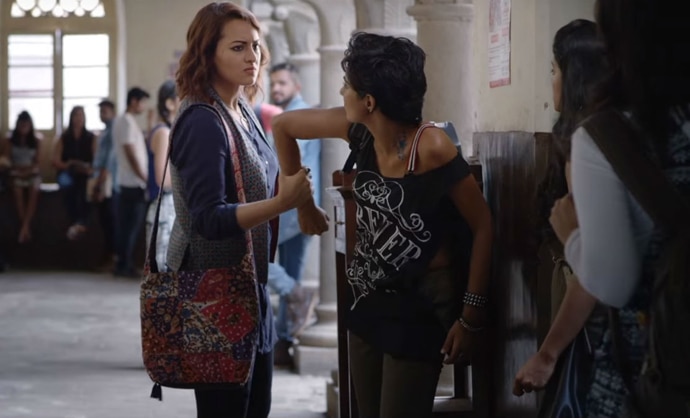 Sonakshi Sinha plays the badass Akira in Akira.
Others are uncomfortable with the term "heroine-oriented cinema", saying such demarcation slows down the movement meant to render roles of greater significance to women.
It is almost as if a quota is being created, they argue, to let heroines prove they can strike winners at the box-office without male support.
One would feel it is important to give cognisance to the term heroine-oriented cinema, rather than brush it under the carpet of political correctness. It is essential for specific films to be identified as heroine-dominated rather than vaguely describe them as, say, "a film where the female protagonist is the hero".
An industry that is still only learning to create female roles beyond the stock glamgirl quota first needs to understand the importance of bankrolling projects with substantial and unusual female characters.
The idea does not help our films normally continue to revel in onedimensional characters for both sexes. The Hindi screen is still far from creating women protagonists that raise societal debate or spark off psychological brainstorming.
Despite talk of change, the best that Bollywood has managed in recent years are characters that would seem clichéd prototypes in international cinema — the rebel showgirl (The Dirty Picture), the deceitful temptress (the Ishqiya flicks) or the wronged middleclass lovergirl on a trip of self-discovery (Queen).
These roles give token nod to women's emancipation, for Bollywood's female protagonist still does not have the licence to wholly act out that emancipation.
Most roles we still see start off on an unconventional note before reeling under clichés (sample Akira or Happy Bhag Jayegi). Rarity apart, we are still some way from watching women on screen who dare to defy societal or sexual norms, as it is happens in films all around the globe.
It will be a long time perhaps, for such trends to reach Hindi filmdom. There are taboos to tackle and, right now, a bizarre censor board to fend against. Still there is a happy start somewhere.
The heroine on screen has started to breathe easy. It will be a while before she gets to live free.