Switching on the ancient tungsten bulbs inside the sleepy Terracotta Museum, he casually mentions that more than 600 students from across the world must have had come to him here for training in the past three decades.
"But who is keeping a count? There was a time when the adjacent studio would witness a steady stream of students around the year. Now I take only eight… one grows old every year, no?" wonders world-renowned studio potter Mansimran Singh. 
Like a general, who once yielded immense power, the 78-year-old points his wooden walking stick towards different pots from the Kangra valley in Himachal Pradesh. He says they cannot be found now.
"Except in the dreams of old potters," chuckles Singh. He then laughs at his own joke. Singh collected the pots from different fairs held in villages of Himachal Pradesh.
Does it ever get lonely up here? 'No, we look at the pots.'
His Cambridge-born wife, Mary Singh (79), would scandalise everyone by making pots at the fairs. "It was a time when women never sat at the potter's wheel."
He talks more about those times. He is now oscillating between eras.
Mary Singh doesn't say much. She is fiddling with a switch, which is refusing her command.
Singh gives a long look at the artefacts before we exit. He is not smiling at anymore.
At his Andretta Pottery studio, in the Kangra valley, set up in 1985, he gives some instructions to an assistant. Singh wants a drain cleaned so that mosquitoes do not breed. He says one has to be careful about these things.
There are no students in sight right now. During this writer's last visit, a young American girl had refused to get her hands on the wheel photographed. "I am not sure if I deserve that… yet," she had said.
After showing his father and noted potter Gurcharan Singh's locked house, the founder of the Delhi Blue Pottery Society (1952), Singh leads us through a serpentine path towards his home. Creepers engulf the house. In the garden, a fountain punctuates the deafening silence. There are some fish in the pond too.
Mary Singh, who recently released her debut book Delhi Blue – A Memoir (published by Delhi Blue Pottery Trust, price: Rs. 400), decides to speak, finally.
"From the historical point of view, the book is about the death of pottery as we both knew it. The end of huge chimneys used in this craft owing to the pollution they caused completely altered it (pottery). It's also about my own journey and how this British woman after learning from Mansimran, married and shifted with him to this artists' village, which we started calling home 34 years back. Delhi Blue talks about Andretta three decades back. It is about Andretta today."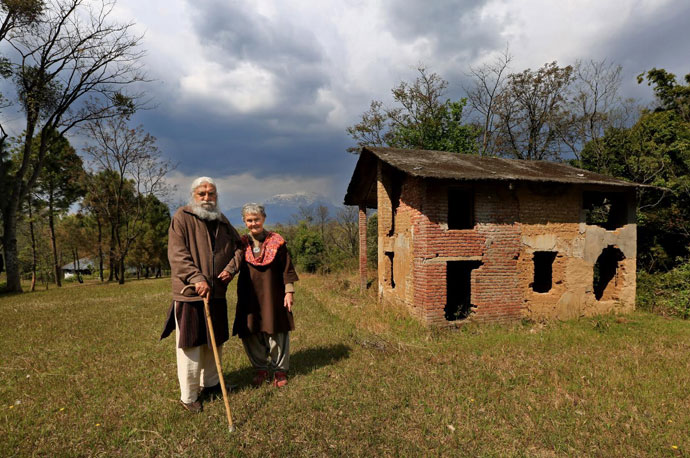 'This British woman after learning from Mansimran, married and shifted with him to this artists' village, which we started calling home 34 years back.'
It's time for the couple to take their evening stroll towards the artists' colony envisioned by Norah Richards, an Irish actor and theatre practitioner, who first came to India in 1911 and settled here in 1924. It was she who wanted to convert the small village in a melting pot of arts where theatre practitioners, painters, musicians and potters could realise their dreamscape.
Although painters such as Sobha Singh, best known for his Sikh religious paintings, and BC Sanyal moved here permanently besides Gurcharan Singh, most of the other artists, including painters Paramjeet Singh, Ram Kumar and many others, would come only during summers. Theatre and other cultural performances were never a year-long affair.
"Therefore, it is just a media manufactured myth that artists have been living here forever. In the past 20 years, only we have been working consistently in this place. Of course, there exists the Sobha Singh Art Gallery and Norah Richards Home, which witnesses some visitors," says Singh.
From where we are standing, the snow-capped Dhauladhar ranges embrace the Norah Centre for Arts. Although conceived to serve as a residency for artists, it never took off owing to poor maintenance and lack of basic amenities such as regular water supply and electricity.
"A few artists did visit, but they had a horrifying time. There was no one who they could approach if they had a problem. Many of them would come to my palace in the evenings."
Blaming the Woodland Society, which was entrusted by Richards to give permissions to artists for construction, the potter says that unless the society gets its act together, most artists would shy away from settling here.
"They have this strange rule that the property can be passed on by the artist only to the spouse and not their children. This keeps many creative people away. Moreover, a society for promotion of arts has to be pro-active and meet more than once a year."
As dark clouds cast a shadow over the sun, Singh looks at one of the crumbling mud houses. He says that Richard hated concrete and wanted only houses made of mud for artists. "Such houses are very delicate, not for they are made of mud. But because they can get lonely."
On the way back, this internationally well-known couple is asked about the fate of the studio and museum when they are gone. And also the fate of Andretta pottery.
"We both have two children each from our first marriages. All of them are in England. No one is interested in pottery. In our will, the family of Shubham Sankhian (20), who left his degree in aeronautical engineering after completing a year learning pottery and is still with us, will carry on the tradition, if they want to."
It has started raining now. Pouring. Does it ever get lonely up here?
"No, we look at the pots," Mansimran Singh whispers. Mary Singh smiles at him.