Why every Indian should be proud of Priyanka Chopra
She's left her contemporaries, controversies and love stories far behind.
The year is 2000. It's the final round of Miss World. The emcee calls a young girl from India, and asks her, "Who do you think is the most successful woman living today, and why?"
Since all the Miss Indias are prepared with one answer – dead or alive, a nervous Priyanka Chopra answers, "There are a lot of people I admire, but one of the most admirable people is Mother Teresa, who has been so compassionate, considerate and kind." And she goes on to win the title.
Lady luck has been shining on her ever since.
Also read: Is Priyanka Chopra influential enough to be on Time cover?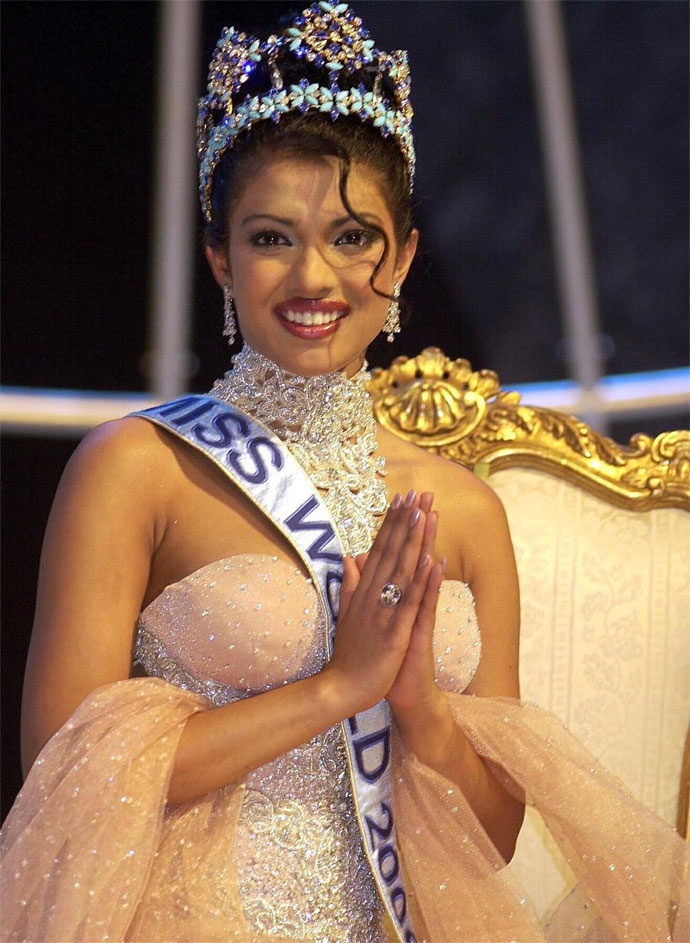 Priyanka Chopra was crowned Miss World in 2000.
Today, she is the most popular heroine not only in India but across the world. As she became the first South Asian to win the People's Choice Awards earlier in USA this year, she claimed, "I feel like Miss World again."
And this time she has all her answers well prepared. From being on Jimmy Fallon's show for her American TV debut Quantico to commenting on Trump and the Miss Universe fiasco, PC has a voice and people want to hear it.
Also read: Is Priyanka Chopra too hot to handle in Quantico for Indians?
Priyanka has come a long way in the last 16 years.
Her life has been coated with controversies of affairs with leading actors to plastic surgeries that she hides well, to surrogate babies. Other Bollywood actresses never took a liking to Priyanka, an outsider in an industry that was ruled by camps and contacts.
Priyanka, however, was always a focussed woman who knew fame and fortune only lay in front of the camera.
Coming from an Army background, Priyanka shone in her first year in Bollywood in the film Andaaz that won her a Filmfare Award for Best Female Debut in 2003. Instead of sticking to the traditional roles and typecasting herself, PC went on to do a gutsy, negative role in Aitraaz that won her a Filmfare for Best Performance in a Negative Role.
Priyanka Chopra won a Filmfare for Best Performance in a Negative Role in Aitraaz.
While the industry was still gossiping about how she was so unconventional looking and breaking rules, Priyanka's life was a roller coaster of covers of magazines and winning hearts. Bollywood wives became insecure when she was working with their husbands on a film, often coming to the set to strengthen their presence in the hero's life.
Also read: Why Priyanka, Deepika will come to regret their Hollywood roles
One director says, "PC is the perfect actress. She becomes who you want her to be. She can be desi - eating rajma chawal and chatting in a Bihari accent with an extremely 'Indian' kind of director, and she can have an American accent on how she loves Central Park when she's talking to a director who loves shooting in New York."
But Priyanka has been unfazed by gossip around her. Even when she was linked to Bollywood's top married hero as his second wife, she continued to work hard and prove she was more than a WAG (Wife and Girlfriend).
She stretched her talents to spread into as many fields as possible. Unlike other actresses who stuck to simply acting, Priyanka was a host on Indian television in Khatron Ke Khiladi and made an international music video called "In My City" and "Exotic".
Quickly learning that her music and hosting career was not going to get her too far, she came back to choose films that would boost her acting ability further. Fashion, Barfi, Mary Kom, Dil Dhadakne Do, Bajirao Mastani, Priyanka has always selected films with great scripts, intelligent directors and meaty roles that would be promoted well.
Also read: Why 2015 was Priyanka Chopra's year
She understood how the marketing system works. It's not just about the craft or the talent if no one sees it. Promotions were important and PC hired enthusiastic PR representatives to push her image and quotes wherever possible so people would see and hear from her continuously.
She hashtagged herself into the hearts of people and several ad agencies who would start remembering only her when it came to endorsements – Bollywood, fashion, music, etc.
PC became the girl everyone wanted to work with and her filmography expanded to over 50 films and over 25 awards.
Priyanka Chopra in American TV show, Quantico.
In 2015, Priyanka started working on Quantico, an American TV show. Rumours surrounded even this.
Her rise in the last one year has been phenomenal. From being recognised on a global TV platform to presenting at the Oscars, winning a People's Choice Award, being on the cover of Time magazine, having dinner with the president of the United States, Barack Obama to winning the Padma Shri, Priyanka has left the controversies, and love stories behind.
Her active PR agency makes sure that she is continuously in the news in India while still filming for Quantico and Baywatch abroad as she knows that out of sight is out of mind for most viewers.
Priyanka balances all her work with extreme poise and grace. While most actors are afraid of social media, she is the first actress to have crossed the 11 million follower mark on Twitter (currently at 13.9 million) and three million followers on Instagram.
This makes her imminently likeable and relatable to the ordinary person who feels they can connect with her at any time. She paves the way for showing how to respond to trolls and having a thick skin which makes her even more popular on social media.
Recently, talking about Donald Trump's call to ban Muslim immigrants in US, Priyanka Chopra had said, "I just think you can't put a ban on anyone. Generalising a type of people is really primitive."
This did not go down well with one of her followers, Adesh Gundecha, who tweeted to her: "Priyanka, politics is not your arena yet. Better just be actress for now. WAIT!!" And Priyanka won the Internet with her reply: "You're right @adesh_1 why should an actress stand for humanity... It's not our place right?"
From saying the wrong answer to being the most quoted celebrity in India, Priyanka is motivational to many youngsters who are trying to find themselves and become famous as well.
One of her many quotable quotes: "I think it's great to be flawed. I am hugely flawed, and I like it that way. That's the fun of life. You fall, get up, make mistakes, learn from them, be human and be you.(2012)"
While there might be rumours about how she has used the popular black magician of Bollywood who seems to be helping many a star and producer, Priyanka has proved that her hard work and dedication to her craft and talent has made her globally admired and respected. "She is unstoppable," says one of her directors.
But PC's every moment, from the time she was crowned Miss World has been used to better her life. She now has a quote for everyone – magazines, newspapers, press, movie premiers, talk shows, red carpets.
She's left her contemporaries far behind and is ready to compete on the global scale. As she rightfully, said she's on her way to "world domination."
The views and opinions expressed in this article are those of the authors and do not necessarily reflect the official policy or position of DailyO.in or the India Today Group. The writers are solely responsible for any claims arising out of the contents of this article.