June 2, 1988, was indeed a sad day for Indian cinema as it lost one of its most important personalities for whom cinema was a passion, a way of life, a religion. He breathed films and lived only in the world of films. He is called the greatest showman of Indian cinema, the Charlie Chaplin of Indian Cinema, Raj, Raju or Raj Sahab.
Raj Kapoor may have left the world years back but his legacy lives on. (Photo: Wikimedia Commons)
Whatever name we call him by, he can be seen as one of the stalwarts of Hindi cinema who was loved not only by Indian audiences but also created a great fan following in other countries in the 1950s and 1960s. He received the Dadasaheb Phalke Award in 1987. He was awarded the Padma Bhushan in 1971. Without Raj Kapoor, Hindi cinema would not have been what it is.
He was one of its defining figures and his legacy lives through the films he made and also the ones which he both made and acted in.
Today (June 2) is his 31st death anniversary. There is hardly anything that has not been already written about Raj Kapoor. However, this tribute to the great showman wishes to capture the essence of his outlook towards life and how he wove this into the films he made with such great love and passion.
At the age of 24, Raj Kapoor became a producer and director with his own RK banner making films in which he acted along with Nargis with whom his romantic pairing would become the stuff of legends. Aag (1948), Barsaat (1949), Shree 420 (1955) and Awaara (1956) are prominent among these films that took the nation by storm, although Aag was not much of a success.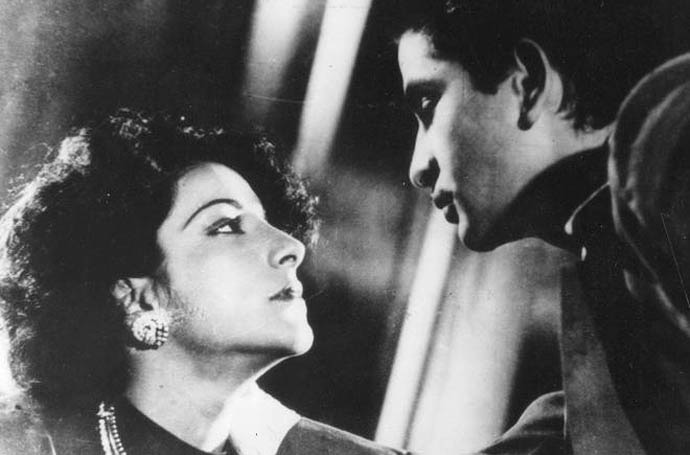 Raj Kapoor and Nargis in a scene from the film Aag. (Photo: A still from Aag)
The songs of these movies were hummed even by fans in Russia. "Awaara Hoon, Ya Gardish Mein Hu Aasman Ka Tara Hun," "Barsaat Main Hamse Milay Tum Sajan Tumse Milay Ham," "Mera Joota hai Japaani, Yeh Patloon Hindustani," "Ghar Aaya Mera Pardesi," "Dam Bhar jo Udhar Munh Phere O Chanda," and "Pyaar Hua Ikraar Hua Hai Pyaar Se Phir Kyon Darta Hai Dil," became like anthems and the identity of young 'Raju', the lovable, golden-hearted tramp was established in the minds of the audience forever.
These films that emerged on the silver screen in the era just after independence had strong social and national messages. It was cinema with a purpose. However, RK's typical romantic touch was also written all over these films. Mukesh became the voice of Raj Kapoor right from the beginning. Later, Manna Dey also sang some songs for Kapoor. However, he always considered Mukesh to be the very soul of his personality on screen. He said he had lost his voice with the passing away of Mukesh.
Raj Kapoor's Sangam (1964) is considered a landmark film in many ways. It was his first film in colour and also the first Hindi film to take the audience to foreign locales like France and Switzerland. It is considered as one of the most beautiful films of the 'love triangle' genre in our cinema. Rajendra Kumar, who was a very dear friend of Raj Sahab, essayed his role of Gopal, a serious man and an introvert, juxtaposed against the loud, extrovert Sunder Khanna (played by Raj Kapoor).
Raj Kapoor's Sangam (1964) is considered a landmark film in many ways. (Photo: A still from Sangam)
After Sangam, which was possibly Kumar's best role, Rajendra Kumar went on to play many such sobre roles with great dignity. Kapoor, the director, was known for bringing out the best in an artist. He could inspire people to give their best for his films. The subtle presentation of romance in Sangam has been captured best by the Mohammad Rafi song "Yeh Mera Prem Patra Padhkar ke Tum Naraz na Hona" picturised on Rajendra Kumar and Vyjayanthimala.
There are so many scenes and so many nuances in the films made by Kapoor which express the delicate manner in which he dealt with love and romance. A scene from his 1982 film Prem Rog (1982) comes to mind. The film was based on the theme of widow remarriage. Manorama (the young widow played by Padmini Kolhapure) is not allowed to eat good food any longer. When Devdhar (played to perfection by Rishi Kapoor) comes to know of this, he takes her to his Maama's house and offers her a meal. She laughs and cries at the same time, creating a moment full of love and pathos.
In Ram Teri Ganga Maili (1985), Kapoor had the vision to strongly express concern about the pollution in the river Ganga and in politics. His symbolism in the film was very effective. Kapoor had a deep knowledge and understanding of poetry and music and chose lyrics and music for his films with great love and care.
Each song is a veritable gem. Even Henna (1991), which he was working on when he passed away, has his stamp in the small tender touches and the music. Raj Kapoor's magnum opus Mera Naam Joker (1970) was ahead of its time, like Guru Dutt's Kaagaz ke Phool (1959).
And like Kaagaz ke Phool, today it is considered a world classic. His Bobby (1973), which launched his extremely talented son Rishi, was the first teenage romance of our cinema and was recreated by many film makers later. It was a great trendsetter, much like its maker.
Today RK Studio, the legacy of Raj Sahab, may not be with his family. However, his artistic legacy will always be with us, safe in all the wonderful, magical films he made and the ones which he made and acted in. He is always with us as the song in Mera Naam Joker says, "Jeena Yahan, Marna Yahan, Iske Siwaa Jaana Kahaan".