It was films like Bhakta Prahalada, Bhookailasa and Mayabazaar, Seeta Kalyanam, Mahakavi Kalidasu and Srikrishna Arjuna Yudham that we grew up watching. Mythological and period films, historical dramas and folklore inspired films were everywhere - one of the most admired films of all time, Mughal-E-Azam, the Tamil classic, Karnan based on the story of Karna, and other such films typically of the '60s were like being transported a few centuries back in time or to the fascinating pages of Amar Chitra Katha. They appealed greatly to our belief that cinema was larger than life. Those were the times of NTR's onscreen image of Lord Krishna inspiring real devotion, Sivaji Ganesan's memorable rendition of Karna and the magic of Mayabazaar.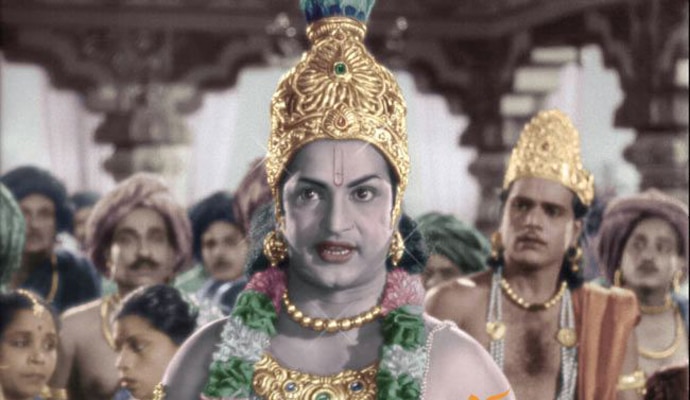 NTR as Lord Krishna in Mayabazaar.
For those times, films like Mayabazaar were truly cutting edge. Today, we have the most advanced technology available to bring alive stories from centuries ago. Considering the technological limitations technicians were working with back then, these were phenomenally commendable instances of the Indian cinema.
After that era though, not too many period or mythological films were made. They were hugely expensive big budget films and very few filmmakers ventured into period films thereafter. It was almost a forgotten genre for a while save for an occasional one now and again.
When Magadheera released in 2009, it was reminiscent of those cult films of yore and a four-hundred-year-old story seemed to bring history/fantasy back in vogue in Telugu cinema. The 2011 film Sri Rama Rajyam starring Balakrishna as Lord Ram and Nayantara applauded generously for her role as Sita, turned into one of the most successful films of that year. With Baahubali, we have raced forward several steps on this road. The fact that it has been made into other languages too, released outside of India to such reception and garnered worldwide attention goes to show that a film like this can have universal appeal, regardless of the time, language or even culture. It's the intrigue of fairy tales and fantasy, a penchant for history, legends and even superheroes that will never die, perhaps. Our mythology has been filled with enough superheroes to keep us ideating on stories around them. Ram, Hanuman, Bheem, Ghatotkach; we've never had a dearth of them to make superhero films. They just work. Even if you look at the superheroes of the modern era, in a film like Spiderman for instance, it doesn't matter whose face it is under the mask, since you are watching it for that large-scale grand spectacle. The same holds for Baahubali, ultimately an Indian superhero film that goes beyond stars and stardom too.
Anushka Shetty as Rudrama Devi.
In the case of Rudrama Devi, releasing later in August, I'd extend this fascination to super heroines as well. Anushka Shetty's portrayal of the powerful queen Rudrama Devi of the Kakatiya dynasty truly inspires awe and pride in our history. While Baahubali is a fictitious story based in folklore, Rudrama Devi is based entirely on facts and the history of the Andhra Telangana region. This story is as relevant today as it was back then.
I play a cameo in Rudrama Devi, the Chalukya king Veerabhadra who supports Rani Rudrama Devi in her battle against the Marathas. As Bhallaladeva in Baahubali, the swords and chariots, the elaborately planned war scenes, just being on those sets, the excitement of doing something not done before and being part such a significant Indian film was beyond compare.
Rana Daggubati plays Chalukya King Veerabhadra in Rudrama Devi.
Two period films in quick succession is a unique milestone in my career. The second part of Baahubali is coming up next year and we also have Baajirao Mastani and Mohenjo Daro to look forward to. I'm hoping that this trend of period films only grows, not just in the Telugu industry but Indian cinema.
(As told to Mona Ramavat.)