Nasreen Munni Kabir interviewed Dev Anand on December 24, 2011 for UK's Channel 4 on the back-story of his film Guide.
Their conversation is a fascinating slice of cinema history:
BK Karanjia, who was then the editor of Filmfare, brought acclaimed novelist Pearl Buck to my residence. She was in India with the American director, Tad Danielewski, and they wanted to make a film in English with Indian actors. They brought a book written in English by an Indian author in America, and gave it to me to read it. I read the book. I was offered the lead role, but it was not the kind of lead role that I wanted. After tasting my own country's following, I said: "No, I will not go to any other country except with my own status as a star." So we left it at that.
When Hum Dono was selected at the Berlin Film Festival as an official entry, I went to Berlin. The director Tad Danielewski was there too with his film No Exit. So we all met again, and he said to me: "We must do a picture together." By then someone had suggested The Guide by RK Narayan to me. The book had received the Sahitya Akademi Award, which was given to the author by Pandit Nehru.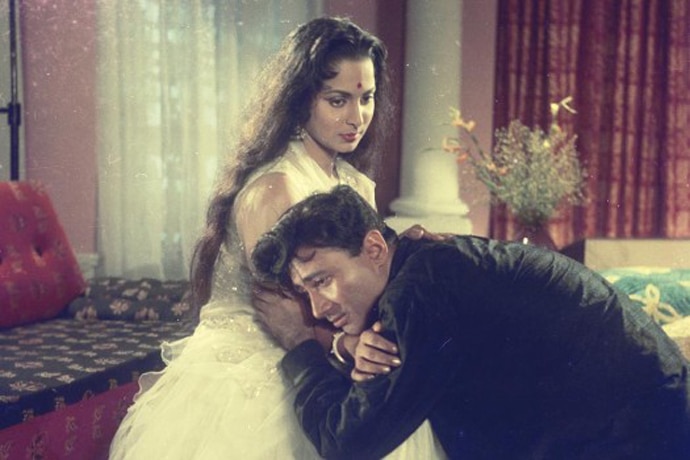 Raju and Rosie in Guide.
So from Berlin, I flew to London and stayed at the Londonderry House. The first thing I did was to go to Foyles bookshop, and ask for a copy of The Guide. They didn't have a copy, but said they'd send it to me within 24 hours. I did get the book within 24 hours, and sitting in that lovely verandah of my hotel facing Hyde Park, I finished the book in one go.
I called Pearl Buck in America: "Are you still interested in doing an English picture with an Indian star in it? I have an interesting book in my mind -'The Guide.'" She said: "Of course, I have read it. Let's talk." So I flew to America for the first time. I saw those skyscrapers of the Manhattan skyline and was floored. I checked into the Portman Hotel, and gave Pearl Buck a call. They read the book in two days and said yes it's on. But they did not know RK Narayan, and so the search for RK Narayan was on.
Nobel literature laureate Pearl S Buck with Dev Anand. Photo credit: Pinterest
Having come all the way to New York, I said: "I must see Hollywood." So I went to LA and stayed at the famous Beverly Hills Hotel. From there, I called RK Narayan in Mysore and had a great conversation.
I have mentioned this in my book, Romancing with Life. He was thrilled to hear my voice, and I said: "You and I could go to Hollywood in a big way, if you give me the rights." He said: "Why don't you come to see me?"
So I flew to Bangalore and, from there, drove to Mysore. We struck the deal. I flew back to America, and now we struck a deal with Pearl S Buck for filming the English version. But the English version was based on the book and the Hindi adaptation - Guide - is not because we had to change the entire concept of the married woman being seduced by another man.
Vijay Anand executed it brilliantly, and after we had filmed the English version, Goldie shot the Hindi one.