Sometime in 1996, I'd got home a copy of Jane Austen's Mansfield Park from the district library back in my hometown. Dad had a look at the book, read the blurb, and put it out of my reach. He said that he wanted to talk to someone who had a better understanding of English literature, and ask him whether Mansfield Park was suitable reading for a seven-year-old. I pined for the book for half-a-day, and then concentrated on the other book I'd brought home, one of those Tell-Me-Whys.
Later that evening, my father got back home with a list, in a handwriting I wasn't quite able to place. It read "Authors to Read", and the first name in that list was Ruskin Bond. The next day, equipped with the list, I made my way to the library, and asked people for the author's books. I was handed a copy of Ruskin Bond's Children's Omnibus. Several years later, I continue to spend many afternoons snuggled in between its pages.
Year after year, nestled comfortably in between other "graver" subjects, Bond the Sunshine made my bookshelves appear a lot friendlier, much like the charming octogenarian. After the mellow readings of childhood, I gradually happened to cross paths with stories like "The Night Train at Deoli" and "Time Stops at Shamli", which have dominated the mindscape for a long time now.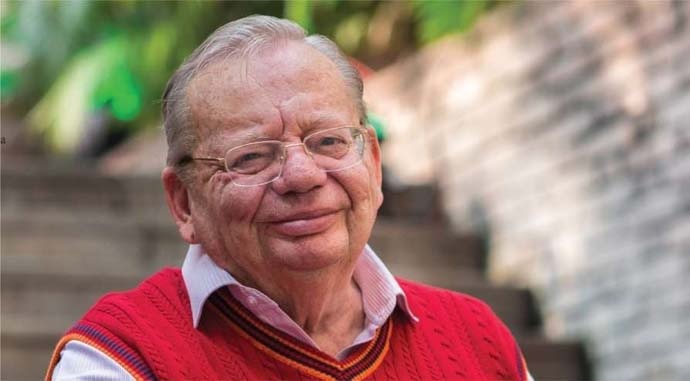 Love and longing, and Bond's treatment of the two subjects have held many captive for more than half-a-century. Bond has made generations travel across Dehradun with Rusty in The Room on the Roof, and then taken them by hand to little-known Indian towns like Deoli and Shamli. And more than once, the author's stories have left much heartbreak in their wake. Most of his writings are fragrant with the scent of love and loss, and deal with all forms of the former.
In many stories, Bond writes in first person, and that this unnamed narrator draws a lot from the author isn't difficult to decipher. The author has captured the landscape of the mountainous India, from fictional towns in the foothills of the Himalayas to real ones like Dehradun in his six-decade-long career like no one else. The author is 81 today. And all of Mussoorie, readers from all ages, are around to join his birthday celebrations.
Cut off from the world of mobile phones and untainted by the internet, Bond's life today is probably exactly what he'd wanted it to be when he had taken that tough decision to leave a stable job and shift to writing, and to his Maplewood.
He was just on the brink of 30 when he rented the second floor of that house. Fifty years later, Bond's postal address might have changed, but his heart still belongs to the mountains. He lives now in Landour, near Mussoorie, with his adopted family, and comes down to that bookstore in The Mall, Mussoorie, once a week to sign copies of his books for new and old readers. And I can safely bet that the author is the reason many people still flock to the hill station. Or any hill station, for that matter. Repeat offenders among Bond's fandom are many.
Back in 2012, I'd had the opportunity to speak to this childhood (and adulthood, too) idol of mine. We spoke about the recurrence of hills in his stories, his favourite genre of literature, how he looked up to Charles Dickens' David Copperfield "as a model", his liaison with the paranormal, his relation with children and a lot more. I remember pestering all my friends and family members with texts and phone calls, telling them about what was then (and even now) the biggest achievement of my life. From the other end of the telephone, my father perhaps had smiled wistfully, thinking about his by-then dead friend, who had suggested Bond all those years back.