"Cut, cut, cut... Is this how you are going to play Manto?" said noted playwright Shahid Anwar, exasperated. "You will have to get into the skin of the character. You will have to know and read not only his writings, but also his life."
I stopped at once. I was delivering a monologue six pages long from the play Ghair Zaroori Log — it was staged at different auditoriums of Delhi including NSD's Abhimanch and Shri Ram Centre — based on six of Saadat Hasan Manto's short stories.
I was playing the character of Manto as well as his nephew Hamid Jalal. The bitter admonition was enough to make me spend the next couple of days going through Manto's works and life.
"Playing Manto is not easy. He was a man of contradictions. Though he was an intellectual, he never shied away from what the society considers filth and dirt. He loved Bombay, but spent a large part of his life in Lahore after the Partition.
In spite of being aware of the depth and impact of his art, he was also acutely aware of his predicament as a writer and artists in general. You will have to bring out all those elements in the way you deliver the dialogues," Anwar told me.
Nawazuddin Siddiqui plays Saadat Hasan Manto in Nandita Das' film based on the writer's life. Photo: Twitter
This is an incident from the sets of Anwar's play Ghair Zaroori Log (persona non grata). The play was to be staged in Jawaharlal Nehru University (JNU).
Apart from Manto's most well-known story Toba Tek Singh, the play featured others that not many people are aware of, for instance, Babu Gopinath, Pairan, Hatak and Mummy.
Impressed by the play, eminent theatre personality Habib Tanvir even wrote a rare foreword to it.
In fact, Manto never goes out of fashion. Arguably one of the best writers of the short story in the world, his enigmatic life continues to charm and draw admirers, long after he is gone.
Numerous TV and radio shows, plays and play readings, radio plays and films continue to feature him and his stories.
While Manto, the 2015 film on the literary legend, was made in Pakistan by Sarmad Sultan Khoosat, Indian actor-director Nandita Das is making a movie based on the last seven years of his life - with Nawazuddin Siddiqui in the lead.
His troubled, painful and poignant personal life has proven to be as big a draw as the stories he penned.
Many people agree with Anwar's point of view that Manto was indeed a complex character and therefore difficult to play. He was a man of contradictions, like most of us are.
Consequently, his sensitivity, empathy for the marginalised, and his liberal views came mixed with obsession, arrogance, and foibles like the compulsion to drink — in the later part of his life.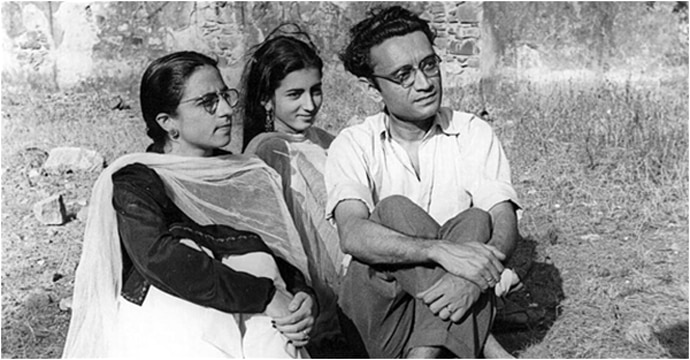 Manto (right) with wife Safia (left) and her sister Zakia (centre). Photo: Friday Times
"But that's what made him human," said Nandita Das in an interview, adding that Manto is a challenging role and very few actors have the nuances required to play Manto.
Why? Because of the strange and dark tales and characters he created. Let's look at some of the immortal characters conceptualised by the writer.
For example, Hatak is about a prostitute Saugandhi who falls in love with a policeman, who lives off her.
Fed up of him, her love finds expression in odd ways; she finds herself drawn to a dog — one ridden with wounds and infection.
Similarly, Pairan is a story about a cynical photographer, who believes his lover is inauspicious and finally abandons her the moment he thinks she has stopped working as his unlucky charm.
His Babu Gopinath feels a platonic love for prostitutes. His passion is to rehabilitate them to enable them to lead a dignified life, and he has sold all his property in the mission. He cannot tolerate any insult to prostitutes.
The characters are so real that they may well have been beyond fiction. They may have been drawn from the writer's firsthand experiences. And there comes the challenge of being Manto - with all his humaneness and eccentricities.