Whether it is the distinctive Chenoy Seth of Waqt or the suave, sophisticated Mr.Ghosh, the publisher in Pyaasa; the debauched and insensitive Zamindar (Chhote Sarkar) of Sahib Bibi aur Gulam or Nawab of Chaudvin ka Chaand, Said Rehman Khan, known popularly as Rehman, played these roles with an exquisite finesse. His artistic genius remains unsurpassed, till date.
This actor, whose 98th birth anniversary falls today (June 23), was a huge favourite with film makers and audiences in the 1950s and 1960s. Although he began as a hero with films like Pyaar ki Jeet (1948) and Badi Behan (1949), Rehman went on to play character roles, many of them with negative shades. In Pyaar ki Jeet and Badi Behan, his heroine was the beautiful Suraiya.
Though he did play a lot of negative characters, he was never seen as the typical villain of the 1960s who clashed physically with the hero in the popular "dishum-dishum" style. He performed the negative roles rather subtly, through his expressions and his arresting voice, raising his eyebrows while smoking a pipe, one hand in his trouser pocket. His sarcastic tone and his dialogues in chaste Urdu added to the effect.
Villains usually have a physical confrontation with the hero. The villains portrayed by Rehman, however, were different. (Still from Pyaasa)
Rehman was born in Lahore in the year 1921. He had his college education in Jabalpur and worked in the Air Force for a while. He then moved to the film industry as an Assistant Director. In one film, he got a chance in a scene which required a Pathan with a proper Pathani turban. He did this very well and it opened the world of acting before him.
Rehman had a deep, impressive and powerful voice and it is a great irony that he died of throat cancer, It can easily be said that his colourful role as Chenoy Seth in B.R.Chopra's 1965 film Waqt was one of his best loved performances. Despite his evil designs for Raaj Kumar in the film, audiences admired his style and prosperous look. He proved the perfect match for Jaani" Raaj Kumar. The scenes between the two, especially at the swimming pool, are among the highlights of the first multi-starrer of our film industry. Word for word, expression for expression, Rehman stood his own opposite Raaj Kumar who was known for his unique voice, style and dialogue delivery. In fact, Rehman seemed more in control than "Jaani". How smoothly and politely an evil man can accomplish his goals is what Chenoy Seth shows us in Waqt. Indeed, a memorable performance!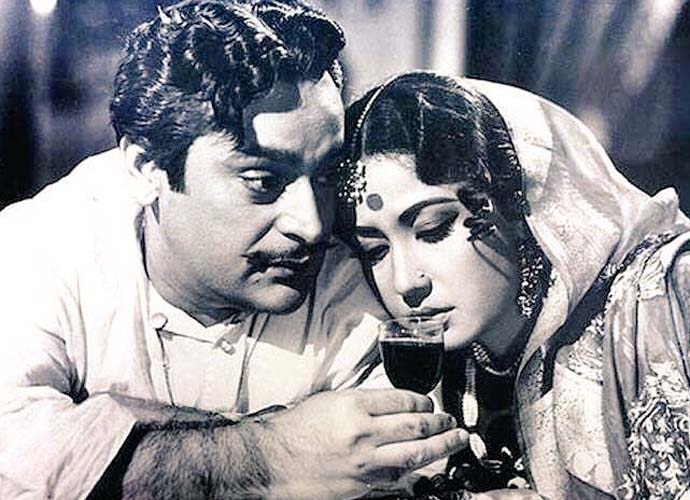 Rehman gave a memorable performance next to Meena Kumari in 'Sahib, Biwi aur Ghulam'. (Source: Twitter/Film History Pics)
In Pyaasa, he plays a well-to-do publisher, Mr.Ghosh, who wears white dhoti-kurtas with a white stole thrown in to give the perfect look of a Bhadralok. He looks very convincing as a confident professional who, at the same time, is an insecure, possessive husband. Rehman was an integral part of the Guru Dutt team like Johny Walker and Abrar Alvi and made a great impact with his work in Pyaasa, Sahib, Bibi aur Gulam and Chaudhvin ka Chaand.
In all these, he worked with Guru Dutt. Both of them had a unique manner of balanced, controlled acting and contributed greatly to the success of these classics. It is an acknowledged fact that Rehman's talent emerged best when he played negative roles like he did in films like Mere Hamdam, Mere Dost, Baharon ki Manzil (role with grey shades), Waqt and Baharein Phir Bhi Aayengi. Besides having played a Bengali character in Pyaasa, Baharon ki Manzil and Aandhi, Rehman played a Muslim character in many films, mostly in the genre of Muslim socials 
Rehman starred opposite Waheeda Rehman in 'Dil Diya Dard Liya'. (Source: Twitter/ Film History Pics)
In the famous historical film Taj Mahal (1963), he played emperor Jahangir very effectively. In Palki (1967), he is Nawab Mirza, in Dil ne Phir Yaad Kiya (1966), he plays Amjad, Dharmendra's best friend, in Dharmputra (1961), he is Javed who is married to Bano (Mala Sinha), in Gazal (1964), he is Akhtar Nawab. He provided an interesting dimension to these films. In Aap ki Kasam in 1974, we saw Rehman playing father to the heroine, Mumtaz. His scenes with superstar Rajesh Khanna were greatly appreciated.
In Mere Hamdam Mere Dost, as Ajit Narang and in Baharein Phir bhi Aayengi as Mr.Verma, he quietly tries to flirt with and woo Sharmila Tagore and Mala Sinha respectively in his characteristic underplayed style. "Effortless" is the perfect word to describe Rehman's acting, He never gave interviews and not much is known about his personal life. He believed in letting his work speak for him. There seems to be no other actor with whom he can be compared, He was in a class of his own — one of a kind. Striking in looks, regal in attitude and in complete control of his art, Rehman will always be remembered and admired by audiences. He looked equally impressive in achkan/sherwanis, chooridaars, in elegant suits and in dhoti-kurtas.
One man show: It will be tough for any actor to live up to the legacy of Said Rehman Khan. (Source: Twitter/ Film History Pics)
The song in which he appeared with Suraiya in Badi Behan will be remembered forever. "Chup Chup Khade ho, Zaroor koi Baat hai", will always be in our memories. From this point, Rehman had a long journey as a many, splendoured actor. His aristocratic bearing made him a great favourite with directors. Roles were written exclusively for him.
My special tribute to Rehman on his birth anniversary.