In the past few years, nearly every report of heinous crimes against women is followed by a realisation of sorts of how popular culture — and especially Hindi films — have not only normalised the attitude often displayed by the perpetrators of such action but also, in a way, celebrated it.
The runaway success of Sandeep Reddy Vanga's recently released Kabir Singh, a remake of the director's own Telugu original Arjun Reddy, has once again brought to the fore how popular Hindi cinema unabashedly promotes violence in the name of love. The film deals with what one may term a flawed character, which, keeping in mind the popular film template, is nothing new.
But the troubling aspect lies elsewhere.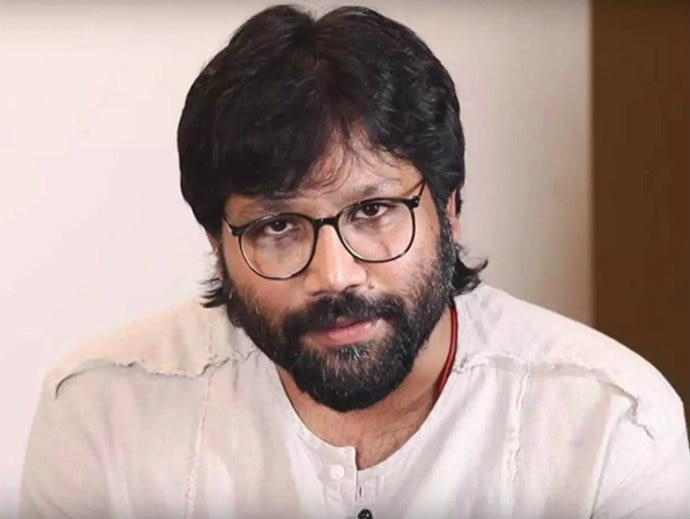 Reel? Or real? Is Vanga only speaking the language Bollywood has taught us over the years? (Photo: YouTube screengrab)
How the filmmaker appears to use the box office success of the film — Kabir Singh has become 2019's fastest film to race past the Rs 200-crore mark — as validation and acceptance of what his character portrays should be a matter of concern. A recent interview of Vanga had him questioning the criticism of his film, which he found "bizarre", and saying that if in a relationship, "you don't have the liberty of slapping each other, then I don't see anything there."
Most popular Hindi films that have enjoyed commercial success have routinely made misogyny, sexism and even violent behaviour a way of life.
The fact that the biggest teen icons play the characters who make such behaviour acceptable only makes it more potent.
In Awaara (1951), Raj Kapoor plays a man who grew up on the streets and therefore didn't know how to be a 'gentleman' — he slaps Rita (Nargis), a childhood sweetheart whom he meets again as an adult, for calling him "junglee" or savage for his abject lack of manners. The audience is supposed to feel bad for Kapoor's character because his rich father abandoned him or he's had a tough life. The scene ends on a 'romantic' note where Rita is shown accepting his rage — and in fact, asking him to hurt her more if he so pleases.
Similarly, Shammi Kapoor's films had him playing the happy-go-lucky fellow without a care in the world, who won't stop till the woman gives in.
This playfulness is celebrated onscreen by supporting actors who laud him and egg him on to win over the woman. Kapoor was the poster boy of youthful rebellion during his heydays in the 1960s and is still considered amongst the greatest to portray romance on the silver screen.
Such onscreen portrayals continued through the 1970s and the 1980s where it was commonplace for the leading man to slap women to make them aware of the real world. The biggest screen icons of the period, such as Rajesh Khanna and Amitabh Bachchan, not only portrayed characters laden with misogynistic traits, but the narrative of their films also went out of the way to justify their actions.
In Do Raaste (1969), Satyen (Rajesh Khanna) slaps Reena (Mumtaz), whose only fault is that she is unaware of his situation, while in films such as Desh Premee (1982) Raju (Amitabh Bachchan) harangues Asha (Hema Malini) till she simply gives in to his 'charming' ways. In Sharaabi (1984), Vicky (Bachchan), a spoilt rich brat, sings love peans on the streets in the middle of the night till it publicly humiliates his object of affection, Meena (Jaya Pradha), to accept him.
Nearly every significant male superstar in Hindi films has, at some point or the other in their careers, encouraged onscreen misogynistic behaviour.
Amongst these, the likes of Aamir Khan (Deewana Mujh Sa Nahin, 1990), Salman Khan (Tere Naam, 2003) and Shah Rukh Khan (Dilwale Dulhaniya Le Jayenge, 1995) have perhaps had the most significant impact in normalising misogyny for scores of young, impressionable men.
The Khans had the most significant impact in normalising misogyny over three decades. (Photo: YouTube screengrab)
It's not like other actors such as Ajay Devgn, Sanjay Dutt, Govinda, Anil Kapoor, Jackie Shroff and Akshay Kumar or even the younger lot have steered away from such glorifying such characters, but the Khans have been the most popular of the leading men in the last three decades. Similarly, other cinemas, such as Tamil and Telugu that have a thriving industry, have also highlighted patriarchy and misogyny to the extent of hero-worship as well.
A few years ago, in the course of a conversation this writer had with columnists and commentators on cinema, a notion appeared that Bollywood has for far too long promoted such behaviour. Therefore, if one were to go back in time, then nearly everything would be problematic and troublesome. As a result, there needs to be some kind of leeway. This brought to mind how Bollywood has normalised this belief as well. In Malaamaal (1989), two men Raja (Naseeruddin Shah) and Govind (Satish Shah) tell a lady judge that not pestering a beautiful girl is, in fact, insulting her. This is followed by all-around laughter in the courtroom.
Thanks to Bollywood, violence, to a large extent, has come to be seen as a synonym for love.
However wrong, this notion could still somewhere be explained by filmmakers by way of ascribing the actions to the said 'character.' Filmmakers also took refuge in tags such as freedom of expression and creative liberty et al to reward characters for downright disgusting behaviour.
But when a filmmaker such as Sandeep Vanga categorically speaks of violence against women as a form of expressing true love, it makes the reel a tad too real.