World Cup 2019: If cricket is religion, Netflix series 'Selection Day' introduces us to its atheists, agnostics and believers
Rajesh Tailang, Yash Dholye, Karanvir Malhotra and Mohammad Samad show how cricket shapes life and in turn gets shaped by it.
In a country that has no sporting culture, we often get to hear that cricket is religion. But religion often finds its atheists, and also its agnostics, much like its believers. Cricket too has all three of them — and in plenty.
Netflix series Selection Day, directed by Udayan Prasad and Karan Boolani, is a touching tale woven around the lives of three boys — a believer (Radha, played by Yash Dholye), an atheist (Javed, played by Karanvir Malhotra) and an agnostic (Majnu, played by Mohammad Samad).
All three play cricket for very different reasons. Radha for the love of the game, Manju to support his brother Radha, Javed because he has a point to prove — he can leave a game in top form despite the potential to make it to the India under 19 squad. Radha and Manju also play because it is the only thing they have known since childhood. Their father, Mohan Kumar, played by the supremely talented Rajesh Tailang, deprives them of the one thing most humans crave for — choice.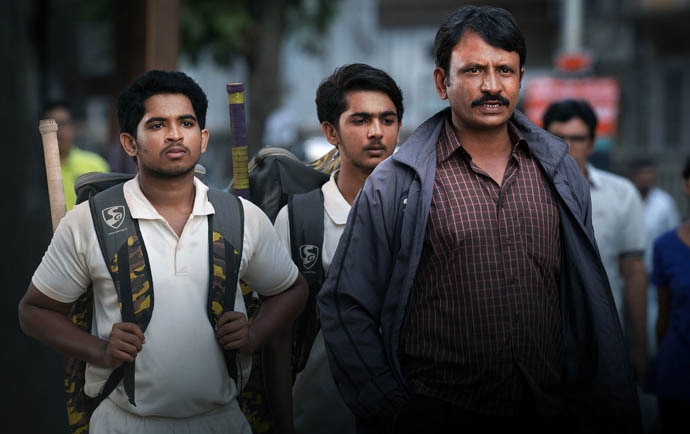 Mohan Kumar offers his sons Manju and Radha little choice in life. (Photo: A still from Selection Day)
Based on Aravind Adiga's book by the same name, the series uses cricket as a prop to tell us a tale of how childhood dreams are shaped and crushed, lived and destroyed, how compromises are made — and yet how hope simmers.
Manju and Radha play cricket in the hope of a better life — one that has leisure and worldly comforts. But they play more in the hope that as successful players, they can get away from their abusive father.
Javed, on the other hand, is battling the unbearable lightness of being. He is well-off and good at whatever he does. But he has skeletons in his closet. He guards the closet with extreme care and added caution. Javed wants to save Manju from cricket not because Manju has his heart in studying science but because Javed wants the skeletons in his own closet to heal.
Javed has skeletons in his closet — they tumble out eventually. (Photo: Netflix poster)
But before they heal, the skeletons tumble out, exposing the turmoil that Javed carries within him under the cool veneer of his indifference to the world.
As their lives unfold, selection day is drawing close — and the day, in turn, is set to decide how their lives will eventually unfold.
Mohan builds pressure on Radha and Manju to succeed. His sons are not just his offspring, they are his merchandise. He wants to turn them into brands and then capitalise on the brands.
Mohan Kumar wants to turn his sons into brands that can be encashed. (Photo: Still from Selection Day)
Of the three, one fails, one succeeds and one chooses to bow out of the competition.
On 'selection day', dreams are fulfilled and hopes dashed. Exactly like cricket, there are hits, but there are misses too.
Despite the bruises — physical and emotional — the characters get up, dust themselves off and get back to the ground. The message: life is bigger than the big game of cricket. Some make it, some don't. When the stands are vacated, people move on — a little bruised, a lot wiser.
Also read: How our netas live: Junk food, no sleep, no vacations. Our politicians survive a constant high-stress job, with little private time
The views and opinions expressed in this article are those of the authors and do not necessarily reflect the official policy or position of DailyO.in or the India Today Group. The writers are solely responsible for any claims arising out of the contents of this article.