BJP leader Kailash Vijayvargiya's opposition to Shah Rukh Khan's latest blockbuster film Raees may have, in all likelihood, been driven by an opportunistic thirst for cheap publicity, but his opposition seemed almost prophetic and predictable in some way after I saw the film.
I say so because Raees is not just a movie - it is an ideology, and even though the artists in the film may have had no overt intention other than to deliver an entertainer, Raees goes much beyond that. It makes you think. It roots for a certain value system that is under challenge in India as we speak. One may legitimately say that Aamir Khan also makes films which are socially relevant and provokes debate.
But the difference between Aamir's Dangal or Taare Zameen Par and Shah Rukh's Raees is that Aamir always roots for the politically correct side in his films. Aamir Khan's PK was a far braver film than a Taare Zameen Par, but again PK wasn't off the mark from an acceptable narrative that we all cheer for without hesitation.
It was commendable on Aamir's part to document the hardships faced by the Phogat sisters trying to win a medal for India. But in the age of multiplex cinema with an urbane conscience, who wouldn't root or at least pretend to root for two adorable girls from the patriarchal landscape of Haryana to become our sporting role models in a male dominated sport? Our media and intelligentsia obviously rally around such causes.
Shah Rukh in Raees, however, has the "daring", if I were to borrow the term from the movie itself, to reopen a wound so deep in the secular psyche of our nation that it runs the risk of polarising instantly, not exactly the communities but the clashing ideologies. The polarisation between that part of the nation which dreams of Godse's India, and the one still desiring Nehru-Gandhi's India.
BJP leader Kailash Vijayvargia posted this on his Twitter before Raees' realse. [Photo: Screengrab] 
Kailash Vijayvargiya was only rooting for his side. Raees was an attempt to speak up for the other side. The side we wanted to be on since 1947. SRK takes the risk most would never dare take. Some would make a story out of a Muslim soldier whom everyone can, or would have to root for: "Waah yeh desh ke liye shahid hua, is deshbhakt ko salaam" this movie would say.
But it would be a farcical answer to the question India has been grappling with since Independence: the question of Muslim identity. The question about being comfortable with every Muslim, rich or poor, and not just the Muslim Bollywood actor, or the Muslim jawan, or even the late former President APJ Abdul Kalam - whom many label as the "good Muslim", thereby implying that the rest of us are bad.
SRK in his latest flick does something else. He plays the role of a Muslim bootlegger from Gujarat (the laboratory of communal politics some would say quite uncharitably for the land of the Mahatma), who joins the illegal trade of supplying alcohol which is banned in that state due to its prohibition policy, while being tracked down by Majmudar - an upright cop played by Nawazuddin Siddiqui. Nobody would ideally root for this character. The Hindutva brigade would hate him. Even the liberals in India wouldn't stand up for him.
A poster of Raees that was released early last year. 
But Shah Rukh delivers a performance of a lifetime that helps everyone identify with Raees Khan so much so that it even leaves a deep impression on a young Rohan and his parents sitting next to me in the theatre. Eight-year-old Rohan at the end of the film told his mother something I clearly overheard, "Ammijan kehti thi koi dhanda chhota nahi hota... aur dhande se bada koi dharm nahi hota." His parents replied in the same playful style: "Aur dharm ka dhanda acha nahi hota."
That moment for me was the best part of the film. That reaction when parents tell their kids, inspired by a Muslim bootlegger, that "kuch bhi karna, par dharm ka dhanda kabhi mat karna". That is Gandhian and Nehruvian secularism making a comeback in the age of Godse's Hindutva. Raees just delivered a bodyblow to those who want a mandir for Godse and brand every relationship between a Muslim and Hindu as "love jihad".
You can fault me for bringing politics into movies, but guilty as I may be, this isn't a film about a bad guy doing illegal things being vanquished by an honest cop. This film isn't about the system working. Nawazuddin Siddiqui, the upright cop, himself despises the system. He works against it and while I don't want to divulge the plot of the film, the last scene of the film itself validates the failure of the Indian system. It reiterates that we are broken.
Raees Khan too manipulates the system. He corrupts it but he stops short of corroding its soul. In a weird way, despite being the antagonist, he retains a moral superiority over the protagonist - Nawazuddin's character - who has everything going for himself: his religion, his profession, and his sense of duty.
Raees is a complex story with several shades of grey. From the stables of Rahul Dholakia, who had made the National Film Award-winning Parzania on the Gujarat riots, this is a balanced, nuanced and mature conversation with a country that has become communally schizophrenic and brings religion into every issue.
These days in India, a particular religion is disguised as nationalism. Some people have to prove their nationalism because of their religion, despite the fact that they chose India over Pakistan in 1947. Some people can be presumed nationalists because of their religion despite their actions.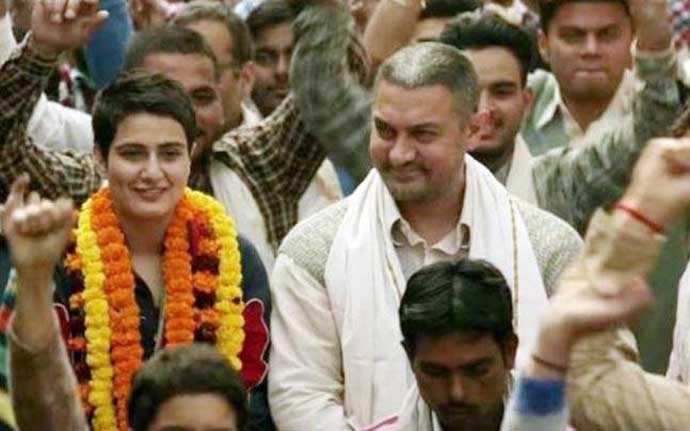 While Aamir Khan's Dangal is a great film, it portrays characters which liberals like anyway. [Photo: YouTube screengrab]
For example, Kailash Vijayvargiya said earlier about Shah Rukh Khan (whose family, by the way, fought for independence of India) that "he stays in India but his atma is in Pakistan". This was a widely circulated/celebrated comment, justified by many supporters of the ruling dispensation. Those very people apparently have no qualms applauding the alleged nationalism of a "Khiladi-brand" actor, who traded his Indian citizenship for a Canadian one.
Religious nationalism has always been a hypocritical and dubious calling card. But its use today is on the rise.
Raees is an intervention of sorts in a world where Islamophobia and anti-Muslim narratives are becoming the new norm. From Donald Trump getting elected in the US and imposing what many describe as a #MuslimBan on the entry of citizens and refugees from predominantly Muslim nations, to the resurgence of self-proclaimed "Hindu nationalists" in India and the ascendancy of several right-wing figures across the world, it's a terrible picture.
The world too is apprehensive on a range of issues that is forcing people to rally around globally and make themselves heard. Leaders like Justin Trudeau and Jeremy Corbyn are providing that global intervention. Through this film, SRK, probably unwittingly and unintentionally, provides an intervention - national one at the very least if not global.
In Raees, SRK plays a Muslim gangster bootlegger operating in dry state and Hindu hardline bastion, Gujarat. [Photo: YouTube screengrab]
I am not sure if Shah Rukh Khan is conscious about playing Muslim characters on screen. For most part of his acting career, he has played the typical, quintessential romantic Rahul or Raj, who can effortlessly charm women. That act isn't politically charged. Yusuf Khan becoming Dilip Kumar or Shah Rukh becoming Raj - the Ganga-Jamunisation of the Muslim identity - isn't going to cause discomfort to those forces who believe everyone is a Hindu in this country, or ought to be a Hindu to remain in this country.
But the real test is when one plays a character that one would ordinarily despise, and then to legitimise the right of the "other" to have an identity and register that identity in a positive way in a democracy. The real test is to disabuse the stereotypes associated with an identity by portraying it as a well-rounded human character, with all its flaws and shortcomings and to then say, "Accept this".
And when this does get accepted, as the huge box office collections of Raees indicate - nearly Rs 100crore in just five days - to give an interview to a TV channel and say casually: "All I want to do is entertain", without carrying the burden of either intellectual arrogance or even a quiet sense of triumphalism.
That is what Shah Rukh Khan has done through Raees. He has become the silent revolutionary, who imprints his ideology on all of us, without making it ever so obvious. The movie starts with the credits that say "Shah Rukh Khan in and as Raees". Truly, the movie should have said, "Raees in and as Shah Rukh Khan".