His sangfroid delivery of those lines - 'Mere paas maa hai' - has had him immortalised, but there's more to Shashi Kapoor than just that.
He's the cine-legend with that charismatic crooked smile,
A luminescent part of the Prithviraj Kapoor legacy,
And the much celebrated Merchant Ivory collaborator.
The acclaimed banner that was formed by producer Ismail Merchant, director James Ivory and author and screenwriter Ruth Prawer Jhabvala was largely responsible for shaping Shashi Kapoor's English-language film career. One that began with with Merchant Ivory's debut production, 1963's The Householder.
The Householder (1963)
Kapoor's international profile was further raised with the banner's 1983 Heat and Dust with Julie Christie and Greta Scacchi, a film that also made it to Cannes that year. His other collaborations with Ismail Merchant and James Ivory include 1965's Berlin Film Festival entry Shakespeare Wallah and 1970's Bombay Talkie with his wife Jennifer Kendal.
Heat and Dust (1983)
As many may possibly agree with, Shashi Kapoor partly owed his international sensibilities to his wife. In fact, Jennifer's parents, who ran Shakespearana — the travelling theatre group in India — had inspired Shakespeare Wallah.
However, my introduction to the Shashi Kapoor-Merchant Ivory repertoire, strangely enough was through In Custody (Muhafiz) that the veteran actor only worked on closer to his retirement. Anita Desai's spare, uneventful novel about a once-revered elderly Urdu poet was incidentally Ismail Merchant's first feature as director. And to me he managed to turn it just fine into an elegy to a dying culture and a dying language.
Jo ruke to koh-e-garaan thay hum...jo chale to jaan se guzar gaye...
The film starts with a poem that is among Faiz Ahmed Faiz's most evocative - narrated by an elderly Shashi Kapoor as Nur Shahjahanabadi, in his haunting voice: 'Aaj ek harf ko phir dhoondta phirta hai khayaal' (today, once again, a thought searches for a word).
With each passing minute into the film I was convinced that only a person deeply in love with Urdu poetry could have directed this film. My new found fascination for Urdu at that time was owing to a big influence in my life, the one who would later go on to become my better half. I had begun loving the comfort of the language, started attending the mesmerising Dastangoi sessions, and my daily reads had an inclusion of writers from Qurratulain Hyder to Musharraf Ali Farooqui; as here with me was this man whose Urdu vocabulary permeated his daily conversations.
His tenderness of expression and sensitivity had the poetry of the language headlining them.
So when I chanced upon this Shashi Kapoor starrer that showed the actor in a light pretty different from what people largely remember him as (remember, this is my first ever Shashi Kapoor-Merchant Ivory feature, and from here on, I shall be a convert!); all I wanted to do was for him to see the film and be one with the feeling that I was feeling. I wanted him to see how 'Muhafiz' is at once sad and beautiful... and beautiful enough to linger in the memory for long after it is over. I knew that as a lover of Urdu poetry, it would be a deeply touching piece of work for him too.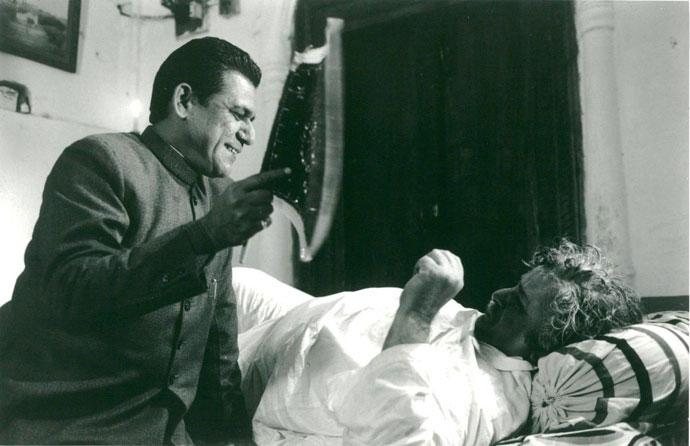 Muhafiz/In Custody (1993)
Just as Shashi Kapoor leaves us for a better world, passing on the mantle to the Ranbirs of this generation, 'Muhafiz', too, is a portrait of the passing away of a rich, nuanced culture and the birth of another one, far more professional, mercenary, and hurried in its dealings. Perhaps best summarised by Shashi Kapoor's character in the film, at the end:
jo ruke to koh-e-garaan thay hum
jo chale to jaan se guzar gaye
raah-e-yaar humne qadam qadam
tujhe yaadgaar bana diya...
(Once, i was glorious as a mountain
today, i depart from this world
oh path to the beloved, at each step
I made a shrine to your beauty.)
My affection for this film is oddly immense, as it is for the man playing the central part. So his passing left me wanting to reconnect with the cinema he was associated with, and how impactful one of those had turned out to be for me.
Also, in my case, I now feel I could do without some of that excessive gravitas - a package deal that my very own 'Householder' comes with! But that's not to take away from the timeless beauty and eloquence of Urdu. It lives on... Just as the man himself.. the institution that is Shashi Kapoor.