Shorts In The Dark
American television has been making fun of Indian pronunciation for long. But whose accent is it anyway?
Lalu speaks English a certain way, so do Narendra Modi, Mamata Bannerjee, Rakesh Sinha, Kangana Ranaut and Shashi Tharoor.
The popular animated TV series The Simpsons has been on air for close to thirty years. In 1990 the series creators introduced an Indian character called Apu, a corner shop owner. The gale force counter-winds of political correctness, blowing stubbornly in the face of right-wing anti-PC rhetoric, mean that in 2018 Apu finds himself cornered into a raging controversy.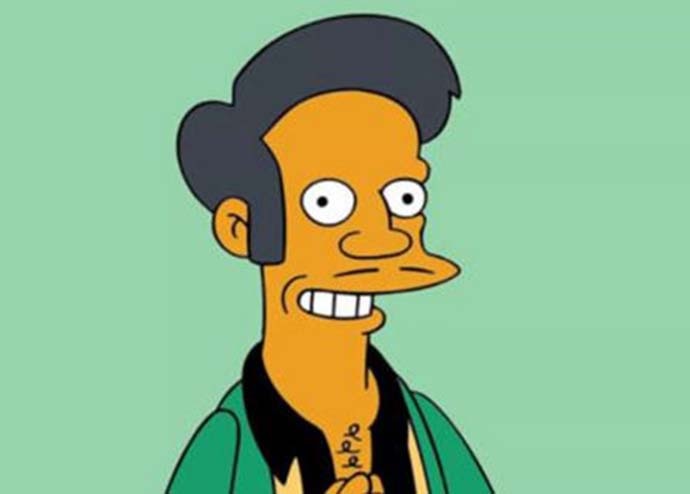 It's all stereotypes: The flat sing-song Indian accent is a myth
In 2017, Hari Kondabolu, an Indian American comedian, released a documentary, The Problem with Apu, which laid out the problems with the racial stereotypes the character perpetuates. Part of the problem lies with the accent: a white man had been voicing the character all this while.
In April this year, Hank Azaria, the voice of Apu, told Stephen Colbert, that his 'eyes had been opened' and he was willing to stop.
Earlier this month, the show's creator, Matt Groening, told the NYT: 'I've been to India twice and talked about The Simpsons in front of audiences. That's why this took me by surprise. I know Indians are not the same as Indian-Americans... As many people have pointed out, it's all stereotypes on our show. That's the nature of cartooning."
The stereotypical flat sing-song Indian accent has been the subject of caricature in British and American television and film for the longest time. Accompanying it is the assumption that an Indian accent is intrinsically funny (to their ears) and will always elicit harmless laughter. Even Indians are supposed to find it funny.
While Hank finds himself in the wrong corner shop at the wrong time, the truth is that NRI actors have been hamming the Indian accent for money for a while now. It happened in Channel 4's Goodness Gracious Me; Big Bang Theory's Raj speaks that way too. Piggy Chops claims she fought this in Quantico, but to an Indian ear it's very clear she is feigning a faux American accent that just doesn't sound natural.
Big Bang Theory's Raj speaks that way too (Photo: CBS)
To speak the way one speaks is easier said than done. In Delhi one meets people who have been away to England for five years and yet cling to the acquired accent for life. Also in Delhi, one meets foreigners who have spent so much time in India that they speak English with an Indian accent. Delhiiites themselves use the Hindi 'd' (like the second 'd' in 'dhadak'), when they say 'Godda do this, ya." Apu would have missed that.
The truth is: there is no Indian English accent.
It's shaped by the vernacular we speak and the vernaculars we speak are many. Guwahati onwards, into the NE, they have a beautiful way of softening the 'r'. Malayalam and Tamil will shape your English vowels in their own manner, so will Bangla.
Lalu speaks English a certain way, so do Narendra Modi, Mamata Bannerjee, Rakesh Sinha, Kangana Raut and Shashi Tharoor. One can see the challenges facing Matt Groening. Which accent does he choose? It really becomes about choosing an idiom and sticking to it to make it easier for viewer.
Indians harbour their own stereotypes of how English is spoken elsewhere. On coming down from Oxford in 2000, my friends kept on mimicking in front of me a species of upper crust British accent they'd picked up from Yes, Minister. No one in England speaks like that anymore. By the time I arrived 'What' had already become 'Waw" amongst young Britons, with the second 'w' being silent.
Lalu speaks English a certain way, so do Narendra Modi, Mamata Bannerjee, Rakesh Sinha, Kangana Raut and Shashi Tharoor
So when in a recent NYT profile on Baba Ramdev, Robert Worth observes that Ramdev speaks in 'heavily-accented English', what exactly is he trying to say? Anyone who speaks a language speaks with an accent. Accentless enunciation is a myth.
There are also Indians who juggle six accents a day depending on who they are speaking to. This must be exhausting, for to effortlessly keep changing accents one has to keep switching selves, not the easiest trapeze act to pull off.
This, though, is on the wane. It perhaps has something to do with a growing Indian self-assurance. Now, when an Indian comes back after two years in America, she tries to hide the influences, rather than flaunt it. In the 1980s, one showed off even the hint of a drawl or twang, and if possible clung on to it for a lifetime, even if you spent the rest of your living days in Gulmohar Park.
Indian writers, travelling between continents, have come to symbolise this new assurance about accents. Ramachandra Guha or Amit Chaudhuri or Vikram Seth or Anjum Hasan or Anuradha Roy speak the same way, no matter what stage they are on, whether in India or the West.
Regardless, Indian boarding school elites think they speak good English in 'propah' accents, which marks them out from people like Apu. There is an arrogance this class has about its enunciation, which is unintentionally neutralised by the clichés imposed on us by the West. Try as hard as you might: you will remain the sing-song Indian. But here's an interesting fact: I have regaled many white folk and NRIs with my imitation of the imitation of this imaginary Indian accent. It doesn't exist. It's pure invention. It's easy to master. And recolonise.
(Courtesy of Mail Today)
Also read: An obituary of a poor man's car named Nano
The views and opinions expressed in this article are those of the authors and do not necessarily reflect the official policy or position of DailyO.in or the India Today Group. The writers are solely responsible for any claims arising out of the contents of this article.