The Castaways
An old woman who sings of hope, and lives like a free bird
An encounter with an abandoned old woman who has found peace in herself and in a building full of outcastes.
That evening, she was sitting outside in the corridor with another old woman, who used to work in the hospital and had nowhere to go. So she stayed behind when the Trust made the hospital a home for the poor and the old. They spend evenings with each other on a bench and then walk to their respective rooms for the night.
There is no revelation at the end of the story — there is also no point of this story in the day and age of big 'breaking news'.
And, if you will, the story is about an encounter with a woman who sings about belief and never complains about her cold grey room in a dystopian world of people who fell through the cracks.
Purnima Devi owns practically nothing. Yet, she seems to own her own freedom. (Photo: Chinki Sinha)
The building is falling apart and in each room, there must be a story waiting to be heard by a stranger who promises nothing but a few minutes of her time.
But I follow Purnima Devi to her room on the left side of the building. They have laid down bricks to make a sort of bridge to cross over to her side. It is dark and in the evening light, I can make out a door that's kept together with boards nailed to each other. Inside, there is an enclosure of three and a half walls, a rope from which hang her saris, a wooden cot and a blanket spread on the floor. I assume her son sleeps here.
There in an old mirror full of dust, a plastic bucket, a shelf with some steel boxes — and nothing else.
The 78-year-old can't see very well. There's a broom behind the door.
On most mornings, she goes to the Kali temple in Patna, with her harmonium, to sing. For years, my mother has seen her singing against the blue shuttered door. At some point, they had opened a small canteen there but now, as with most new things in an old city, the canteen is shuttered and barred. When a Patna Beats' reporter wrote about her, my mother told me how, on her visits to Kalibari at the Darbhanga House, she would hear her sing odes to the river goddess.
"Her story is sad and the goddess takes care of her because she has come to her temple," she would tell me over the phone.
That morning, I saw her.
She was huddled in the same corner.
For years Purnima Devi has ben singing against the blue shuttered door. (Photo: Chinki Sinha)
The river has receded further. From where I was standing, I could count pillars until I couldn't anymore. The bridge would connect one part to the other in the name of development, but in the last two decades, I have been losing my city to bridges and flyovers and malls and aspirations.
There is no logic to nostalgia. Maybe this is how cities grow.
I am no cartographer but I like to fill up maps with fantasy, with goddesses who smile as they guard the patched-up facades of old houses.
Purnima Devi offered to sing.
"Mano toh main Ganga Maiyya, na Mano toh behta paani," she sang.
This is how belief works.
I decided to believe her.
Purnima Devi was born in Darjeeling in West Bengal in 1945. She told me she was married to a doctor called SP Diwakar in Barabanki who was a "good soul" and treated the poor free of cost. I am not here to fact-check the story. The poor and the fragile must not be subjected to that scrutiny, which we forget to exercise where we should. It would be criminal to suspect an old woman's tale of abandonment.
Her husband, she told me, was murdered.
For two years, she stayed in the village with her children, then wrote to her aunt who invited her to live with her in Patna. Purnima Devi has some training in singing and taught music at a school but when her aunt passed away, life became difficult. Her one son passed away at the age of 13. The daughter was taken away. "She works in Bombay in television serials but doesn't come to meet us," she says.
Her other son is battling depression after his wife left him and for many years, the mother consulted doctors for him but gave up finally. In fits of anger, he beats her up sometimes — and once even broke her harmonium. She worries for him.
"What will happen to him when I am no more," she says.
She doesn't complain about anything that afternoon.
There's misery. But there's music too. Which one overcomes? (Photo: Chinki Sinha)
Later, I ask Bashshar Habibullah, the founder of Patna Beats, for her address. He says the place is so run-down, they have been asking her to move — but she says the people know her there, they have been by her side in difficult times.
To judge a dystopian setting with outcastes set aside for criminality is a long-standing habit of the privileged.
All discomforts and luxuries are relative perhaps.
Every month, the staff of Patna Beats go to meet Purnima Devi and give her some money from the donations that have been collected after her story came out. She pays Rs 1500 towards rent for the one room tenement she shares with her son.
Someone has agreed to pay her rent for a year, along with expenses for her food. Such stories make me happy. We are not such bad people after all.
She can't cook anymore and walks slowly but refuses to hold my hand.
"I chose to be a free bird and I will walk on my own. You should never feel the need for anyone's support," she tells me. "If my father hadn't given me education, I would not have been able to find my footing."
The walls are thin and they don't reach the ceiling. There are gaps, so you can hear the people in the other rooms. Conversations and smells travel through these gaps.
You don't feel lonely here.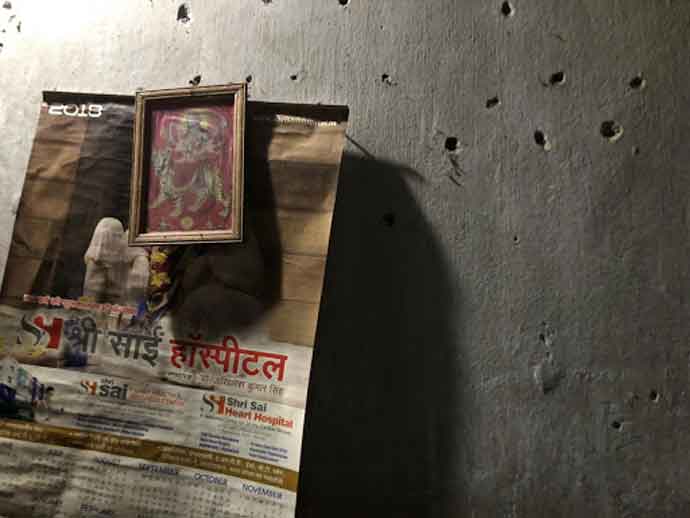 The walls are thin and full of holes. They let in noise. But they let out loneliness. (Photo: Chinki Sinha)
Nothing is what it should be. The door is just an assemblage of boards nailed together. Some have come off.
In the far end of the corridor, her son is standing quietly. He nods when I greet him. "After me, some NGO in West Bengal or Kathmandu will take him," she says. "I am trying to save for his future. He can't do much by himself."
The floors are full of dust and grime. There is some leakage in the corner of the room and water has spilled on the floor.
"I clean it myself everyday with phenyl but today, I was not feeling well," she says. "We eat food from the canteen and my son washes my clothes."
I ask her if she is happy. She says she is at peace here.
And in the end, she likes to remember the happy times. The bad memories have been dismissed, despite her hardships.
There are people who accept fate with no questions. There are no explanations for events in life.
I remember a line from a book by the Haitian writer Edwidge Danticat. She wrote something about how some of us are chosen to carry huge pieces of sky on our heads, only because we can.
Purnima Devi can.
Nothing is what it should be. Yet, a human soul has somehow won the right to be. (Photo: Chinki Sinha)
My mother sits next to her in the room. She asks her to bless me.
"Live like a free bird," she says. "Like me. Live in peace."
When I left the building with my mother, Purnima Devi was standing in the corridor. A tube light had been switched on.
Perhaps it is these encounters that have taught me how to live, die, how to travel once again, how to wave goodbye and how to return to your city again and again in search of stories so you can become a cartographer finally and reconstruct the city through its people and read the city as text about those who loved, lived and hoped here.
On the map, it would be called the House of Hope.
It would be grey in colour.
Also read: Indian Art Fair: To the moon and back
The views and opinions expressed in this article are those of the authors and do not necessarily reflect the official policy or position of DailyO.in or the India Today Group. The writers are solely responsible for any claims arising out of the contents of this article.