The sequel to the 1986 action cult classic Top Gun has taken the world by storm as it soars past Memorial Day weekend box office records. For the first time in lead star Tom Cruise's career, does his film have a shot at clearing the one billion dollar-mark that would make it his highest grossing film of all time. The success of the film has been attributed to its high-octane dogfights, cheesy one-liners and of course, topless aviators playing a seaside sport with homoerotic undertones set to a fun pop number; all reminiscent of its 1986 predecessor. 
What really served as the biggest sell for the film however was the sentimentality attached to its recurring cast of characters. As the film reminds us on several occasions, "It's not the plane, it's the pilot" , an almost self-aware piece of dialogue passed in smug assurance, the studio executives have capitalised on what seems to be the latest fad in Hollywood as of late: nostalgia. What really sealed the deal for fans of the original was the chance to get to watch these characters on-screen once more, in the many years since.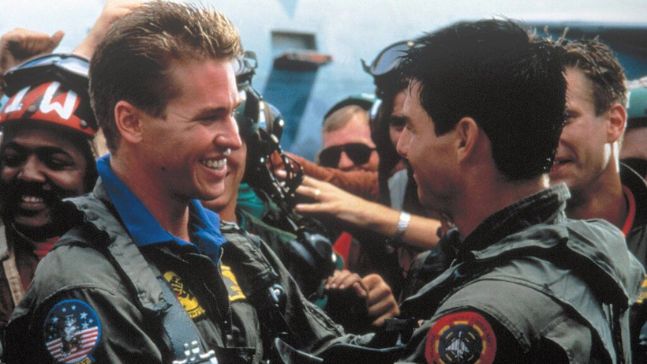 The film features recurring cast members from the original, including Cruise's Pete "Maverick" Mitchell and Val Kilmer as Tom "Iceman" Kazanksy but excludes a number of cast members who have been written out entirely, let alone approached for even a cameo. 
Here are the characters who didn't make the Top Gun: Maverick cut and what they've been upto ever since the original first dropped:
Kelly McGillis played instructor-turned-love interest for Cruise's Maverick in the original but wasn't given a call for the sequel. In the years since Top Gun, McGillis was involved in few projects for film and television including the romance Made in Heaven (1987) and The Accused (1988) which discouraged her to the point of taking a break from acting. In an interview with ET, McGillis talks about the possible reasons for her exclusion saying, "I'm old and I'm fat and, and look age-appropriate for what my age is. And that is not what the whole scene is about". In the years since, she has given up her days as a star and focused on her family and sobriety. 
McGillis's Charlie was never mentioned in Maverick, having been replaced by Jennifer Connelly as Cruise's new love interest and a character who was mentioned through a single line in passing back in the original. 
Played by Anthony Edwards
Maverick's closest friend and RIO, Nick "Goose" Bradshaw, was one of the most beloved characters in the original, who met with a tragic, untimely death. Actor Anthony Edwards sparked natural chemistry with his co-star Cruise as one of Hollywood's most iconic duos. For rather obvious reasons, Edwards was not called back for the sequel however, Goose's death has serious implications on the sequel and informs the complicated relationship Maverick shares with Goose's now-grown son, "Rooster", played by Miles Teller. In the years since, Edwards developed a career in television, earning multiple Emmy nominations for his role in ER and most recently in Billions and Inventing Anna. 
Top Gun kick-started Meg Ryan's career, prior to which she worked in small TV roles. Her character Carole, Goose's wife, appears very briefly in the original. Ryan rose to fame for her roles in rom-coms, notably opposite Tom Hanks in You've Got Mail (1998) and Sleepless In Seattle (1993) as well as 1989's romance classic When Harry Met Sally. 
Like McGillis, Ryan wasn't approached at all for the sequel, when her presence in the years since Goose's passing would have served as the perfect catalyst to strengthen both Rooster and Maverick's resolve. 
An established actor in the industry, Tom Skerritt had been acting since the 60's, with roles ranging from the TV comedy M.A.S.H. (1970) to the captain of the Nostromo in Ridley Scott's sci-fi masterpiece Alien (1979). His character Commander Mike "Viper" Metcalf served as the chief instructor at the aviation school in the original, a position succeeded by Cruise's Maverick. He was called to film a scene for Maverick but was cut from the final roll of the film. His acting career has since slowed down considerably, appearing only in short cameos here and there.
Played by Michael Ironside
Michael Ironside enjoyed a prolific career in the years since the original, his roles majorly gravitating towards sci-fi, including, Total Recall (1990), Starship Troopers (1997) and most recently in the series The Dropout. His minor role in Top Gun as Rick "Jester" Heatherly, the No. 2 instructor at the academy was archetypal to the kind of roles he took on. He never received a call for the sequel after falling out with producer Jerry Bruckheimer, a beef that apparently cost him a reprisal. 
Director Joseph Kosinski elaborates on his casting choices saying, "I didn't want every storyline to always be looking backwards. It was important to introduce some new characters." in an interview with Looper, which seems rather convenient considering how the sequel centres around Cruise's Maverick, despite a fresh cast of new characters to pass the baton to. A poignant moment with Val Kilmer's Iceman, who received the call-back despite his literal inability to talk following his recovery from throat cancer as well as multiple flashbacks Goose, who's memory still haunts Maverick, somehow fell in line with Kosinski's vision, however. 
And while this sequel paves the way for a new generation of Top Gun graduates, the bewildered looks, dramatic gasps and a prompt "He's the fastest man alive" that Cruise's Maverick receives over the entire runtime of the film, unfortunately cements his stature as the one true hero of the franchise, in the presence of whom any number of recurring cast would clearly pale in comparison.