Whenever one thinks of the late actor Vinod Mehra, his shy, sweet smile and natural acting at once come to mind. What also comes to mind is the regret that he left this world all too soon, depriving our film industry of the many roles he would have played, especially as an elder character.
Although he was a star in his own right, we think of Vinod Mehra as more of a fine and versatile actor who usually underplayed his roles, much like the great actors such as Ashok Kumar, Dilip Kumar and Sanjeev Kumar. February 13 is Vinod Mehra's 74th birth anniversary and I would like to recall the invaluable contribution he made in the 1970s and 1980s to the Hindi film industry.
He was born in Amritsar 1945 — just three years before, Rajesh Khanna was born in Amritsar. Their lives connected once again when in 1965, they both participated in the All India Talent Contest organised by United Producers and Filmfare. It was this contest in which Rajesh Khanna was the winner and Vinod Mehra, the runner-up — no mean feat in itself.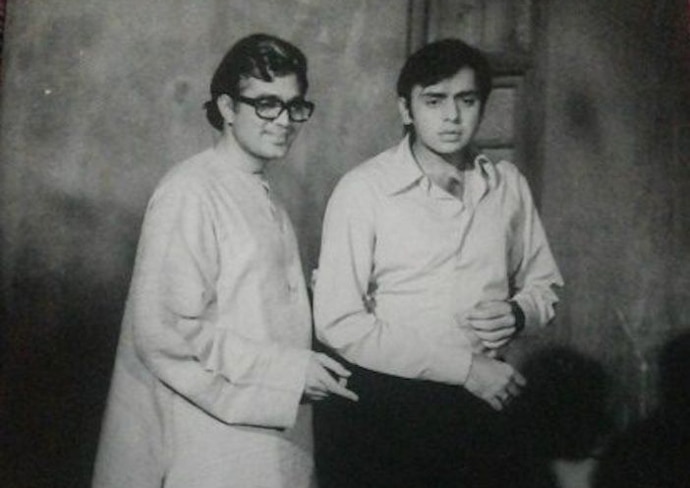 A special bond: Rajesh Khanna and Vinod Mehra had a sublime bond. Amar Prem saw Vinod act with the superstar. (Photo: Facebook)
Although Vinod had appeared as a child actor in films in the late 1950s (he played the childhood role of Kishore Kumar in the 1958 film Raagini), he first appeared as a hero in the 1971 film Ek Thhi Reeta (opposite Tanuja). The film did well. Also in 1971 came Lal Patthar which saw the young Vinod in the role of Shekhar. 
The film had Raaj Kumar, Hema Malini and Rakhee. Raaj Kumar and Hema Malini were in powerful roles — yet, this fresh-looking quiet actor made his presence felt prominently in this rather unusual film. After all, who can forget the scene where he sits at the piano and sings 'Geet gaata hun main, gungunaata hun main' (in the voice of Kishore Da). He stole many a heart! It was his very first year in the industry as an adult.
Amar Prem in 1972 saw Vinod share screen space with the superstar himself.
This classic film, starring Rajesh Khanna and Sharmila Tagore, offered Vinod a wonderful opportunity to play the role of the grown-up Nandu. As a child, Nandu is loved and pampered by Sharmila Tagore (Pushpa) and when he grows up and meets her after a long gap, the love he has always had for her makes him take her to his home as his mother. 
The bond between the two has been portrayed very sensitively and beautifully by Shakti Samanta. It is an unspoken love between mother and child. As a youngster, Nandu had to put up with the harshness of his stepmother before Pushpa, a dancing girl, comes into his life as a foster mother. This film showed us how comfortable Vinod Mehra was playing a role where he had to say more with his eyes than through the dialogues. In his scenes with the superstar, he stood his own so well.
A breath of fresh air: In an age of bombastic superstars and icons. Vinod Mehra stood out for his simple charm. (Photo: Screengrab/ Youtube)
It was, however, with Hrishikesh Mukherjee's Anuraag (also in 1972) that Vinod Mehra arrived well and proper in the industry as an actor who could contribute greatly to the commercial success of a film. Anuraag had very beautiful songs and did wonders for Vinod's career. Maushumi Chatterjee (she made her debut in Hindi films with Anuraag) and Vinod made a lovely pair.
They came like a breath of fresh air and gave us songs like 'Tere nainon ke main deep jalaaunga' and 'Sun ri pawan, pawan purwayiaa'. They also acted in other films together, including Raftaar (1975). Other notable films of Vinod Mehra include Anurodh (1977) Ghar (1978), Jurmana (1979), Amar Deep (1979) and Bemisaal (1982). Of course, there are many others as he acted in around a hundred films. In Jurmana and Bemisaal, he worked with Amitabh Bachchan and Rakhee. Again, these two films had haunting melodies like 'Yeh Kashmir hai' and 'Saawan ke jhhoole padey, tum chaley aao'.
The film Ghar saw one of Mehra's best performances.
Vinod Mehra's gently romantic air and heartwarming smile made him unforgettable. (Photo: India Today)
His flexible, charming face could convey all the pain he was supposed to express. The songs of Ghar are remembered till today — 'Tere bina jiya jaaye na', 'Aapki aankhon mein kuchh mehke hue se raaz hain' and 'Phir wahi raat hai, raat hai khwaab ki'.
Simple, quiet, unassuming and good-natured — that was what Vinod Mehra was as a person and an actor.
He died in 1990 at the young age of 45.
His contribution to Hindi cinema can't be undervalued. He was a star who faded away too soon. But his films will stay with us forever, bringing to life the natural performances and inborn talent of this gentlemanly artiste whose graceful personality came across so strongly in all his roles. It is hoped that his son, Rohan Mehra, rekindles the memories of his father as he now enters the film industry.
Mehra's films with Rajesh Khanna and Amitabh Bachchan truly bring forth his versatility and finesse as an actor.
Vinod Mehra's gentle charm and heartwarming smile made him unforgettable. He is an actor for all seasons. A star who shone for two decades in the firmament of cinema. And will shine in our hearts forever!