Why Taapsee Pannu needs to do 'Judwaa 2' alongside movies like 'Mulk' and 'Pink'
The actress calls her latest role as the most intimidating of her career.
Taapsee Pannu is 23 films old and her biggest hit to date is last year's Judwaa 2.
But the actress is best known for Pink and Naam Shabana. She is now eager to add more noteworthy films like them to her list.
First up is film no. 24 in Mulk, the Anubhav Sinha-directed drama that follows a Muslim family's fight for justice. It releases on August 3.
She hits 25 with the Anurag Kashyap-directed romantic drama Manmarziyan, which premieres at the Toronto International Film Festival and releases on September 14 in India.
The movie follows a Muslim family's fight for justice (Photo: Instagram of Mulkfilm)
She recently wrapped up Badla, starring Amitabh Bachchan which hits screens next year.
There are also two Telugu films in her kitty.
"My manager is being scolded for not scheduling it well," she said. "But I want to do everything. They are like we don't know how you are going to do it. Anyway they are not huge-starrer and big-budget films. You wrap it up quickly in one go."
In the ensemble drama Mulk, Pannu plays Aarti Mohammed, a London-based woman who while visiting her husband's family in India finds herself having to fight their case.
Rishi Kapoor plays her father-in-law.
Based on true events, Sinha's film looks at the rising marginalisation of minorities in Indian society as a Muslim family is ostracised and labelled un-Indian.
"Just like Pink, there are so many things that are touched upon in a subtle way," she said.
Pannu calls it the most intimidating role of her career.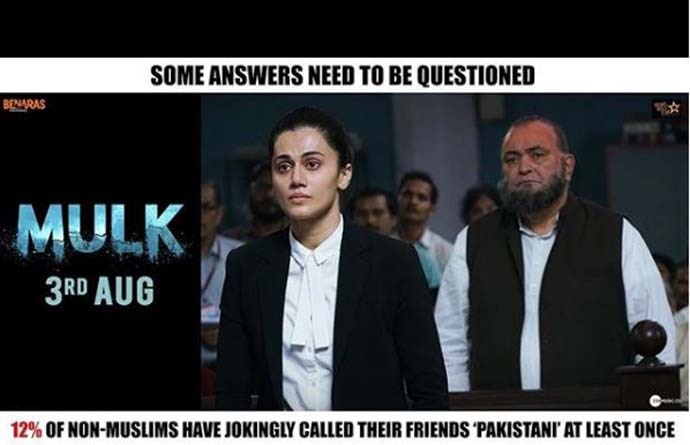 Rishi Kapoor plays Taapsee's father-in-law. (Photo: Instagram of Mulkfilm)
"There were scenes where I was shaking," she said.
"Five to six cameras rolled at the same time. In the courtroom set up with actors like Ashutosh Rana, Rajat Kapoor, Rishi Kapoor, Neena Gupta surrounding me, I had to read five-to-six page long scenes."
The intimidation, she says, came from the thespian mettle of the actors, all of them far more experienced than her. Since making her debut in 2010, Pannu has worked in four languages but she admits she still doesn't feel entirely settled in Bollywood.
"I'm very scared of what happens on a Friday," she said.
Taapsee Pannu's biggest hit to date is last year's Judwaa 2
"I fear if it will not work, I won't get good films. They'll say she's able to act but her films don't work. I'll be tagged as a good actor and not a leading lady of a mainstream film."
Which is why there's the need to do a Judwaa 2 so that she can cultivate an audience, who will give her less commercial films a chance too.
"I'll be secure when people will trust me enough that they will walk into a theatre believing because of my presence in the film it is worth-watching."
(Courtesy of Mail Today)
Also read: Mission: Impossible - Fallout: How CBFC aborted Hollywood's 'sinister mission' in Kashmir
The views and opinions expressed in this article are those of the authors and do not necessarily reflect the official policy or position of DailyO.in or the India Today Group. The writers are solely responsible for any claims arising out of the contents of this article.