It was almost 2am, and Shah Rukh Khan was busy wrapping up the last few interviews he had committed to. He had then already spent the last eight hours giving interviews, including one for an FM channel, and attending film-related meetings.
I was the last person to talk to him that day, not only on Zero, but about everything that makes Shah Rukh Khan the superstar that he is — who probably remains unaffected by the failures of his films at the box office.
He, for sure, was drained, but the moment the camera turned on, the energy, the humour and the passion was back. That's what makes SRK the 'King' of Bollywood — one who doesn't take his status for granted, and works at every aspect of his film to make it a success.
There is beauty in imperfection. Who can be a better person to tell this than the perfect King Khan himself? (Photo: Instagram)
Marketing his product is an integral and essential part of it. He says, "Whenever I come out with a new product, it is my duty to tell all those people who have believed in me, who love me, why they should spend their time and money on this product. This isn't a piece of a pizza that you can return, if you don't like it." That's SRK who feels it's equally his duty to promote his films, and for which he does not mind keeping up till late.
What are the challenges of being an SRK whose house has been a landmark for people travelling to Bombay, the city where he landed up looking for his then-girlfriend Gauri Chibba, as mentioned in his biography by Anupama Chopra, and dreamt of ruling one day? What has his super-stardom taken away from him?
As SRK puts it, his status of being the "King Khan" has taken away his ability to fail and the ability to surprise people.
With his new film Zero, is he then trying to surprise his fans at the risk of an experiment that may not go down very well with the tried-and-tested model of SRK, the romantic hero?
The risk he runs with this experiment is that Shah Rukh Khan is an image and he is an employee of that image. However, his successful rule over the box office has, for sure, given him the freedom to experiment without worrying about being jobless, if the experiment doesn't work.
His last couple of movies like Dilwale, Raees, Fan, tanked at the box office.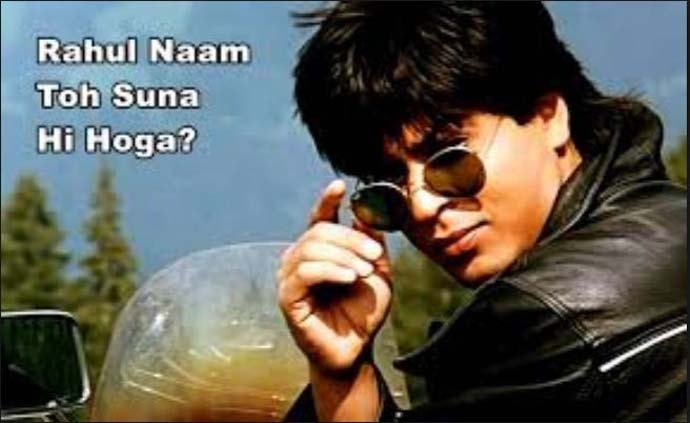 Yes, Yes. That's why this time we needed to hear the name Baaua. (Photo: Twitter)
Still, he has again taken a risk with Zero, where with spectacular VFX, he plays a vertically challenged man. If I may take the liberty of being politically incorrect, he is a dwarf who is looking for a meaning in his life.
His fans love to see him as a Rahul or a Raj, wooing his lady love, the one who takes them to a make-belief "neverland", where they are entertained and come out feeling happy. On a philosophical level, Zero has a great message of celebrating imperfection in the times, when there is a high premium on being perfect. But the question is: Will they accept him as a man dealing with his imperfections?
Most of SRK's successful films had him treading in the familiar Rahul-Raj territory. His previous attempts to break out of the lover-boy image met with lesser success. It was almost as if the audience loved him too much to let him be anyone else. The likes of the Hollywood biggies, like Cary Grant, played the romantic lead well in their sixties successfully.
Jason Statham continues to be the most bankable actors in his fifties and was asked to rejoin the 'Fast and Furious' franchise and gave a hit, The Fate of the Furious, in 2017. Keanu Reeves again, in his fifties, resurrected himself with John Wick.
Shah Rukh Khan, in his fifties now, is at a similar juncture. He experimented in Raees, Fan, etc., but has only successfully broken the mould of a romantic hero in Chak De.
We have all the love for Mohabbatein's Raj Aryan Malhotra. (Photo: Still from Mohabbatein)
Zero will be another round of experiment in the form of a dwarf hero, who celebrates his imperfection. Although Zero is a love story, where a tiny man bares his heart and makes his own space in the kingdom of love, with a message that love comes in all shapes and sizes, SRK has stepped out of his make-belief, perfect, happy world.
Shah Rukh was last seen romancing Anushka in a romantic film, a genre he excels in. It had the Imtiaz Ali magic too, but the film failed.
The other two Khans are at a similar juncture in their careers. Despite Salman Khan's last films underperforming at the box office, he is still a bankable star and a privy league member of the 300-crore club. Aamir Khan, who promises to deliver on content, surprised his audience with Thugs of Hindostan sinking at the box office. It also shows how a big star cast is no longer the guarantee of success.
The challenge for Shah Rukh Khan is to continue being the Brand Shah Rukh Khan; the myth Shah Rukh Khan.
He tasted his first success with Deewana. Dilwale Dulhania le Jayenge is the stuff legends are made of with its uninterrupted run at Mumbai's Maratha Mandir. With Zero, the chutzpah, the passion, the manic energy remains the same — he has made a gigantic investment of his time and energy and has taken a commendable risk.
Zero challenges the popular paradigm of the much-coveted perfectionism, where filtered images and Instagram moments are the high points in an otherwise mundane life of the masses or even of the rich — bereft of stardom — and sometimes bored of it.
In his fifties, he still has the appetite for breaking tried-and-tested success models. That's what makes him the king. (Photo: Twitter)
The philosophy of Zero comes at a very apt time in Shah Rukh Khan's career and life where he can afford to tell us that perfectionism is unnecessary and a wrong goal to chase. There is no perfect life, no perfect way to do things.
For perhaps, an entire generation born after the 60s, Khan's spectacular life story from a middle-class Delhi Boy to the King of the Hindi film industry is inspirational and that is what makes him a darling of the masses.
This has been quite a journey, which he undertook without a godfather in the industry. As he says, his fear of failure brought out the best in him, and after all these years of almost eternal stardom, it is this fear that pushes him to give something new to his audience.
Zero is an attempt in that direction and it also is a reflection on the dilemma faced by a superstar, who continues to be the "King", but is also struggling with a series of failures at the box office. Though the 300-crore club continues to elude him, he still generates hysteria among the audience and all those people crowding outside his "Mannat" to see their superstar wave or smile at them. Because Bollywood isn't just about making films. It is a culture and a religion where stars are worshipped. Shah Rukh Khan has been the repository of billions of fantasies, he has been the emblem of the new India, seducing viewers in distant spaces.
So if a film like Zero doesn't work, will it be a point of no-return for the superstar who is met with challenges from the younger actors with every release?
Perhaps not — as long as he keeps his "Baazigari" alive.