Well, the BJP spin doctors have delivered yet another jumla.
What is it really that the farmer is getting? Certainly not a 50 per cent increase in MSP. Instead what is coming is a 50 per cent increase in cost of production. This means, cost of investment in addition to farm labour or what the Commission for Agriculture Cost and Prices (CACP) would call A2 plus FL. (MSP is calculated as a component of A2, FL, C2 and the last C3 which includes a 10 per cent managerial cost.)
"By not adding cost of land rental or C2, the government expects the farmer to pay for it from his own pocket. This hits his cost of production and drastically brings down his margin," says agricultural expert Devinder Sharma.
The BJP had promised in its manifesto that it would implement the Swaminathan Committee report which recommended a 50 per cent increase in cost of production, that is, investment, farm labour, land rental. In the Supreme Court in 2015, the government said just the opposite. That it was not possible to pay the farmer a 50 per cent increase in cost of production.
Agriculture minister Radha Mohan Singh, however, says: "It's going to be A2 plus FL. Land rental is a myth. Let's begin first with a 50 per cent mark up on expenses incurred." On asked that the manifesto promised the Swaminathan Committee would be implemented, Singh says that's not possible.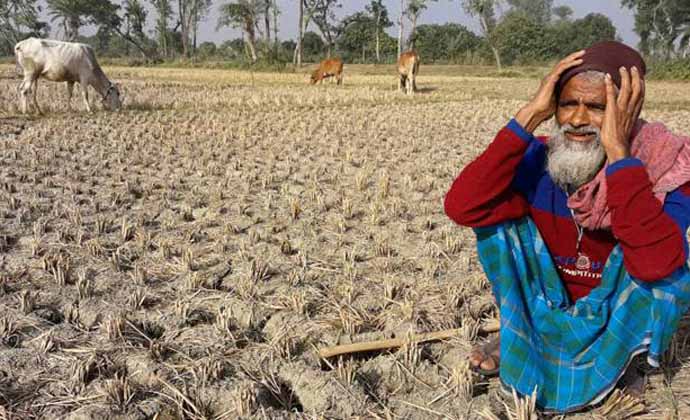 As the government drumbeats the MSP hike, the truth that many economists are pointing to is, that 94 per cent farmers in this country are not covered by MSP. That 83 per cent farmers have small land holdings of 0.6 acres. That the 2016-17 Economic Survey points out that in 17 states the avaerage income of the farmer is Rs 20, 000 annually. That 3.5 lakh farmers have died in 15 years and that farm debt is Rs 14.5 lakh crore.
"If the government wants to help, it should create the infrastructure, reduce the role of middlemen and procure directly," says VM Singh, of the Rashtriya Kisan Mazdoor Party.
A top BJP leader, however, says, "This argument is outdated. It is not possible to pay such prices to the farmer. The global and Indian economy is interlinked. What we should be doing is changing the crop pattern instead of producing more then what can be consumed. For example, grow more bamboo. We have changed its definition in the law from tree to grass. Please grow bamboo. Use it for biomass, for fuel, for newsprint or wear it as a shirt. If we insist on simply growing rice and wheat, we are losing the plot."
But MSP isnt the only disappointment. According to the finance minister: "Last year, I had announced strengthening of e-NAM (electronic national agriculture market) and to expand coverage of e-NAM to 585 APMCs (agricultural produce market committees). 470 APMCs have been connected to e-NAM network and rest will be connected by March, 2018."
The electronic platform for commodity trading in agriculture is anything but ready. The six states with the most mandis under eNAM are Uttar Pradesh-66, Madhya Pradesh-58, Haryana-54, Maharashtra-54, Telangana-44 and Gujarat-40. But the platform is bogged down by red tape in each of these states.
Even if it were ready, e-NAM is a bigger evil then MSP. "The model that is followed in arriving at the price is the average price of trade during the day. But this is deceptive as it is less than the MSP. For instance, the MSP of "toor" was Rs 5,050 per quintal. At e-NAM, it fluctuate between Rs 3,700 and Rs 4,200. This is a platform designed to help the trader, not the farmer, " says Devinder Sharma.
While 86 per cent of our farmers are unable to transact at APMCs, the truth is there are only 7,600 APMC mandis in the entire country. What is needed is another 42,000 more if a mandi is to be made available, one each within a 5km radius.
Now in the last full Budget of the Modi-led NDA government's first term, the finance ministry has announced an upgrade of 22,000 rural haats at a cost of Rs 2000 crore that would have the APMC's regulation, but will be electronically linked like e-NAM.
Economist Mohan Guruswamy says, "If the government really wants to help the farmer it should follow the Telangana model where Rs 8,000 is paid directly to the the small land owners. This step has singularly done more for the farmer than any other scheme."
Sharma points out the government's spin doctors take advantage of the fact that the public memory is short. "Look at what they promised in the Budget last year. That 100 lakh grameen houses would be built. This year there was a similar announcement: 51 lakh grameen houses would be built this year and 51 lakh next year."