The highly-anticipated animated adventure Spider-Man: Across the Spider-Verse is just weeks away from its theatrical release in June and much like its predecessor, it introduces several alternate versions of the titular hero.
This time around, audiences will also be introduced to an Indian Spider-Man AKA Pavitr Prabhakar (not the most creative pun on Peter Parker but okay). Also, does there actually exist an Indian with the first name Pavitr!?
Sporting wavy hair, a red-and-blue dhoti combo, and golden bangles, the Indian Spider-Man in Spider-Verse looks more mythical than modern. But thankfully, Karan Soni (better known as Dopinder in Deadpool) voicing Prabhakar seems more natural than a forced Raj Koothrapalli accent (or worse, Apu from The Simpsons). 
Recent clips from the film also find the character introducing himself as a citizen of Mumbattan (an alternate hybrid of Manhattan and Mumbai that is expectedly heavy on the road traffic) and correcting protagonist Miles Morales when he says that he likes "chai tea". 
"Chai tea? Chai means tea. You're saying TEA TEA!"
The scene is bound to make many an Indian chuckle as the subcontinent faces the threat of white people crafting their own bastardised version of Indian milk tea and christening it as "chai tea". The true extent of Soni's role in the Spider-Verse film is uncertain for now but the clip does offer some relief, especially given how the Indian Spider-Man has had to go through an arguably stereotypical (nevertheless iconic) makeover in the 2000s. 
To understand more about Pavitr Prabhakar's origins, we have to go back in the past. 
When Satyajit Ray met Stan Lee...
Visionary director Satyajit Ray was an ardent writer and sci-fi aficionado. After all, the man could have directed his Hollywood sci-fi epic The Alien but it entered production hell and never saw the light of day. Interestingly, Ray even pointed out similarities between Steven Spielberg's E.T. The Extra Terrestrial (1982) and his own 1967 screenplay for The Alien. 
But Indian Marvel fans would be interested in knowing that Ray also met Marvel Comics founder and Spider-Man creator Stan Lee once in New York. Their meeting was hardly documented by the media and so pointing out an exact date is difficult. Still, legend has it that the Bengali auteur discussed the potential of adapting Lee's web-slinging wall-crawler for Indian audiences.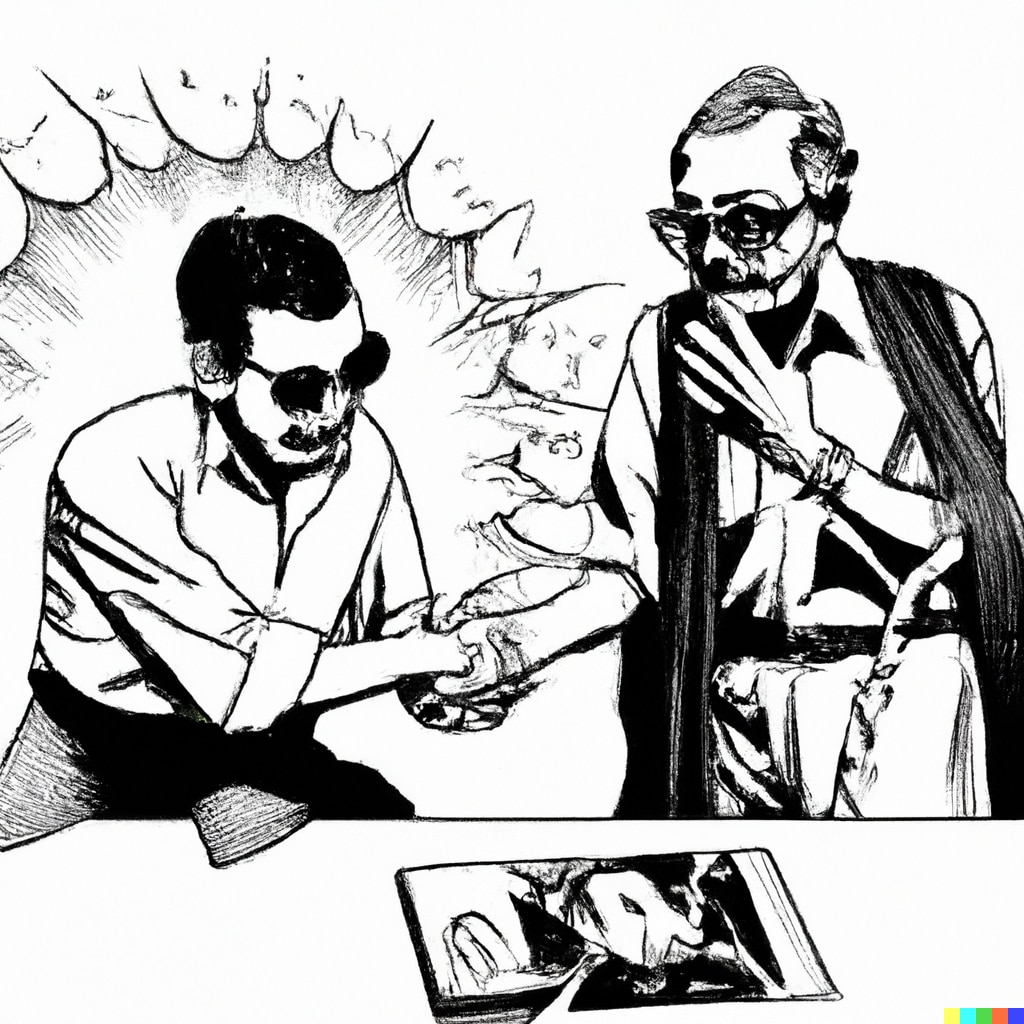 The plan came to fruition only decades later when 2005 marked the debut of Spider-Man India. 
The comic book house that brought Spidey to India
In the year 2005, India was opening up to international comic book markets. This was a time when there was no Marvel or DC Cinematic Universe (and their endless merchandising) present in the country. 
A big getaway for Indians were the first two films of the Spider-Man trilogy directed by Sam Raimi. With this rising popularity around the web-slinging superhero, Marvel decided to launch a wholly Indian avatar for Spidey.
In the 2000s, DC, Marvel, and Dark Horse comics had already begun trending in Indian cities with their imprints being distributed as cheap mass-produced comics by Gotham Entertainment Group. Gotham was a company founded in 1997 by Suresh Seetharaman and Sharad Devarajan, both of whom are also comic book writers and artists. 
Sold at 10-20 rupees, these foreign comics were distributed in not only India, but also Pakistan, Bangladesh, Nepal, Sri Lanka and Singapore. They were also translated in regional languages like Bengali, Tamil, Hindi, and Telegu. These were, of course, the times when internet connections were also not that widespread in the subcontinent. So, Gotham comics became a portal to the superhero world for many South Asian readers.
Finally, the founders decided that now was a safe time for them to not just bring a Western character to India but also 'Indianise' that character. 
"Since Suresh Seetharaman and I first founded Gotham, we had always dreamed of fully integrating a Western super-hero character into the Indian market in this revolutionary way," Sharad Devarajan explained the idea behind Spider-Man India. He served as the CEO and President of Gotham at the time.
'It is one thing to translate existing American comics into local languages, but this project is truly what we call a transcreation - where we actually reinvent the origin of a character like Spider-Man so that he is an Indian boy growing up in Mumbai and dealing with local problems and challenges.'   
This collaboration between Gotham's team and Marvel gave birth to a four-part comic book miniseries called Spider-Man India. It was intended to garner more Indian readership for Marvel comics and while it did rise, Spider-Man India went mostly unnoticed and soon disappeared from Indian pop culture. 
Reputed Indian artist Jeevan J Kang was roped in as chief artist on the miniseries. To quote Kang from the comics' foreword, 'The expanse of the human mind is ostensibly limitless. And yet, my working on Spider-Man was still beyond my mind's limitlessness. I guess you could call me lucky. Really, really lucky.' 
What was Spider-Man India all about?
In this Indian take on the classic Spider-Man origin story, Peter Parker became Pavitr Prabhakar, Mary Jane was rechristened Mira Jain and Uncle Ben turned into Uncle Bhim. Similarly, the comic featured other integral characters from the original Spider-Man mythos but with Indian names and characteristics.
Prabhakar is a shy yet bright student from a village who goes to Mumbai at a posh school, despite the financial strains that his Uncle Bhim and Aunt Maya face. He's constantly bullied and shamed for his rural upbringing and clothes (he wears a dhoti and jooti sandals to school) but his best friend Hari Oberoi and crush-turned-girlfriend Mira Jain still provide him solace.
Instead of getting bit by a radioactive spider, Prabhakar encounters a mystical yogi who tells him that he's a hero chosen by destiny and hands him an Indianised Spider-Man costume. The origin story is pretty straightforward then, explaining how Prabhakar would use his great power with great responsibility, and defeat his arch nemesis who just happens to be his best friend's father Naman Oberoi. 
Naman Oberoi is a desi version of Norman Osborn, the character known as Green Goblin in Marvel comics. Oberoi is an industrialist who seeks an amulet with magical powers. When he finally gets his hands on the amulet, Naman turns into an asura, a demon of green skin and great strength.
As is evident, Sharad Devarajan also explained in a podcast how he along with artist Jeevan J Kang drew a lot from Hindu mythology for this series, "We have always believed that the super-hero relates to a universal psyche already firmly established in India through centuries of mythological stories depicting gods and heroes with supernatural abilities. For example, in Issue #2, we introduce Doctor Octopus, a character whose US counterpart has mechanical tentacle-like arms. But his Indian equivalent is a multi-handed demon. This is just like how you see many Indian gods and demons holding many weapons in many hands." 
Has Spider-Man India aged well?
While Devarajan's brainchild can be seen as an interesting take on the Marvel character, its stereotypical assumptions of Indians as dhoti-wearing mystical yogis have obviously not aged well. Drawing from only Hindu mythology again skips past India's multi-culturalism and hardly gets the opportunity to incorporate any of India's post-globalisation changes of the early 2000s. 
Naman Oberoi could have very well fit into a capitalist overlord role with him representing a newer India with scientific advancements but at the cost of Indian traditions (or whatever it is that the NRIs want to market to the West). This hypothetical scenario might sound cringe-inducing but less backward than an Indian industrialist ignoring his company just to get his hands on a "magic amulet". 
What happened to the team after Spider-Man India?
Eventually in the years that followed, Gotham Comics entered in a partnership in 2008 with Richard Branson's Virgin Comics. Sharad Devarajan went on to create an Indian kids' superhero with Stan Lee called Chakra, and is currently the CEO of Graphic India, an online platform for various digital comics in India. Jeevan Kang continued serving as an artist for many graphic novels published under Virgin Comics. 
While Spider-Man India was an amusing experiment in adding an Indian touch to American comics, here's hoping that future Indo-American comic characters bear the responsibility of representing more of India's multicultural identities. As Spider-Man's Uncle Ben (or should I say Bhim chacha) says, 'With great power, comes great responsibility.'