Starting out as just a movie on drag racing and then evolving into an over-the-top "masala" franchise of superspies with supercars, the Fast & Furious franchise is modern-day blockbuster cinema at its cheesy best. And now, this Thursday (May 18), the Fast saga returns with Fast X. 
From blowing up the Vatican to defying the laws of physics as usual, Fast X has already promised to be zany and mind-boggling from its excessive pre-release marketing. 
In India alone, Fast X trailers were regularly being screened before almost every English film in multiplexes (even the ones that are not distributed or produced by Universal Pictures). Indian ticketing site BookMyShow had already been running ads and notifications two months prior to its release.
The aggressive campaigning makes sense given how the family-friendly, illogical action of Fast & Furious comes off as easily palatable among mainstream audiences. After all, Salman Khan's Tiger and Shah Rukh Khan's Pathaan (or even any character from the Dhoom franchise) can very well fit in the franchise and not feel out of place. 
So, rev up your cars as we go on one last ride before Fast X finally drops on the big screen.
The family cliches never stop
Vin Diesel who stars as the macho protagonist Dominic "Dom" Torreto speaks ten words in every Fast & Furious film and nine out of them are "family". Be it his blood relatives or close friends, he loves them all and is driven to a breaking point in every film as he struggles to protect them from a new enemy. You would think that his Kryptonite is an empty fuel tank but no, it is...
So, now with the Fast saga entering its tenth installment (not including the spin-off Hobbs & Shaw), you would expect Dom and his crew to face a new challenge. And this time, Fast X is indeed different as we don't just have a hero with a family obsession but also a villain with the same Baghban-level of family commitment. 
Jason Momoa's antagonist Dante Reyes is the son of druglord Hernan Reyes (remember him? Neither do we). Hernan was basically the villain of Fast Five (it's okay if you still don't remember him, the film came out 12 years ago). And more than a decade and five Fast & Furious films later, Dante wakes up to seek revenge for his dead father. His mentality? Dom messed with his family so now, he will mess with Dom's.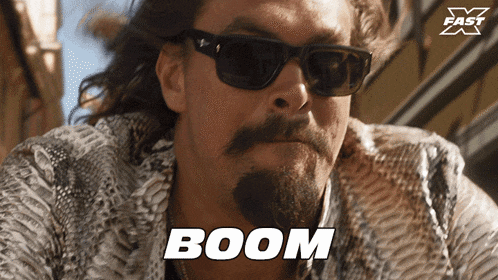 Sigh. Sometimes, Dom should just loiter around like a John Wick-like loner. 
Jason Momoa blows up the Vatican City. Yes, you read that right. 
The stakes are high this time as Dante Reyes goes all-out with the explosives. Not only is Dom and his family in danger from Dante's firepower but even Pope Francis I and his papacy are on his hitlist for some reason. The latest trailer shows Dante asking his associates if their superbomb is headed towards the Sistine Chapel and the rest of the Vatican. 
"You're going to hell for this," Momoa smilingly remarks upon realising the bomb's destination. And they didn't even keep the blast as an exclusive movie clip; Universal just spoilt it right away in the trailer itself. So, does that mean the final product would include more blasts of more high-profile tourist destinations? God, protect us!
Cardi B is Vin Diesel's ex
Fast X also marks the return of Dom's "X", Leysa AKA Cardi B's character from F9. The WAP hitmaker's discography might be unmatched but her brief on-screen appearance in the last film was as annoying as expected. And now with her returning to crack some more jokes about her flirtatious past with Dom, we know that Fast X will have some skippable scenes for sure. 
The enemy of my enemy is my friend
There are two constant rules in the Fast saga.
One, family is forever.
Two, there are no enemies.
Let's delve deeper into the second rule. John Cena played Dom's brother Jakob, the primary antagonist in F9. But by the end of it, he switches sides and joins Dom's crew. In Fast X, he will continue being one of the good guys. 
Similarly, Jason Statham who played Fast & Furious 6 villain Deckard Shaw turned into a good guy with his own spin-off Hobbs & Shaw. So, what if he killed Dom's crew member Han? In fact, Han and Shaw are friends and driving buddies in Fast X now!
Dom's love interest and pro-street racer Letty also turned against the crew in the fourth film. But, she was just brainwashed and soon resumed to drift in the morally righteous path with the rest of the "family".
Dom himself went against the crew in Fate of the Furious but again he was blackmailed into it and was the good guy all along. 
You get the gist right? So, it won't be surprising that despite his menacing behaviour in Fast X, Jason Momoa's Dante Reyes might just end up becoming a sympathetic orphan who is adopted by Dom's family in the end!
Physics doesn't apply here
If you feel that Vin Diesel pulling two helicopters from his car is scientifically inaccurate, then you are definitely wasting your time. No-one watches the Fast movies for science!
In the early 2010s, memes circulated on how the future Fast & Furious movies would be set in space. And then, 2021's F9 went all-out with making its characters drive a car literally in space. Ludacris's Tej has an ironic dialogue in that film, "As long as we obey the laws of physics, we will be fine."
Thank the heavens, Dom's crew doesn't obey the laws of physics. Universal would have gone bankrupt otherwise! With F9 venturing into outer space, it will be exciting to see where else Fast X takes us. 
Fast X started a two-part finale. Now, it will be a three-part finale.
Production on Furious 7 was interrupted with the untimely passing of star Paul Walker. Some might call it shameless capitalising but Walker's death did make Furious 7 quite an emotional watch, complete with Wiz Khalifa and Charlie Puth's tear-inducing collaboration "See You Again". The movie was marketed as "One Last Ride" and it seemed like an apt conclusion to the franchise (Vin Diesel and a CGI-face Paul Walker parting ways by driving in different directions).
But then Furious 7 made money, lots and lots of money. And Universal realised that they can't just let go of this property this easily. Till date, Furious 7 is the second highest-grossing film for the studio worldwide. And then with its next two sequels, characters began saying that this will be their "last ride" only to appear in another adventure. 
Fast X was similarly intended to put a speed breaker to Dom's cars as Chapter 1 of a two-part finale. But just weeks before Fast X's release, Universal has initiated plans for a three-part finale. So, expect at least two more movies after Fast X. At this rate, it would hardly be an eyebrow-raising headline when Universal greenlights a ten-part finale instead!