The Rishabh Pant and Urvashi Rautela controversy never seems to stop, even when a post-accident Pant is hospitalised. The latest development comes from January 5, 2023, when the actress-model posted an Instagram story showing the exteriors of the Kokilaben Hospital in Mumbai, the same place where Pant is currently admitted for ligament damage treatment. 
Even though Rautela didn't mention any specific details in the story, the majority on social media feel that it is hinted at the cricketer. Others are finding her story to be in poor taste and branding her as a "stalker" for her seemingly unending obsession with Pant (especially when the latter has clearly shown his disdain towards Rautela earlier). 
Did Urvashi and Rishabh ever date? Multiple media reports have been suggesting that the two dated briefly in 2018, with the relationship ending shortly after on a bitter note. While Pant has constantly denied such claims, Rautela seems to offer vague answers.
Since 2022, it is very much understood that it's often Rautela who wages a social media war first, following which Pant retaliates with a sarcastic jab or just a plea to be left alone.  
Urvashi namedrops "RP": The renewed interest in the rumoured relationship began last year when Rautela said in an interview with Bollywood Hungama that she was once pursued by a certain "Mr RP" who waited for her for hours in a hotel lobby while she was in New Delhi for an event. She added that she had slept off in her hotel room, only to wake up with 17 missed calls from Mr RP. Social media was quick to speculate that she has been referring to Rishabh Pant as RP. 
Rishabh responds on Instagram: The cricketer intended to clarify the whole matter by uploading an Instagram story soon after Rautela's interview went viral. To quote the now-deleted Insta story, "It's funny how people lie in interviews just for some meagre popularity and for hitting the headlines. Sad how some people are so thirsty for fame and name." With an additional "May God bless them", Pant ended the story with the hashtags "#merapichachorobehen" and "#jhootkibhilimithotihai". 
The Raksha Bandhan post: And then right around Raksha Bandhan, Rautela also hit back with an Insta post with a caption that branded Pant as a "cougar hunter" for some reason. The now-deleted post read, "Chotu bhaiyaa should play bat ball...main koyi munni nahi hoon badnam hone with young kiddo darling tere liye #RAKSHABANDHAN mubarak ho."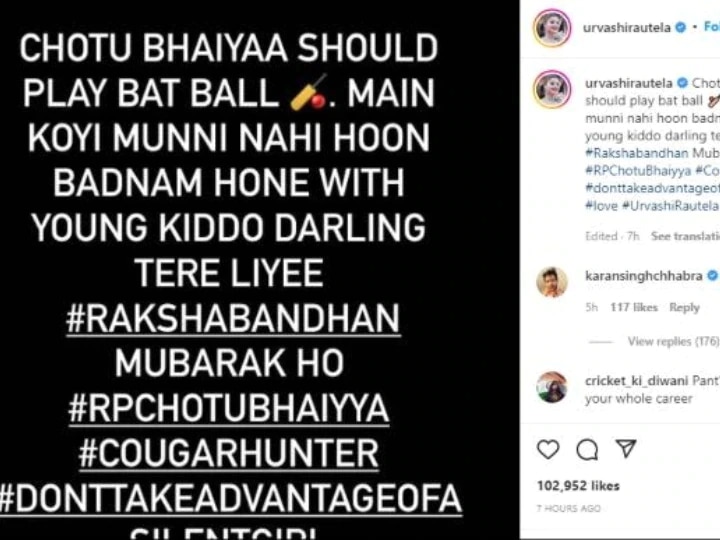 Rautela was increasingly trolled soon after the post, while some people also got concerned with her obsessive and unnecessary feud with the cricketer. 
Netflix cashes in on RP: Last December, Rautela collaborated with Netflix India for a post that she first teased with a reference to RP! She shows her palms in the promo, one of which has the letter R inked on it and the other one reading G along with a struck-out P. 
As it turned out, the clip was marketed as a deleted scene from The Gray Man with Rautela superimposed in the opening scene of the action flick in which Ryan Gosling can be seen talking to Billy Bob Thornton. With Rautela replacing Thornton and expressing her fondness for Gosling, it was jokingly suggested that she moved had on from RP to RG!
The comments speculated that the caption was a deliberate jab at Pant's concerning health status. 
The hospital story: As mentioned earlier, Rautela recently uploaded a story of visiting the Mumbai hospital where Pant has been shifted to. Apart from a sticker reading the location, she didn't hint at anything else. Social media users are however condemning her for the seemingly tokenistic move, with some even calling her an Indian Kanye West!