Remember pre-pandemic when you could randomly go out with your friends any day of the week and they would all tell you the craziest stories about their exes? Just in case, if you're missing out on those stories especially on Valentine's Day, Kanye West is here to make the nostalgia go away. 
The further we go into this, the more you're going to realise that this is a classic 'Dude, my ex is crazy' story. 
After ex-wife Kim Kardashian responded to Kanye's constant attacks towards her and their children, Kanye has now come after her boyfriend, Pete Davidson. He has also removed all of his Instagram posts from before the Super Bowl weekend and kept one from February 10. At one point, Kanye's Instagram page looked less like his and more like a fan page for Pete. 
Kanye's Instagram page before he deleted all posts. Photo: Instagram/Kanye West
Kanye has attacked Pete Davidson for 5 different things that are related and unrelated to him (classic ex hating on the new partner).
Let's break down the attacks:
ROUND 1: The first attack was based on a private text Pete sent to Kanye. The text read, "...you as a man I'd never get in the way of your children. That's a promise. How you guys go about raising your kids is your business and not mine. I do hope [some] day I can meet them and we can all be friends (sic)."
Photo: Instagram/Kanye West
What seemed to the world to be a polite message wasn't interpreted the same way by Kanye. He posted a screenshot of the message in a now-deleted Instagram post on February 13 and then another picture of a pantless Machine Gun Kelly and Pete Davidson and wrote, "NO YOU WILL NEVER MEET MY CHILDREN (sic)."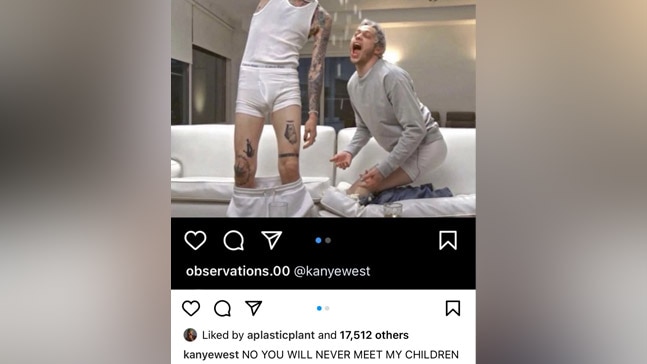 Photo: Instagram/Kanye West
He also threw in an unecessary move and posted a picture of himself holding a yellow notepad that read, "My account is not hacked. 2 13 22."
He then added in the caption, "MY ACCOUNT IS NOT HACKED I WILL BE AT SUNDAY SERVICE AT NOON AND WILL ME TAKING NORTH AND SAINT TO THE SUPERBOWL SHORTLY AFTER. chethinks I'LL DOUBLE WHATEVER THEY PAYING YOU JUST SO YOU DONT HAVE TO LOOK AT THAT PAWN EVER AGAIN BIG LOVE (sic)." @chethinks is the Instagram account of SNL head writer Michael Che. 
Photo: Instagram/Kanye West
Michael responded on Instagram and cracked a joke that said he wouldn't betray Pete but if Kanye gave him a bunch of things he had listed, he would "rambo the whole building".
View this post on Instagram
Kanye did come through with his statement and was seen at the SuperBowl with both kids. (ex-partner does not respond kindly to new partner: check)
ROUND 2: The second attack was on Ariana Grande and Pete Davidson's relationship. Kanye posted a screenshot that said the reason for Ariana to end their engangement was due to Pete sharing intimate pictures of them with the now-deceased and Ariana's ex-boyfriend, Mac Miller. He wote 'No comment' in the caption. The post has been deleted by the rapper.
Photo: Instagram/Kanye West
The rumour was false and fans dragged Kanye on the post for mentioning the deceased rapper in the comment section. One user wrote, "Don't bring mac into this goodbye" while another wrote, "Dude you've gotta stop man why bring mac and ariana into this". (ex-partner drags new partner's past relationships: check)
ROUND 3: Kanye then went on to attack Pete for his Hillary Clinton tattoo. He shared a screenshot of Pete's Instagram post of the tattoo and captioned it, "When I tag people I'm just putting together the web. There are a group of people who run media and the election. Thank god for free speech."
Photo: Instagram/Kanye West
He then posted a weirdly cropped photo of Pete and wrote, "Look at this d***head. I wonder if Instagram gonna shut down my page for dissing [Hillary] Clinton's ex boyfriend."
Photo: Instagram/Kanye West
The SNL star is in the process of getting all of his 100 tattoos removed. (ex-partner attacks new-partner's personal choices: check)
ROUND 4: In a deleted Instagram post shared on February 12, Kanye posted a handwritten note that said Kid Cudi would no longer be collaborating with him on his forthcoming album Donda 2. The post read, "Just so everyone knows Cudi will not be on Donda [2] because he's friends with you know who."
Photo: Instagram/Kanye West
Kanye accused Cudi of betraying him by posting a picture of himself, Pete, Cudi and Timothée Chalamet from 2019 where Pete's face had a red cross over it and wrote, "I JUST WANTED MY FRIEND TO HAVE MY BACK THE KNIFE JUST GOES IN DEEPER (sic)."
Photo: Instagram/Kanye West
Cudi then commented on the post, "Too bad I don't wanna be on ur album u f***in dinosaur hahaha" and tweeted, "You're whack for flipping the script and posting this lie just for a look on the internet. You ain't no friend. BYE." (ex-partner quits being friends with new-partner's friends: check)
ROUND 5: For the final round, Kanye posted a fan-made edit of himself and Pete in a Civil War poster that featured photos of Drake, Ye's girlfriend Julia Fox, and rappers Travis Scott and Future on his side while on Pete's side Kim, Cudi, Billie and Taylor Swift. His caption read, "THE INTERNET HAS STILL NOT FOUND A DECENT PICTURE OF SKETE (sic)."
Photo: Instagram/Kanye West
Kanye also shared a fan-made movie poster of himself as Venom and Pete dressed as a monster. (ex-partner thinks they still have a chance and are competitive with the new-partner: check)
The poster read, "WEST VERSUS DAVIDSON (sic)" and the caption not only dragged Pete but also Disney and MGK. 
Photo: Instagram/Kanye West
Kanye has now *checks list* brought MGK, Ariana Grande, Kid Cudi, Hillary Clinton, Mac Miller, Taylor Swift and Billie Eilish into his beef with Pete Davidson. The reason for this beef is simply because Pete is dating his ex-wife, Kim Kardashian.
He also shared a post of himself trending and this time referenced both Kim and Pete. The post was deleted on February 15. 
He wrote, " I DIDNT WAKE UP AND FIGHT FOR MY FAMILY TO TREND OVER THE SUPER BOWL BUT IT HAPPENED THE SUPER BOWL BRINGS FAMILIES TOGETHER FOR EVERYONE MARRIED HOLD YOUR SPOUSE CLOSE MAKE SURE THEY KNOW HOW MUCH YOU LOVE AND APPRECIATE THEM BECAUSE THERES A SKETE LURKING IN EVERY DIRTY ASS ALLEY WAITING TO HELP DESTROY YOUR FAMILY AND WALK AROUND IN CALVIN KLEINS AROUND YOUR CHILDREN I WISH MY WIFE WAS WITH ME AND OUR CHILDREN SITTING AT THE 50 YARD LINE. kimkardashian ALWAYS REMEMBER WEST WAS YOUR BIGGEST W (sic)."
Photo: Instagram/Kanye West
In the words of Kendrick Lamar, be humble and sit down, Kanye.