Damning evidence that everyone - except Nehru and Congress - met Bhagat Singh in prison
Even Ajay Devgn met the revolutionary before shooting for 'The Legend of Bhagat Singh'.

DailyTrip
Fake News and propaganda portals have been calling the honourable Prime Minister of India Narendra Modi a liar. Why? Because he said, "When Shaheed Bhagat Singh, Batukeshwar Dutt, Veer Savarkar, greats like them were jailed fighting for the country's independence, did any Congress leader went to meet them? But the Congress leaders go and meet the corrupt who have been jailed."
Not only is the PM's truth being termed a lie, the twisted liberal media has also hidden the fact that the PM himself was one of the first people to visit Bhagat Singh in jail. But not before wishing the second cousin of Somalia's president a happy birthday on Twitter.
Sure, Modi had ulterior motives. It wasn't easy for him to let go of an opportunity to visit a foreign nation. (Bhagat Singh was jailed in Central Jail, Lahore). But that doesn't mean it didn't happen!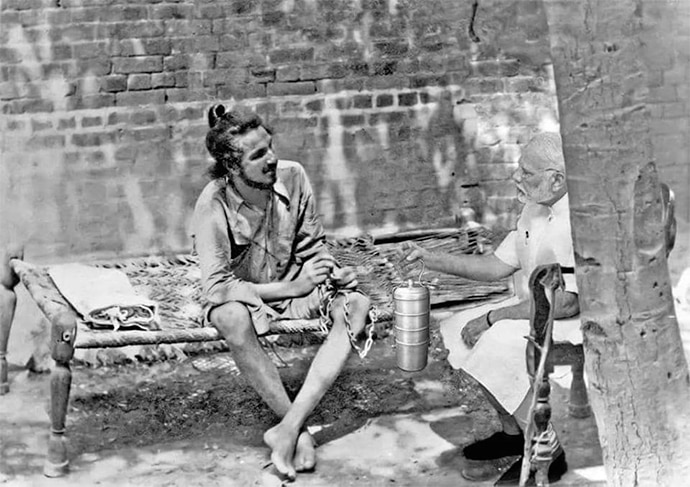 Photo: Twitter
And Modi wasn't the only one from the ruling party. Tripura's star CM Biplab Kumar Deb could not resist a meeting with India's most famous "Biplabi" (revolutionary).
Photo: DailyO
As did Sambit Patra.
Photo: DailyO
Important world leaders too took time out of their busy schedules to meet Bhagat Singh. Barack Obama, Donald Trump, Vladimir Putin, Kim Jong Un. All important men found time to meet Singh. All, except Nehru.
Photo: DailyO
Photo: DailyO
Photo: DailyO
Photo: DailyO
Ajay Devgn went to meet him before shooting The Legend of Bhagat Singh. The man is, after all, a method actor.
Photo: DailyO
Salman Khan, on the other hand, had a different agenda altogether. Facing the prospect of a jail term, Bhai travelled in time to take tips on surviving prison.
Photo: DailyO
No one has any idea why Ranveer Singh went to meet Bhagat Singh. One can only assume that someone dared him to.
Photo: DailyO
"T 2801 - BUDUMBAA" screamed Amitabh Bachchan at a thoroughly confused Bhagat Singh. He wasn't aware that this meeting was taking place off Twitter.
Photo: DailyO
"YOU COMMUNISTS. YOU COCKTAIL LIBERALS. YOU DARE NOT CALL YOURSELF A PATRIOT WHILE WORSHIPPING MARX AND LENIN!"
Needless to say, the British had found the ultimate weapon in Arnab Goswami to torture revolutionaries in jail.
Photo: DailyO
Of course, while the Congress dynasty neglected their duty to meet Singh, a member of a different dynasty did. Emperor Akbar's visit to Bhagat Singh is a little documented fact.
Photo: DailyO
However, the most fascinating of the many, many meetings Singh entertained in prison was with Chetan Bhagat, the bestselling author. Of course, the only reason Bhagat was interested in meeting Singh was so he could write the column "Bhagat meets Bhagat".
Photo: DailyO
"Hahahaha, you're gonna burst out laughing when you find out how political parties appropriate the both of us in 2018," chuckled Veer Savarkar while handing Singh a tiffin box full of beef fry and parotta.
Photo: DailyO
And one must not ever forget the man who made all of these meetings possible across time. Rick Sanchez.
Photo: DailyO
Also read: The Indian Army is fighting a bigger problem - it's broke