Why no one can accuse Salman Khan of nepotism ahead of Loveyatri release
Salman Khan believes that he has been so aloof from the promotions that it must have upset Arpita.
As Salman Khan says that he tried hard to stay away from the promotions of Loveyatri, fearing being hounded by the nepotism debate, we take a minute to observe silence.
The Bhai is shouldering the debut of his bhai-in-law Ayush in every way possible — he praised Ayush Sharma effusively in every interview he has given; invited Ayush and Warina to Bigg Boss 12; danced garba during a LoveYatri music concert; patiently answered all the meaningless questions thrown at him, like share your Navratri memories etc., and what not!
Dance like Salman: While Ayush was asked whether he knew garba before the film, Salman voluntarily showed how easy garba is! (Screenshot)
He even got two trailers of the film made, one when it was Loveratri, much to the disgust of a certain section of people; and the other, after it became Loveyatri.
Now whether he has a special appearance in the movie remains to be seen, because everything else is known. (How can you hold back information when you have two trailers of the same movie!)
So, we know everything, precisely.
We know that the "Ramesh-Suresh" jodi Arbaaz Khan and Sohail Khan are there in the movie.
All in the family: Arbaaz and Sohail are Jignesh and Bhavesh. (Screenshot)
We also know that Ayush, named Sushrut in the film, is a garba teacher who falls in love with Warina, an NRI, who has come to India during Navratri.
Their love travels overseas, along with their garba steps. In-between, Warina's father comes along to create some troubles, we guess, during the time of the intermission. But then, everything will fall into place as Salman Khan is the producer of the movie.
All said and done, nobody will go to watch the film in the theatre to know what happens at the end. They will go to relive their memories of watching Salman Khan and Aishwarya Rai dancing Dholi Taro Dhol Baje in Hum Dil De Chuke Sanam. Throughout the movie, Ayush Sharma is dancing garba, apart from cracking a few jokes.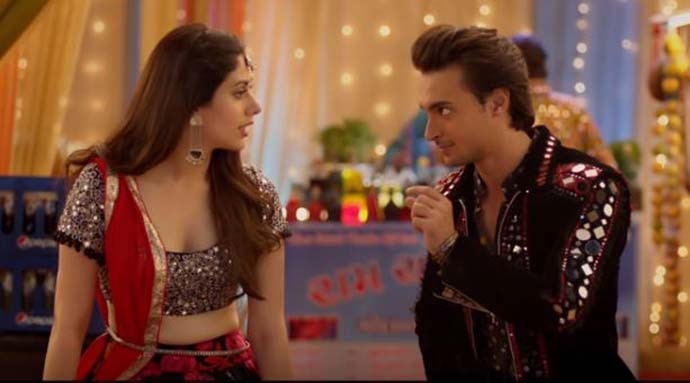 Sorry, Warina, but some debutantes debut before their official debut! (Screenshot)
The buzz surrounding Ayush can't be found around Warina, though both are debutantes. But then, some make their debuts before their official debut. And Warina must feel grateful that she got picked up by Salman Khan Films and Salman Khan himself announced her name on Twitter, following which her Twitter followers doubled.
Salman Khan knew all this would happen — that Ayush's talent would be misjudged only because he is Salman Khan's brother-in-law.
That's why he kept himself detached from the promotion — so much so that his sister Arpita could apparently accuse him of not showing enough affection to her husband (Salman Khan said it).
Nepotism in one picture? Life is like that only. (Screenshot)
But then, in the real world too, you can't do anything without nepotism. As the trailer shows, Gujarati police officers will extend favours to Sushrut because he is from Surat, and will speak in Gujarati as well.
Life is like that only. You can't blame Salman Khan, or Bollywood.
Also Read: Loveratri becomes Loveyatri: Other Indian films that have changed titles under unpopular demand
The views and opinions expressed in this article are those of the authors and do not necessarily reflect the official policy or position of DailyO.in or the India Today Group. The writers are solely responsible for any claims arising out of the contents of this article.