An entire day has gone by and social media is still not flooded with inside, exclusive, never-seen-before photos of the Deepika-Ranveer wedding, the first phase of which took place on November 14 in Italy.
But here comes the last straw of hope. The duo will reportedly post some photos, after today's ceremony is over. Of course, those photos will be the best of the lot — those the bride and groom want the world to see.
Now, after this happens, if someone blames the media for breaching the privacy of Taimur ever after, you know what to do.
Meanwhile, here are the key takeaways from the yet-photo-less ceremony.  
Will never forget how DeepVeer look from behind
The time when you have to open the eyes of your mind. (Photo: India Today)
There was no photo. But click-baits were spread all across the Internet yesterday.
They all came with the temptation of the first photo of the Lake Como wedding — and all we got is a photo in which people are showing their back to us. There was a time when such a photo, which hardly conveys its subject, was never deemed proper for use in media. But what to do, if that's the only photo we have?
Also, we know how the umbrellas used in the wedding also looked.
And, we saw a few important people, who were looking back, not probably in enthusiasm — maybe in utter disgust to check on the over-inquisitive media cameras.
Also, this is the only most prominent photo from the ceremony.
Later, the photos became grainier.
Now we know why they are looking back.
They are visibly angry! (Photo: AP)
What's your One-time Password?
It is not an Uber drive, for sure, but the experience must have been similar.
The e-invite (For Mumbai event) — the front part of it was posted for you fools on social media — contains a QR code on its back, to be scanned at the time of the entry.
According to reports, all the guests in Italy had to wear a special wristband before entering the venue.
The camera lenses on mobile phones were covered with stickers (laugh!) so that no one could take photos. We are sure no one would even dare to take a photo after this 'draconian' treatment.
Apparently, there were patrolling boats at the lake, keeping an eye on other boats from where media persons were cherishing the beauty of Lake Como as the biggest wedding of the century took place under umbrellas.
It's not raining. (Photo: India Today)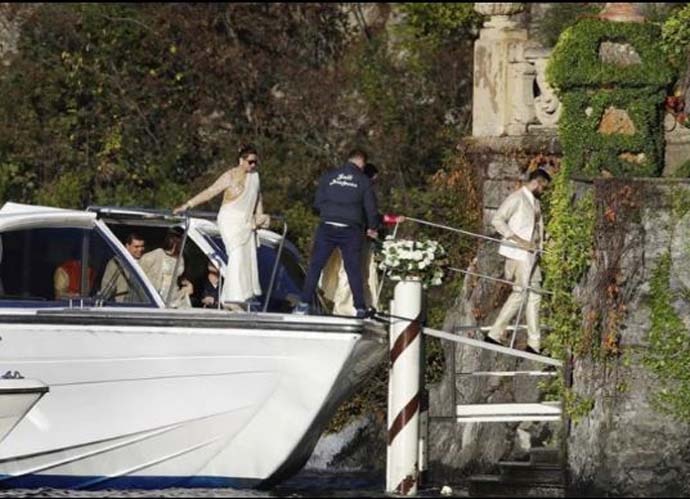 No, she is not Deepika. She is Mana Shetty, Suniel Shetty's wife. (Photo: AP)
Death of citizen journalism?
A day before, social media was all-powerful — but Deepika and Ranveer finally showed social media its position. All fan clubs and hashtag clubs only rehashed their old collection of DeepVeer photos and tried to pass them off as real photos.
But we have seen them so many times that we were clearly not buying.  
No, Karan Johar is not our source
Every Bollywood celebrity has to wish the newlyweds too, as they will soon throw a party in Mumbai.
Everyone did their part and Karan Johar, of course, went a step ahead.
He tweeted, "Such a stunning gorgeous and beautiful couple", which inevitably led to speculation that he was present there in the ceremony and must have seen them.
But then, he dismissed the speculation before it could become a rumour. He might have received the photo personally on WhatsApp. But as he says he has not seen the newlyweds, we are supposed to believe him.