Dilwale Dulhania Le Jayenge is not a love story. It's a story of heartbreak, under the garb of a love story. And you have been tricked into believing it's a happy ending.
For the moment you stop waving at the lovebirds chook-chook-ing into the sunset and turn around, you notice a trail of bleeding hearts left behind. Kuljeet, Preeti, Kammo, Chutki, Daadi, Lajjo... the list is long and full of terror. But in the scope of this story, we shall discuss Kuljeet and Preeti only, the two who had the rawest deal in this sarson-ke-khet gazing, pigeon-feeding, mandolin-strumming love story.
Who is Kuljeet? He is an entitled Punjabi munda, born in a fairly rich family. If you think that's his flaw, then you're watching the wrong film. No way, my friend. We've already established being entitled is endearing — case in point, Raj.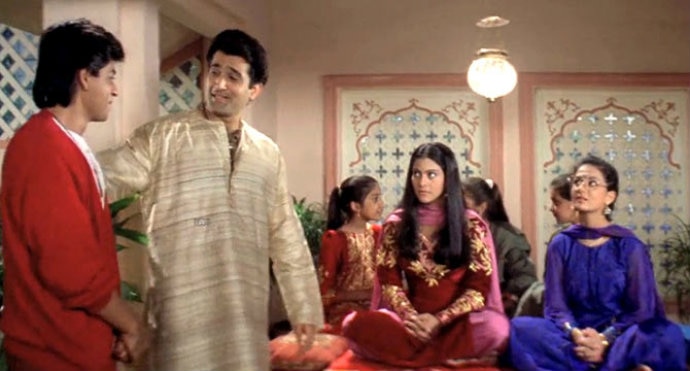 "Bro, let me introduce you to my fiancé, so you can run away with her!" (Photo: YouTube screen grab)
We know he is as jobless as Raj, but we also know that he could identify a business opportunity when he heard one. That Raj was lying about his beer factory plans just to pique Kuljeetey's interest is on Raj, not him.
Kuljeet is boisterous, but to write him off as a bad guy based on first impressions is just plain hypocritical. After all, didn't we identify Raj as an obnoxious spoilt brat of the first order when we met him on the train to Zurich?
So, Bauji has betrothed Simran to Kuljeet, the son of his friend, against her will. She's never even met him, how could she fall in love with a stranger? Umm... perhaps how you fell for Raj, a stranger, on your Euro trip? Let his douchebaggery neg you into believing this is true love. Why are your parameters different for Raj and Kuljeet?
'Here's my heart on a platter for you to break it into a million pieces!' (Photo: YouTube screen grab)
Things get worse when Kuljeetey brings Raj home after he saves him from a trap, a trap he both literally and metaphorically lays for Kuljeet. Preeti, his doe-eyed sister, falls for Raj, and Raj does nothing to convey to her that he doesn't reciprocate her feelings.
Mehndi laga ke rakhna is a particularly problematic juncture in the movie — on the one hand, we have Raj ishara-oing Simran, whilst shaking a leg with Preeti, on the other, we have Simran itra-oing and Punjabi munda Kuljeet thinks he's found validation in that.
Such double standards, much wow.
Kuljeet and Preeti's folks want to turn this into a double wedding by getting Raj and Preeti married on the same day, and our mandolin maestro does everything in his way to stall the rishta, but say the magic word — NO. At one point, they even ask him, "Beta, tumhe koi aitraaz toh nahin?" and he quips, "Nahin, mujhe kya aitraaz ho sakta hai?" That was Preeti awful, Raj.
Eventually, the entire khandaan and the whole nine yards find out about Raj's ulterior motives.
Kuljeetey is enraged, Preeti is in tears, and Bauji has the best reaction of all — he whacks the living daylights out of this opportunist, selfish punk called Raj.
Not that I endorse violence, but how does one react when someone gatecrashes your wedding and runs away with your fiancé? It's like gatecrashing your birthday and running away with the cake. (No, it's not the same, but you get the drift).
Kuljeet just needed to vent, he needed closure. But even then, he chose to beat Raj up with wooden sticks and his bare hands, instead of wielding a gun at him — he was a hunter, remember? Now that's sanskar.
Poor Preeti is still sobbing.
Can you imagine how difficult it is to find psychiatric help in the middle of sarson ke khet? And laddus give her a panic attack now.
On hindsight, perhaps Kuljeet and Preeti had a really, really narrow escape. It was a heartbreak, albeit a major one, but not a shipwreck. You deserve way better, Preeti. Go girl! And Kuljeetey, hang in there. Every dog has its day, you will have yours, too. Cuz' the Bonnie and Clyde of fake romances, Simran and Raj, deserved each other.