Pakistan elects the gulab jamun as its national sweet: Here's why we're not biting into this entirely
How can Pakistan even claim the gulab jamun? It was reputedly discovered by the chefs of Shah Jahan. Who was, of course, the Emperor of India, and not Pakistan.
In exciting news this new year, our neighbouring country Pakistan has now got a national dessert — the gulab jamun. It was an election — and not, as the Pakistanis are often accused of holding, a selection — as there was a proper Twitter poll to enable every Pakistani, irrespective of their location, to exercise their democratic rights.
What is the National Sweet of Pakistan?

— Govt of Pakistan (@pid_gov) January 1, 2019
Gulab jamun was the winner and thus declared 'qaumi mithai'.
But was this sweet win hands-down?
Well, here are our key takeaways from this poll:
1. Sour question: Was even this poll rigged?
Pakistani internet sours over 'one-sided' national sweet poll, demands fresh vote#SamaaDigital #GulabJamun pic.twitter.com/irFsaa5dd2

— Samaa English (@SamaaEnglish) January 6, 2019
Well, there is much noise and suspicion over this poll being 'unfair', even 'rigged'.
The official handle of the government of Pakistan posted this poll only on Twitter — not on other social media platforms. Hence, claims are abounding that the joy-giving jalebi and the beloved barfi could not give a tough enough fight to the gulab jamun.
All hail the quami mithai: Gulab jamun is officially the national dessert of Pakistan. (Photo: Reuters)
2. But the winner is loved across the sub-continent
The gulab jamun is popular in Pakistan, India, Bangladesh, Nepal — almost the entire sub-continent. So, its victory was actually destined.
But is an Indian gulab jamun the same as a Pakistani gulab jamun?
Now, there are various recipes of gulab jamun: some use khoya, some use full cream milk powder. There are even some recipes asking the daring to use yoghurt in a specific quantity! Many Pakistani recipes include one egg in the recipe while making the dough.
These are the primary differences — the end-result being equally warm, divine and dissolving.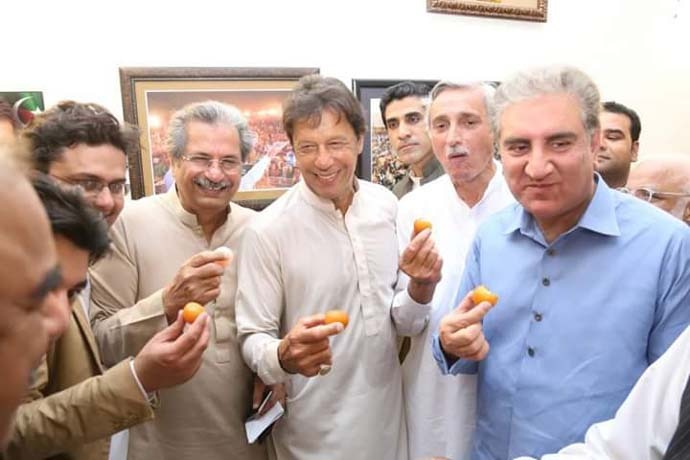 In happiness and (others') grief: Imran Khan sharing a gulab jamun with party members after the Panama verdict in 2018. (Photo: Twitter)
3. What about the 'foreign hand'?
Well, the Pakistanis have also been pointing out, the gulab jamun is not 'Indian'. There are various theories about its 'foreign identity' though — some say gulab jamuns were introduced by Central Asian Turkic invaders to the subcontinent, while others say they were discovered accidentally by Shah Jahan's personal chefs, while they were conducting experiments with a Persian sweet dish.
The word 'gulab' (rose) is Persian and 'jamun' (berry) refers to a dark subcontinental fruit. So, there have clearly been many influences on the sweet, no doubt.
Culinary historian Michael Krondl in his book The Donut: History, Recipes, and Lore from Boston to Berlin described the gulab jamun as a "round fritter that eventually became gulab jamun".
Another theory claims that the gulab jamun is the same as the sweets called Lokma (Turkish) and Loqma (Arabic).
Also, this is the same sweet nicknamed as 'ledikeny' in Kolkata — a mispronunciation of Lady Canning who apparently loved the sweet.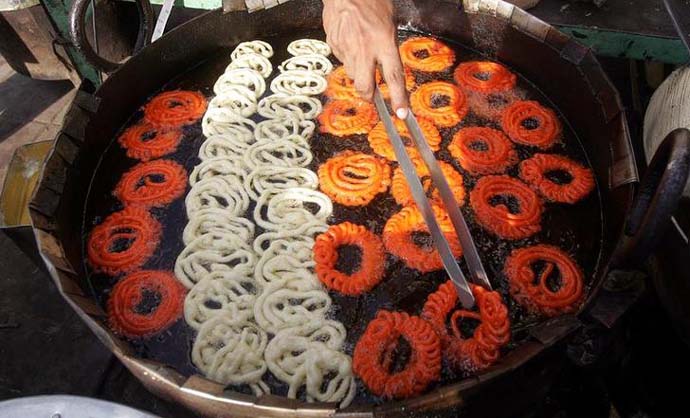 More takers for gulab jamun than joyous jalebis? Hope it was a fair election! (Photo: Reuters)
4. National Poll — Only three candidates!
Yes, it's surprising that only three candidates were in the fray.
Aren't there are more sweets to take part in this poll? Where's Karachi halwa, by the way? Why aren't Karachi-ites outraged?
Or, were they threatened into silence? Sinister indeed.
But where is the halwa? Was it threatened into withdrawing its candidature before the election? (Photo: Reuters)
5. And the government of Pakistan isn't sitting idle
The election generated a lot of interest on social media also about Pakistan's national flower (jasmine), bird (chukar) and animal (makhor).
Since the poll was held by the government, now you know what to say when someone asks exactly what the Imran Khan government has been doing in bitter times for that nation.
Speaking of sweet things always helps.
Also Read: Why there can't be any battle between kaju katli and other sweets
The views and opinions expressed in this article are those of the authors and do not necessarily reflect the official policy or position of DailyO.in or the India Today Group. The writers are solely responsible for any claims arising out of the contents of this article.