Astrologers vs poll pundits: Whom should you believe this election season?
So, is Modi versus Rahul actually a Virgo versus Gemini battle?

DailyBite
Naseeb unke bhi hote hain jinkey haath nahi hote ('There's nothing set in the lines on our palm because those who don't have hands too have their destiny').
Clearly, this majestic Mirza Ghalib line could not deter us from placing our hands under the prying eyes lurking above a magnifying glass — for we believe if we know what lies in our future, we will be able to fix it.
And thank both God and the Election Commission for only extending their guidelines to the exit polls — and not to astrological predictions.
At least, we can now enjoy the free-flow of jyotish predictions as a number of states are exercising their democratic rights standing in queues.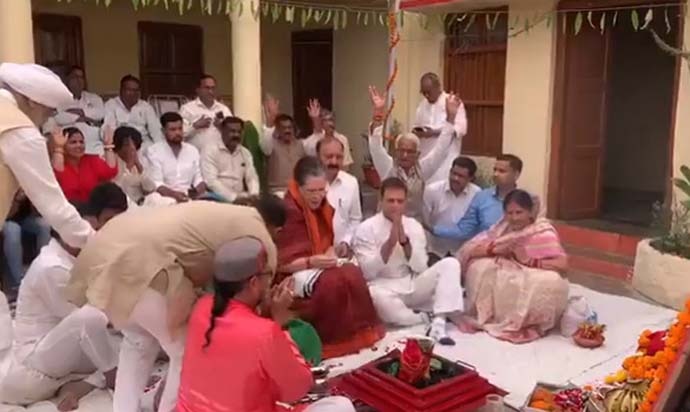 May God bless all. Geminis included. (Photo: Congress Twitter)
Rahul Gandhi: Dual personality?
No, this is not what the BJP is accusing the Congress president of.
This time, this is what the astrologers are saying.
And not because they are Modi fans (which they are) but because Rahul is a Gemini. According to an AFP report, clairvoyant Larra Shah has reportedly said that Rahul Gandhi is more like a devil because he's always confused. "There is a conflict there because he is a Gemini (June 19). So, he has a dual personality," Shah apparently says.
Now, Geminis and Rahul Gandhi fans, please excuse us.
Astrologer Raj Kumar Sharma is saying something good about Rahul Gandhi and the Congress.
"Rahul Gandhi's favourable period has started and his moon is more powerful than Narendra Modi's moon, so my prediction is very clear: Rahul Gandhi will either become the prime minister or will make the prime minister with the support of his party," he said to AFP.
Narendra Modi and Sadhe Sati
According to a few astrologers, Narendra Modi is passing through the Sadhe Sati period. His sign (Virgo: September 17) is under the influence of Shani (Saturn) for the next two-and-a-half years.
Now, this Sadhe Sati period, apparently, is a time when you get a lesson from your past karma.
Does this ring a bell somewhere?
Here's your prize money
Maharashtra Andhashaddha Nirmulan Samiti (an anti-superstition body founded by Narendra Dabholkar, who was murdered in 2013) has announced prize money of Rs 21 lakh for the right prediction of this year's results.
"For years, these astrologers were claiming they have predicted election results. Now we want them to predict beforehand," said executive president Avinash Patil.
But, despite the handsome sum, astrologers are angry. They don't want to put a price on their wisdom.
Fair enough.
Na hamara, na aapka.
Let's put our coins on the psephologists then.
Also Read: Lok Sabha 2019, Indo-Pak relations, Economy: Tracking India's horoscope through an almanac