I watched the Mera Desh Hai Mahaan video finally. Had to summon up a lot of courage to expose my sensibilities to this atrocity but as I was already laid up in bed with a terrible flu I assumed things could not possibly get worse. Or could they?
Enough has been written about Pahlaj Nihalani's "Ode to Modi" and I might be a day late and a dollar short, but allow me to vent. 
Narendra Modi in the video. 
So this cringe-fest of a video opens with a visual of the snow-clad Himalayas, or was it the Alps, in keeping with the theme of borrowing footage from countries more advanced than us? We are treated to a visual of Modi performing Shiv arti, followed by a quick introduction to a kohl-eyed, jali cap and ganji donning overfed Muslim chap offering namaz and a young Christian man, also in Maganlal dresswala costume, looking intensely at the camera while crossing his heart. It reminded me of Chandler from Friends, and I am carbon-dating myself by mentioning Friends but what the heck, where he has just the one scene to prove his calibre as an actor and display his intensity.
A still from the video. 
I can almost hear this actor say, "Boss I must look fiercely deep in my introduction shot, so I get a good break after this crappy video."
Moving on, we are treated to the incongruous and slightly hilarious image of Modi meditating on a rock, wearing nothing but a simple kurta pajyama in a snowy Himalayan landscape. This is his "Modi as Shiva" moment with hints of "Modi as Gandhi" as the strains of Raghupati Raghav Raja Ram begin to play in the background.
Then follows the "Modi as Nehru" moment in which exuberant children chanting "Modi kaka, Modi kaka" appear on the scene from nowhere and point joyfully in the direction of  "Modi on the rocks". But Modi kaka, a picture of serenity himself, at this point, remains unmoved by the sight of children behaving as if they had spotted a unicorn and continues with his penance.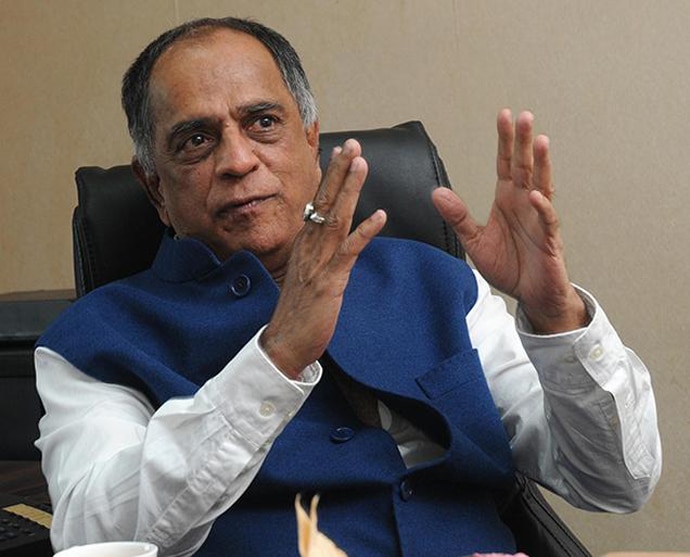 Pahlaj Nihalani. 
And then lo and behold, he does a "Modi as Houdini" and disappears, leaving both the children and the masochistic viewer wondering. This must be Nihalani's way of telling us that Modi disappears often on his foreign visits, fostering diplomatic ties and giving Sushma Swaraj a severe complex while he is at it.
Several images of Modi with different heads of states later we are shown the poor and hamming cousins of Amar, Akbar and Anthony all joyously singing paeans of Modi and talking about his "kamaal" in making the Emaar buildings in Dubai, flyovers in Tokyo, organising Tour de France and launching NASA space shuttles. 
We are also shown silhouettes of Modi and Mahatma Gandhi together at regular intervals and reminded that we have to fulfill the dreams of Bapu-Modi because we know that they are both one and same.
The Muslim chap deserves a special mention here for looking like, and there isn't a more polished way of saying this, a saand (bull). So much so that each time the camera trained its lens on him, I could not help but think of beef and for that alone this video ought to be banned.