Has it ever occurred to you that the perfect wedding gift does not exist?
You may have heartfelt wishes and love for the couple, but the strange problem is that our feelings can't express themselves on their own. And somehow (we don't know how), they find bedsheets, casserole sets, wristwatches (pink belt being a must for the bride) the best vehicles to express themselves.
There can be a few (remote) reasons for this. First, we have a stash of these gifts — re-wrapped and resealed with utmost care and much providence. Second, there is our misplaced sense of coyness, which reminds me of a friend whom I was recently asking what he would like to receive as a wedding gift; he just avoided the conversation — probably fearing a spoiler in the most anticipated event of his life.
All this cumulatively explains why we always end up with 12 dinner sets, four sets of mixer-grinder-juicers, three wall clocks, and at least one casserole set and a roti-maker (because what is married life without warm rotis made by a new wife!)
But Priyanka Chopra and Nick Jonas are smart.
They have a registry of items that they can be gifted. Though it has a mention of the good ol' juicer, it has amazing things like a pet bed as well. Now, you can't just gift a pet bed to a couple who don't have pets, as it will pressure them to take on a pet. Otherwise, it will again find its home in the recycle list.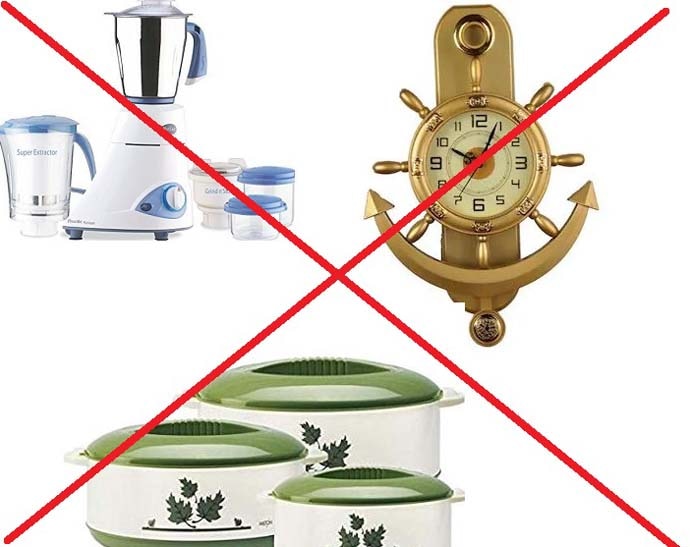 In a picture: What not to gift
So again, it's difficult, unless you are settling for any of these famous gifts:  
An apartment in Burj Khalifa
Because, why not? (Photo: Reuters)
Bollywood being our reference point, Audis, Bentleys, Juhu flats are hackneyed, though not recyclable, at least. A flat in Burj Khalifa — the world's tallest building — is the new thing, after Raj Kundra gifted a 19th floor apartment to Shilpa Shetty, not on their wedding — on another occasion.
Because Bandra is so overcrowded. (Photo: Twitter)
Bollywood actor Sushant Singh Rajput bought a piece of land on the moon for himself. But as the wedding season has caught us unawares, it can actually be a unique wedding gift, though the idea is not unique. Apparently, a fan had gifted SRK a similar plot before SSR bought his own. There is an International Lunar Lands Registry, and though this will not entail a legal ownership, the couple will be over the Moon!
10 Burger King Restaurants
We stole this idea from Kim Kardashian and Kanye West. You can work on that idea and gift something similar to your best friends getting married this season!
Gift an IPL team. Just steer clear of match-fixing scandals.
What Satyajit gifted Sharmila
This is to inspire your soul tired of finding the best gift. When Satyajit Ray was invited to the wedding of Sharmila Tagore and Mansur Ali Khan, Satyajit Ray wondered what to gift as Sharmila clearly had no dearth of saris and jewellery. He decided to gift her a 16mm print of Apur Sansar!
We can always understand financial constraints. For such situations, there's always personalised gift options like what Farah Khan gifted to Ranveer and Deepika (not for money reasons of course) — clay impression of DeepVeer's hands.
Otherwise, just gift a book, a plant.
Or, just say how much you love the couple. How deeply you wish them happiness. And joy.
Just don't do it with a tea set.