I'm intelligent. Some people would say I'm very, very, very intelligent - Donald Trump to Fortune magazine.
Wake up, Sid! Please wake up. We know of one Kumbhkaran who slept through an epic battle; now eons later you have cast yourself in that slumbering role.
Because even as you were tossing and turning in the bed, the republic has voted for a new President - an election that has witnessed a new political alignment and extensive cross-voting; sadly, this was an exercise in which you were mostly invisible.
This may sound like political echolalia but emboldened by the resounding vote, Narendra Modi is perhaps even looking at majoritarian single-party rule for at least another decade at the Centre! Or at least the absence of a potent parliamentary opposition that would eventually lead to the collapse of the two-party system. So that the PM can rule without distraction and is answerable on the issues of governance only to the RSS.
Sid, we admit, you are by temperament aloof - as any anti-intellectual would be; in fact, you have been like this since you dropped from the heavens into our waiting arms in Amethi.
That was in 2004 and since then detractors say you have rendered your party not only politically redundant but also eminently unelectable in what might be its twilight years. If this is indeed the case, it is a major procurement for any man in his late 40s.
Of course, there are some among us who think it is extremely amusing to have you around. The Chinese, from all accounts, were tickled pink when you knocked at their doorstep; possibly they mistook you for an Indian panda due to your cuddly swagger.
We, too, adore your laughing dimples, never mind the empty furrows within; your adolescent stubble, with no hint at all of the sprouting intellect; your casual elegance in the unstarched kurta with hands flapping in the wind; the anti-hero onscreen demeanour of a young Clint Eastwood raring to go.
Others admire you for the subtle metaphors, inadvertent witticisms, your grammatical daftness, your flapdoodle analogies, your other infantile oddities - too numerous to be enumerated - that need to be embalmed and preserved for posterity.
And that I am sure is exactly what the nation wants at a time the BJP and its leaders are so desperate in their quest to be taken seriously: The party takes offence even if somebody laughs at its prime minister - no, not even a chuckle is permissible, not even behind closed doors.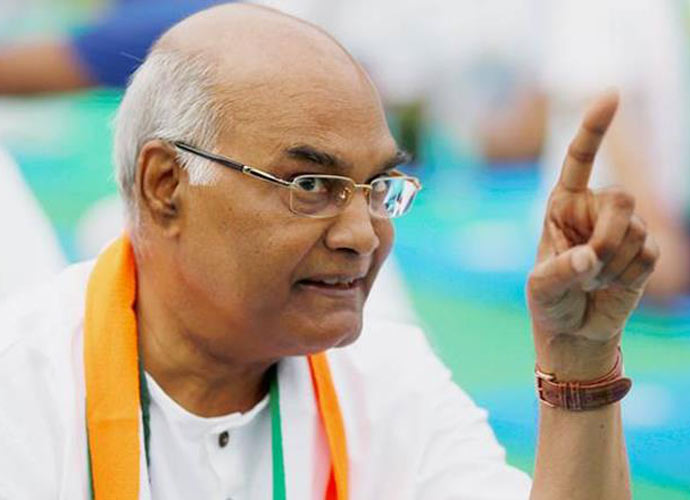 Ram Nath Kovind is the new President of India.
Sure, the Prime Minister is doing an excellent job from his own account, but he is too sublime a person to be trifled with. True, he has his lighter moments too - playing those Taiko drums in Japan or when he lays his hands on a Morinn Khuur - the traditional stringed instrument of Mongolia. But only overseas; at home he is his stern, impervious self.
Having you at the helm would be great fun: we can visualise you slithering down the Great Wall of China, taking joy rides with the British Queen on her pony, lunging into the Kremlin for a bite with Putin and his gymnast friend, frolicking in the lawns of the White House with Melania Trump, beaming like a chump at Brigitte Trogneux.
Likewise, at home, we can imagine you lunging into shanties for a bite with a Dalit family, prancing in the fields with distressed farmers.
The best thing is you are undeterred by a string of losses and have such an excellent grasp of your own limitations. A loss of face does not bother you and there is no point trying to shame you either: we may as well try to give you a dunking in a pail of water.
I am sure you are clueless about what we are talking. So would have been the Chinese when you asked them about the Doklam plateau and discussed its status under the Treaty of Calcutta - circa 1890. The inscrutable Mandarins must be still trying to decipher what you said about the Bhutanese national dish - Ema Datshi.
But, pray, understand that we don't want a wooden lollipop from your party like last time. Also, we don't want any of those overripe mangoes. We want a responsive, sensitive and compassionate person, never mind his minimalist approach to the affairs of the state.
Most of us, these days, are feeling alienated; you can imagine our angst: we feel diminished, and marginalised. We really don't expect you to do any wonders with governance but at least we feel your heart is in the right place; you allow us to have a good laugh which is so important to keep our sanity intact.
In politics no victory is complete, and no defeat fatal. Also, there is magic in that name Gandhi; as long as it remains the core and the kernel of the Congress, you will pose a formidable challenge to the BJP. It is a continuing contest that need not be won every time.
But please don't disengage yourself from the political process, opting to be a bystander... if you do so, you are abdicating your responsibility as a Congress party vice-president and heir apparent.
If you don't feel you are up to the task of stitching together the disparate political groups, search for a "sutradhar" - an AB Bardhan or a Harkishen Surjeet. Even if you don't have a strategy, have a political message.
Because embedded in your inaction are the seeds of a Modi-led one party-ruled Bharat! Theoretically speaking, if that happens, India would of course remain a textbook democracy with multi-party elections but within a single party matrix.
The pecking order at the Centre will be such that the smaller parties - mostly regional satraps - will be constrained to share the mandate with the only dominant party on the landscape - the BJP.
The Congress will be confined to the periphery - the catchment areas of Indian polity. This is what the politics of co-option is all about.
Surely, your job is not to provide just comic relief to a nation. So, wake up, Sid! The nation is waiting.
Pehle aati thi har baat pe hassi, ab kissi baat par nahin aati...