Honestly, before Virushka happened to us, we never even cared to go through the BCCI rule book regarding the stay of wives and girlfriends (WAG) during overseas matches.
But now that our captain Virat Kohli has requested BCCI to amend its rule in favour of allowing all players' wives for the full duration on overseas tours — which, if accepted, means more of Anushka Sharma cheering for Virat — we move in our seats and take notice and go through the BCCI rules. By 'we', we mean us and a few brands maybe, not BCCI itself yet.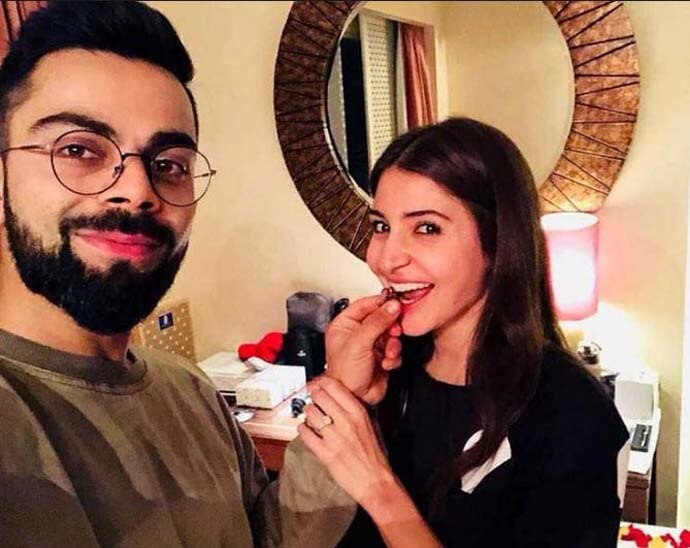 Forget cricket. Forget Bollywood. They are relationship goals above everything. (Photo: Virat Kohli's Twitter)
According to reports, the change can't be brought into effect with just the snap of a finger. It will take time, as the manager of the team now has to make a formal request to the Supreme Court-appointed Committee of Administrators (CoA). Changing the rule will be such a 180 degree shift from BCCI's strict stance on allowing wives and girlfriends that no one, it seems, is addressing Kohli's request on priority.
Because more than #cricketergoals or #actorgoals, Virushka has given us #couplegoals — be it when Virat stood by his then-girlfriend Anushka when she was mercilessly trolled for Virat's poor performance, or when the duo shamed a litterer on a Mumbai road, or when Virat profusely praises Anushka's movies.
Couple goals. Everywhere.
No matter how frivolous it may sound, the presence of family members (read WAGs) has been officially blamed as the reason of poor performance — worldwide.
Distraction? Well, who cares? (Photo: Twitter)
An independent sports administrator, which was probing why England just crashed like a pack of cards in front of Australia in 2007, categorically recommended a limit on the time wives and girlfriends (WAGs) should be allowed on tour.
Early this year, the COA denied allocating a separate manager for the wives of Indian players and said that it was the crickers' responsibility to take care of their travel partners.
The Board won't take any responsibility.
So, a lot of tos-and-fros have already happened over the issue.
But now, if BCCI decides, there will be a change in the rule — that too, only for Virushka. But applicable to all Indian players.
Both BCCI and Virat had a tough time explaining to angry twitteratis that when Anushka Sharma posed with the India team at the High Commission of India in London in August, she was there on a personal invitation, not as part of the Indian team.
But doesn't Anushka have pressing commitments in Bollywood? (Photo: Virat Kohli's Twitter)
Also Anushka Sharma standing in front and vice-captain Ajinka Rahane standing at the back had nothing to do with any special privilege — BCCI had to explain this to calm down people on Twitter. Even Rohit Sharma, married but who wasn't playing that match, liked a tweet which slammed BCCI for its double standards.
A big LOL moment for Twitter!
So, this time Virat is batting for all — not only for Anushka.
But doesn't Anushka have commitments in Bollywood? Or, is she the one who now wants to be on overseas tours after the abysmal performance of her films (Read Pari, Sui Dhaga) at the box office?