The Cannes Film Festival is one of the most prestigious and renowned film festivals in the world. It takes place annually in the city of beautiful city of Cannes in France.
The festival which showcases a wide range of international films, started this year too with all the glamour with various celebrities from all around the world attending the event. But apart from controversies related to films, which is part of every other award ceremony, Cannes sees protests and demonstrations like no other.  
On Monday (May 22), a protestor made a dramatic statement on the red carpet of the Cannes Film Festival by being dressed in Ukrainian flag colours and covering herself in fake blood. The incident took place during the premiere of Just Philippot's film Acide.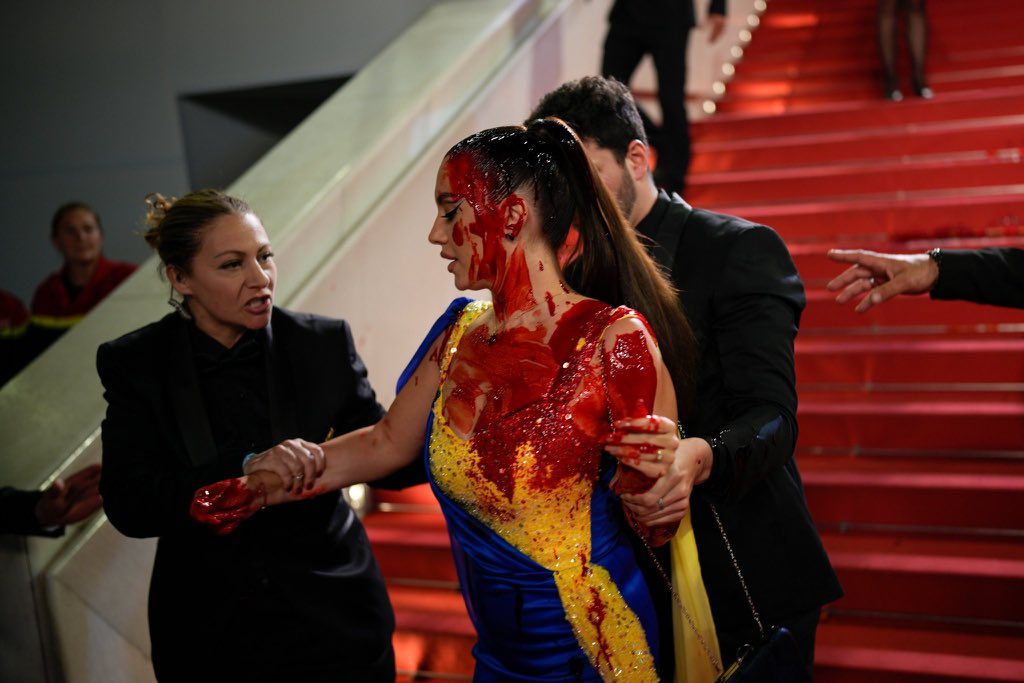 The woman wearing a floor-length ballgown in blue and yellow reached into her dress, retrieved a capsule of fake blood, raised it above her head, and burst it, all while smiling for the cameras. The protester was subsequently removed by security.
Cannes and protests
The 1968 Protests
Cannes and protests go hand in hand. The protests at Cannes date back to 1968 when directors, actors and writers even shut down the festival. This was the first protest ever and was very effective.
During a board of directors meeting on February 9, 1968, Henri Langlois, an influential film director was removed from his position. This decision, driven by the French Minister of Culture André Malraux, aimed to implement managerial changes and gain more influence. This controversy had a significant impact on the Cannes Film Festival, setting the stage for further unrest and protests during the event.
Brazilian writers protests in 2016 
The cast and crew of the Brazilian film "Aquarius," which premiered at Cannes in 2016, staged a protest in support of President Dilma Rousseff on the red carpet. The protest was in response to the Senate's decision to put Rousseff on trial for alleged budget law violations, leading to her suspension from office for up to 180 days. Rousseff maintains her innocence and claims to be a victim of a coup.
As they ascended the steps of the red carpet, director Kleber Mendonca Filho and his team revealed protest signs, expressing their support for Rousseff, with banners like 'a coup took place in Brazil'. 
Protests for gender equality in 2017 and 2019
The protests emerged when several women were reportedly turned away from the red carpet for not wearing high heels.  The incident drew attention to the broader issue of gender inequality and representation in the film industry. A women's march as a response to the lack of female representation was also organised that year.
In 2109, actress Kristen Stewart was heading towards a showing of Spike Lee's recent film, BlacKkKlansman at Cannes, she seemed tired of wearing her high-heeled stilettos. In front of a crowd of photographers, Stewart halted to take off her black Christian Louboutin pumps with pointed toes. She lifted them up and proceeded up the steps, choosing to go barefoot. Some called this act by Kristen as a stunt to call out Cannes policy of women's need to wear 'high heels'
Russia-Ukraine takes centrestage in 2022
In 2022, after Russia had invaded Ukraine, the protests were seen against the war were seen at Cannes too. A woman, naked, painted herself in colours of the Ukrainian flag on the red carpet. 
This protester made a powerful statement by wearing body paint with the words "Stop raping us" against a background of yellow and blue, representing the Ukrainian flag.
Additionally, the word "Scum" was written across her back. The protester managed to access the red carpet, but then proceeded to remove her outer clothing, leaving her in her underwear, and began screaming. Security personnel were called to the scene and they subsequently removed her from the area.
Another protests in 2022
In another incident that year, a group of approximately 12 women disrupted the red carpet-premiere of a film addressing the murder of sex workers.
A group of feminist protesters staged a protest unfurling a banner to highlight violence against women. The banner displaed the first names of 129 women killed (domestic killings).
They also released black smoke grenades while pausing on the steps to pose for the camera. They were later identified as members of the feminist group Les Colleuses. In a first, these activists were not stopped by security and they posed for photographs and videos.