Paris is known as the fashion capital of the world for a reason. Apart from people walking on Paris streets dressed like it is a runway, there are other reasons why it is a dreamland for every fashion enthusiast. One of them definitely is the Paris Fashion Week. 
Every year Paris Fashion Week creates a lot buzz with famous models, stars and designers taking the runway for luxury brands like Dior, YSL, Louis Vuitton, Miu Miu, Chanel, Kenzo, Givenchy etc. But there is more to Paris Fashion Week than just the runway. 
The Big Four
There are four important fashion weeks, often referred to as the "Big 4": New York, Paris, London and Milan. The schedule begins with New York, followed by London, and then Milan and ends in Paris. 
Paris Fashion Week takes place twice yearly in the French capital, with a Spring/Summer edition and an Autumn/Winter edition. The dates for the show, along with other sets of rules for the brands presenting at the Paris Fashion Week are decided by the Fédération de la Haute Couture et de la Mode, an official French government body.
This bi-annual event is divided into 3 categories: Menswear, Haute Couture (hand-woven & high-end basically) and Ready-to-wear. 
For instance, this year, Paris Fashion Week (ready-to-wear collection) fall/winter 2023 collection started off from February 27th to March 7th which is considered as the most hyped, important one. Brands like Louis Vuitton, Dior, Chanel, Saint Laurent, Loewe, Hermès, Valentino, Givenchy and Miu Miu are taking part in the show.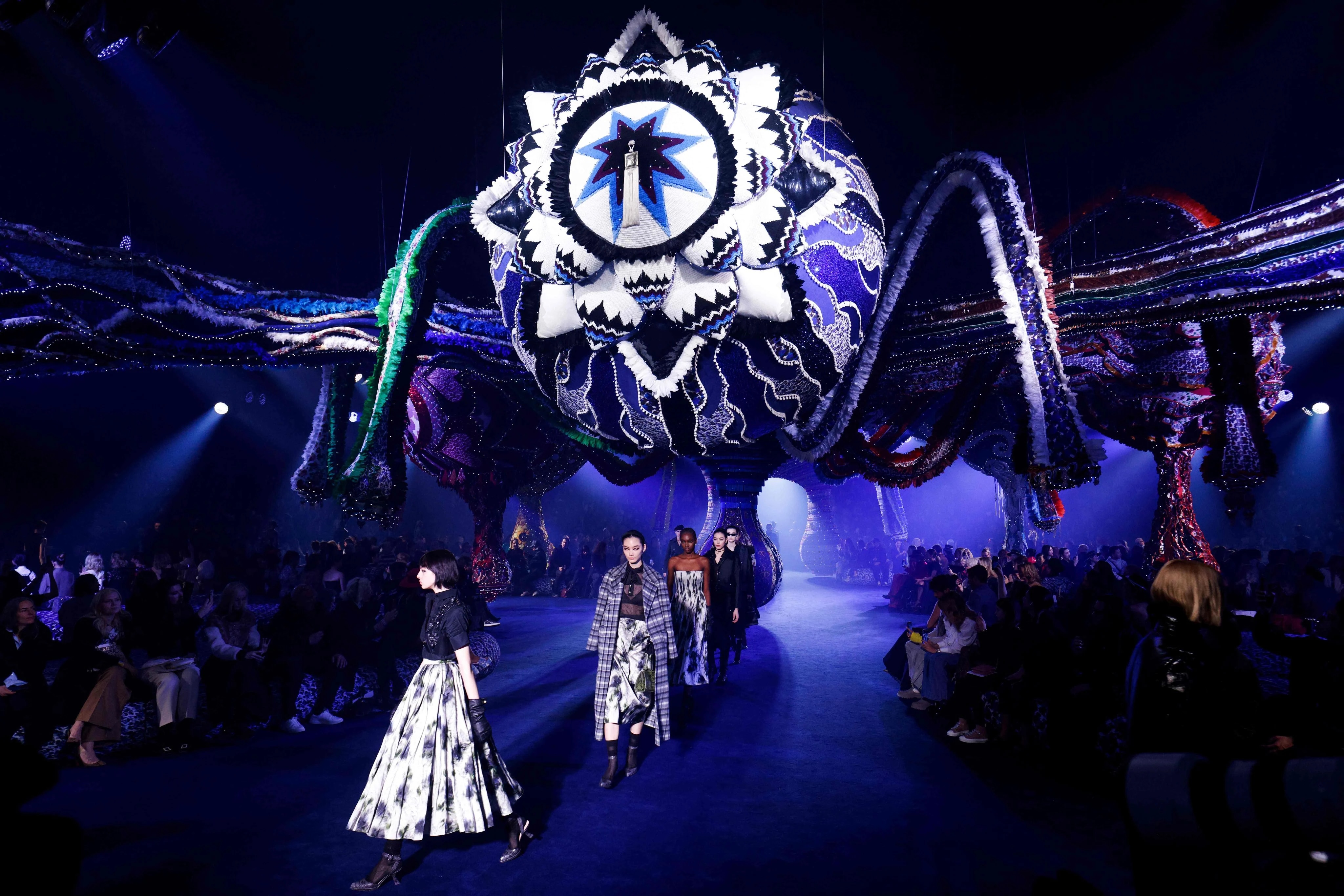 The smaller slate of haute couture ("high fashion") shows took place in January and July. 
But did you know that Paris Fashion Week actually has its origins in the 1700s and was one the first runways of all time?  
Where did it actually start? 
Fashion shows were started in Paris in the 1700s  and the displays were held in Paris on Mannequins rather than models. Because of the limited movement, it was a bit challenging for the clientele to truly view the designer's work. However, it was Charles Frederick Worth, a famous English haute couture who began showing multiple pieces together and of a higher design.
These designs were spotted by an Austrian Princess in the mid-1800s, which made Fredricks entry to high-end fashion clothes, hand women for upper-class women. He started his first Couture house, a place where luxury clothes are sold.
In 1921, the Chambre Syndicale de la Haute Couture was created, to protect couture designs from being copied as couture houses were emerging. 
The Chambre Syndicale de la Haute Couture then laid out criteria that would make them a couture house, and one of them was: 'a couture house must present a collection of at least 35 runs with both daytime and evening wear to the Paris press.' 
The following biannual events of Haute Couture houses in accordance with the new guidelines set by the Chambre Syndicale de la Haute Couture have been seen as the first pair of fashion weeks in Paris.
However, nobody knew the name 'Paris Fashion week'; it came into existence in 1973 as a fun raiser event in order to save the Palace of Versailles and soon it became a thing. 
Now, every year creators try to raise a new bar for such shows and try to do something extraordinary. Check out some of them from before: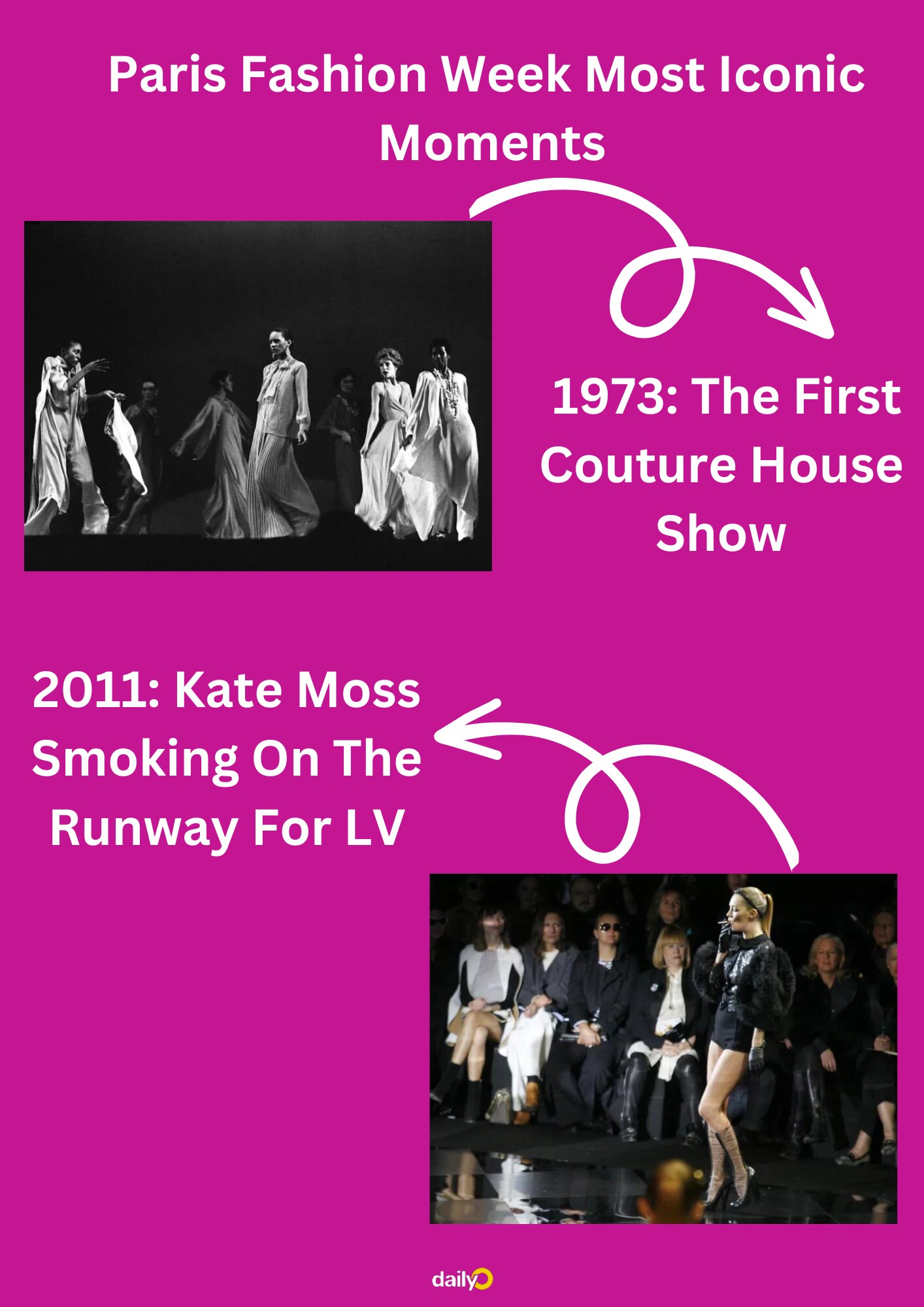 Apart from the Ready-to-Wear fashion week, the other two, Paris Fashion Week men's shows in fall/winter 2023 and Paris Haute Couture Week fall/winter 2023 were held from 17 to 26 January.