People are willing to try anything to lose weight, be it drinking a weird drink advised by an Instagram influencer or pursuing a new trend that shows up on the Internet. Following a calorie deficit diet is one of them: a fad that has been around for a while.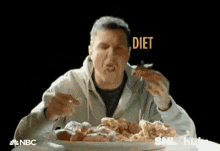 Be it singer and American Idol winner Carrie Underwood, who records everything she eats, or Joe Rogan spending a month eating just meat and fruit, or Twitter users who are suggesting everyone to go on a calorie deficit, this diet is everywhere. 
However, experts claim it is not as good as celebrities and influencers claim it to be. 
DailyO spoke to dieticians about calorie deficit dieting, and they are not happy about people blindly following it. But before that, let's understand what calorie deficit dieting actually is.
What is a Calorie Deficit Diet?
Dr Reema Hingorani Madhian, nutritionist and founder of Reema's Diet and Wellness, has 28 years of experience in the field. According to her, every individual body has a Basal Metabolic Rate (BMR), which is different from others'. 
Metabolism is the calorie burning capacity of our body. Hence, if your metabolism is good, you will burn calories faster. 
So, going on a calorie deficit diet means you need to make sure you eat fewer calories as compared to what you are losing (through working out).  
If you are eating less than you are burning, you will lose weight and visa versa. 
- Dr Reena Madhian

Weight loss has long been a topic of conversation on social media, and 'professionals' are disseminating free advice more than ever. It is hardly surprising that out of all age groups data reveals, Gen Z is more obsessed with diets and weight reduction than any previous generation, and they are more susceptible to being infatuated with fads like these.
How can you actually go on a Calorie Deficit Diet?
"Cutting calories from one's diet all of a sudden is not so easy and we often end up being very conscious eaters," says Dr Darshini Bali, a certified nutritionist, who has been working in this industry for the past 8 years. 
Dr Reema Madhian says that your body 'gives you at least 7,500 calories'. She explains that you gain 1 kg only if you have eaten 7,500 calories extra (which is a lot).   
You can't eat a burger and think I have had 400 calories and expect to lose weight; as eventually, you will be losing essential vitamins for your body, so you will see you will be weak.
- Dr Reema Madhian
Side-effects?
Dr Bali explains that we can't eat a pastry [say 300 calories] and skip dinner. It will actually cost you your essential nutrients which are important for the day. According to her, this if happens regularly, it can lead to side-effects like hairfall, pale or shaggy skin, loss of sleep, fatigue, etc. 
Here are a few ways to keep your calories in check instead of checking calories every time you eat
Try cutting out unnecessary sugar from your diet. For instance, replace your sugary beverages with water.
Add more fruits and vegetables to your diet. This would help you with the supply of the right required nutrients.
Don't stop eating junk food altogether; try portion control instead. 
Bottomline
Instead of hastily embarking on a new diet based on what you see on social media, it is necessary to have a deeper grasp of it and choose what works best for you.