Why Malaika Arora-Arjun Kapoor dating rumours bother us?
...while Arbaaz Khan-Giorgia Andriani don't
Arbaaz Khan, 51 — Giorgia Andriani, 29
Malaika Arora, 45 — Arjun Kapoor, 33
Priyanka Chopra, 36 — Nick Jonas, 26
Ranbir Kapoor, 36 — Alia Bhatt, 25
If you are wondering how the above information is a waste of space and utterly irrelevant, take a seat. If you find yourself gawking at the age differences, umm, maybe sit ahead. If you happen to notice that in two of the above instances, we have an older woman-younger man thingy going on, please, take the front row.
The world has woken up to reports of Malaika Arora and Arjun Kapoor dating, and boy, have they got their insides in a twist.
If recent spotting of the two at fashion shows and then, on the sets of India's Got Talent wasn't enough, a picture from their Italian holiday has made jaws drop. They were seen holding hands, walking around in a mall. Malaika has been trolled online to no end ever since these photographs were leaked.
Her fault?
She is allegedly dating a younger man.
In the meantime, Arbaaz Khan has revealed that he's dating Giorgia Andriani. That she's considerably younger has perhaps skipped our attention.
Now, it's one thing when insensitivity comes from nameless, faceless trolls on social media. It's entirely another when the supposed liberal media choose to use phrases as loaded as 'tongues wagging' for Arjun and Malaika while opting for the more direct ones in the case of Arbaaz and Giorgio.
Karan Johar seems to fuel that fire with his own cheeky videos.
In one of his recent Instagram posts, he asks Malaika if she was alone on the holiday. Why Karan chose to ask Malaika this 'burning question', even though he shares a wonderful camaraderie with Arjun Kapoor as well, is beyond me. Perhaps he only wanted to open up a dialogue that's neither new, nor unique, but definitely important.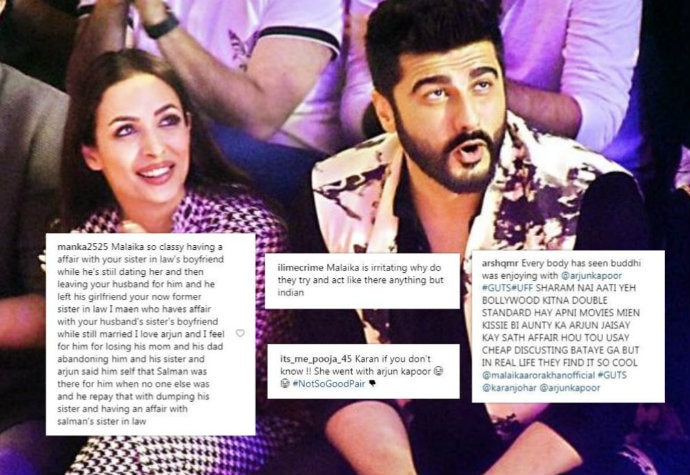 Trolls Say: From being anti-Indian to being a cougar, why dating younger men is oh-so-wrong. (Photo: Twitter)
A couple of months ago, when reports of Priyanka Chopra dating Nick Jonas surfaced, the Internet had reacted similarly.
Opinions ranged from 'we don't know what she saw in him' to 'he's 10 years younger to her.' The very psyche also reflected in media reports when they decided to run articles about their relationship, and ended up focussing mostly on the age gap.
Interestingly, that was also the time when Ranbir Kapoor and Alia Bhatt were hanging out far too often in Bulgaria, where they were shooting for their upcoming film, Brahmastra. Interestingly, they are a decade apart too. Reportage of their alleged love story, however, chose to pick words like 'cute' and 'adorable.'
Inequality, not just in gender, but in judgement meted out, too. (Photo: YouTube screen grab)
The problem is not that these human beings are finding love in the unlikeliest of places — some, after a divorce, others, after the end of their previous relationships. The problem is when we feel the need to mention the age difference only in the case of older woman-younger-man dynamics.
When Urmila Matondkar tied the knot with her long-term boyfriend, Mohsin Akhtar, in 2016, we did not fail to point out that she was 42 and he was 32 at the time. Same was the case when we discussed Preity Zinta and Gene Goodenough, or Farah Khan and Shirish Kunder. Yet, not so much when we found out Shahid Kapoor is 14 years older to Mira Rajput.
Isn't Priyanka Chopra like 10 years older than Nick Jonas? I can't even date guys more than a year younger than me, y'all be dating your nephews and sons LOL

— too spooky 🎃 (@sukhisofly) May 30, 2018
Of course, why it is socially acceptable for a man to date and marry younger women, while the reverse is not true, is a debate worth having. Condemning trolls who believe it is somehow against 'Bharatiya sabhyata' need to be shaken until their brains reboot again.
But there's another equally important, but subtle appropriation one needs to identify and refrain from.
Let's say it once and for all — it is okay to date people who're older or younger to you, irrespective of gender. It doesn't make the man a 'stud'. Neither does it make the woman a 'slut'. It doesn't, however, make the woman a champion either. Let's not overcompensate this gap in our collective mindset by calling her 'badass' or any other words millennials have come to associate with empowerment. Let's call it what it is — a matter of personal choice, a choice available for both the man and the woman to make. Let's not be hypocrites here.
Also read: Why the age gap between Priyanka Chopra and Nick Jonas is almost perfect
The views and opinions expressed in this article are those of the authors and do not necessarily reflect the official policy or position of DailyO.in or the India Today Group. The writers are solely responsible for any claims arising out of the contents of this article.