Jean-Jacques Cartier might be turning in his grave as the luxury jewellery makers bearing his name have unwillingly been dragged into a Cannes controversy. The creator of this fresh new row in the French Riviera is the Youngest World's Most Beautiful Woman and Maximum Beauty Titles Winner Record Holder, not necessarily in that order. To Indian cricket fans, this person is an actress of dubious cred and the relentless pursuer of a certain Mr RP. We will not accuse you of having been under a rock if you did not know who we are talking about. Regardless - it is Urvashi Rautela.
What
Rautela took the Cannes red carpet by storm in a pink tulle dress by Sima Couture, the Duisburg wedding-dress designers. Several celebrities were spotted in Sima Couture tulle dresses at the film festival this year. Rautela's pink dress could have been just another fleeting red-carpet moment... but for a pair of lizards around her neck. And a pair of a pair of baby lizards on her ears. The shock and awe of the necklace made the Internet do what it does best: dig into the origins of the piece.
The results were fascinating. This crocodile (not lizard, no) necklace is an emerald-and-diamond encrusted piece of history. Such is the allure of this necklace that Cartier, the creators, bought it back for a hefty sum of 20 million dollars in 2002 when the commissioner of this rare piece of high jewellery passed on. Mexican actress Maria Felix was the iconoclast who asked for this crocodile necklace. Why? Cartier legend says sometime in 1975, Felix strolled into their 13 rue de la Paix boutique, a crocodile in tow (in an aquarium or cage; legend differs at this point), and demanded that a necklace be made as a tribute to her pet.
The King of Jewellers and Jeweller of Kings did not want to disappoint their whimsical patron. She was way too important a person to lose over a crocodile. So, the designers at Cartier got their best paw forward and created two crocodiles that went straight to Felix's collection and then into history.
This pair of Cartier crocodiles could be intertwined as a necklace. They could also be worn separately as brooches.
Take a quick look at the mind-numbing numbers that comprise these two crocodiles: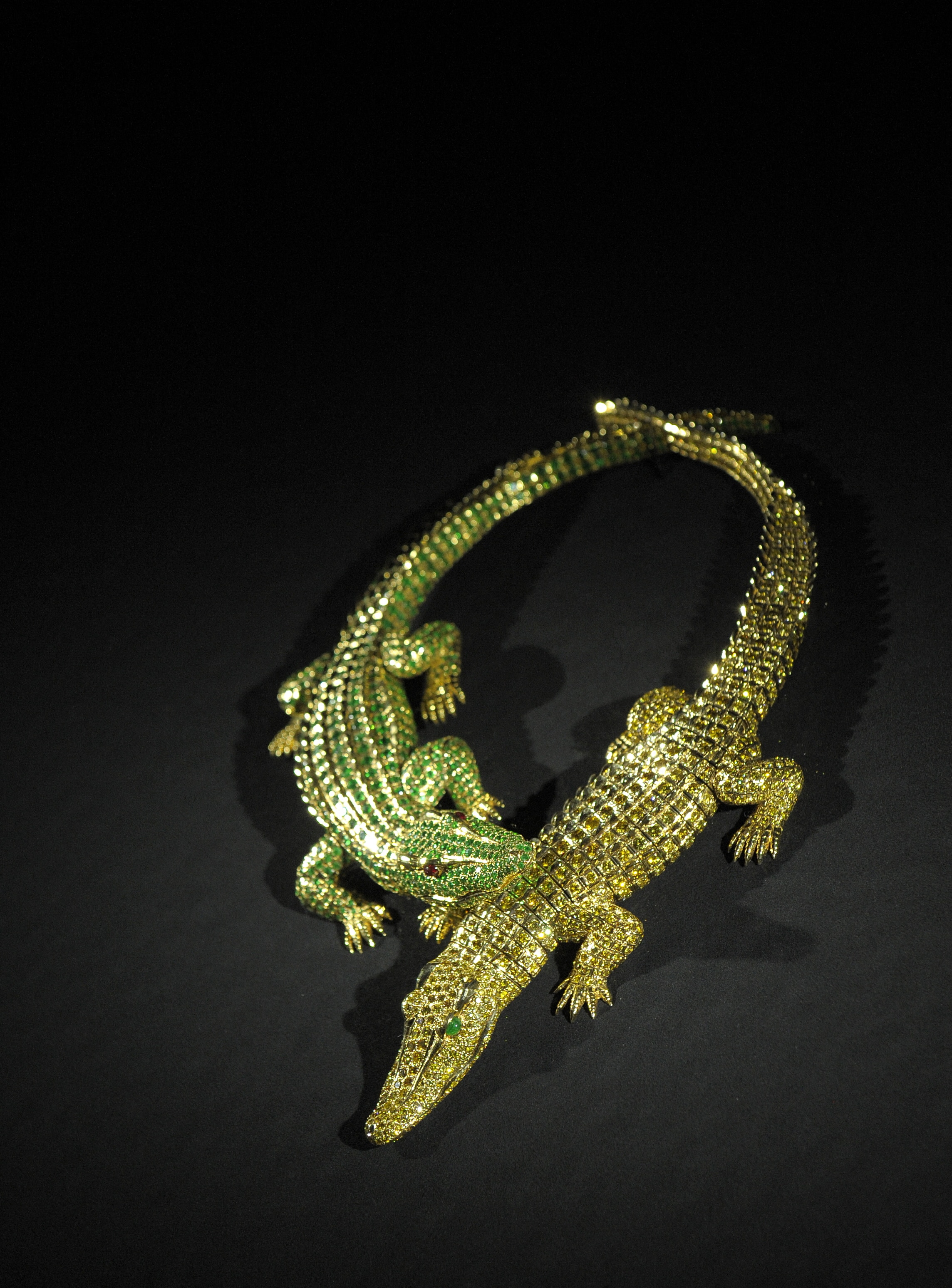 one made of 18-carat white gold, encrusted with 1,060 emeralds; totalling 66.86 carats
one made of 18-carat yellow gold, set with 1,023 opulent yellow diamonds, weighing a jaw-dropping 60.02 carats
the crocodile crafted in yellow gold had two rubies for eyes
the crocodile in white gold had two gorgeous emeralds for eyes
Maria Felix's crocodile necklace stayed on her for years. After Cartier bought it back following her death, it formed part of the brand's Collection of exquisite historic jewels. We once saw it on Monica Bellucci at the same Cannes in 2006, where the actress paired it with a crisp white shirt; appeal, sex, et al.
In 2019, Bellucci paid a subtle ode to the Maria Felix necklace by wearing yet another crocodile from Cartier. Cartier wanted to pay tribute to Felix and the crocodile necklace by unveiling four high-jewellery Cartier Maria Felix executions in 2018. All these four, including the necklace Bellucci wore in 2019, were one-of-a-kind wearable art.
So, the question now is - how did this piece of history come to adorn Rautela's neck?
When Urvashi Rautela posted her photos in the necklace from Cannes, she credited every bit of her look. Her outfit was by Sima Couture, heels were by Italian brand Enrico Cuini, photography by so-and-so... and even a mention of 'jewels' by a Dubai-based jeweller called Jewelry By Toi. I tried looking up their website. You needed a 'password' to enter.
Now, Urvashi indeed was wearing a statement ring and bracelets that looked like Toi products. But one cannot help but wonder - why is Cartier not mentioned in her post?
A look at Cartier's official Instagram handle will tell you that the brand has been sharing regular updates about their creations that celebrities wore to Cannes. You would also find Deepika Padukone's Oscar 2023 high jewellery among Cartier's Instagram highlights. The Venice Film Festival is mentioned. So, why the complete, deafening silence on Urvashi Rautela's 'iconic' Cartier necklace?
After all the accusations of Rautela wearing a fake Cartier to Cannes, the actress did speak to Brut. The short video has Urvashi saying:
"Actually it is a very iconic piece. Yeah... (pause) You actually have to read about it. It is very historic. And in fact, I wasn't aware about this, and I got to know about it, that it was worn by Monica Bellucci back in, I guess 2002-2006. And I had absolutely no idea about it. People who don't have the right information, those are the people who are writing bizarre comments about it; but people who know about the history of the jewellery, so, it is such an iconic piece; so, they will absolutely fall in love with the crocodile neckpiece."
Okok, iconic, historic piece. Cartier is still curiously missing from the clarification.
Urvashi Rautela's team then put out yet another clarification, saying: 
The original crocodile neckpiece worn by @urvashirautela has increased its value from 200 crore to 276 crore. It represents Rautela's tenacity and nonetheless serves as a symbol of both the challenges and successes that women face in a patriarchal society.
At this point, you would be intrigued to have another, closer look at the two photos. One, of Monica Bellucci in the Cartier necklace. And the other, of Urvashi in apparently the same necklace.
The yellow-diamond-encrusted crocodile on Urvashi's neck is surprisingly off-white, with yellow claws. The green crocodile looks a little off-colour as well. The snouts of the crocodiles on Bellucci's neck are longer, more crocodilish; while the two reptiles on Urvashi's neck would best pass off as lizards.
Then, of course, there is the question of the earrings. Who made them? Cartier - as far as public knowledge goes - never really created matching earrings to go with Maria Felix's neckpiece, or we would have known.
Now, for a moment, for just one moment, let's believe Cartier did create a pair of earrings for Urvashi Rautela's Cannes appearance... why would the brand or Rautela be quiet about it? Is there some secrecy clause we are unaware of?
Perhaps only Cartier can tell.
A little aside now. In the glittery Gulf, where gold is more available than water, Cartier copies are a dime a dozen. As are Bulgari, Van Cleef, Messika, Gucci, Chanel, you name it and the jeweller will pull out a black faux leather case from the toshakhana and you have it. From the Cartier panthers to the love bracelets to the Bulgari serpents, these souqs have them all. 18-carat, 22-carat, 24-carat, white gold, rose gold, yellow gold, diamonds, stones, everything. Bonus: you can get a great deal if you know how to bargain. Surely it wouldn't have been too much of a task to create a 'first copy' Cartier Crocodile?
Never copy. Only create... inspiration could and should be taken from everywhere, except from existing jewellery.
- Jean-Jacques Cartier
A little anecdote for Ms Rautela now.
Once upon a time not so long ago, there was a devastatingly handsome cricketer who became the Prime Minister of his country in his 60s. He was friends with the super-rich people of the world. So, one of his super-rich acquaintances who happened to be the Crown Prince of another kingdom, gifted him a rare watch. This gift was for his country. The watchmakers were Graff. The watch was diamond encrusted and had a Khana-e-Kaaba watchface. It was priceless in the true sense of the word.
A few years later, the handsome prime minister needed money. So, he got his aides, in secret, to approach an exotic watch collector in yet another country. The collector jumped at the opportunity. He got his people to verify the authenticity of the rare watch.
Moral of the story: When the creation at hand is one-of-a-kind, never copy. Only create.
(We have reached out to Cartier for a comment. This article will be updated when they respond.)