Just as I entered my apartment, my cell vibrated.
"Have you heard the latest?" a girlfriend texted, bringing me to the subject that I write on here.
"Madhu Kishwar, noted scholar and activist is taking Twitter by storm. What do you think?"
"I just got back. Not a Twitter girl, in any case," I murmured, as I composed my sentence.
"Wait till Rahul Gandhi also promises free sex for every adult male for a certain number of days every year!" I read her response to my earlier text.
I processed the varied components of Madhu Kishwar's latest virtual rant — recalling the last time, a couple of years ago when we were on a panel together. How she was fierce, vociferous. And, to my mind, vain.
Or, maybe, that's what yesteryear's feminists appeared to be, in broad daylight — grappling as they were with fading relevance in a country where bra-burning and male-bashing had been replaced with convenient dating apps.
Where over 74 million single women had no qualms buying an I.pill, or, slipping on a condom, or, paying for their abortions, or deciding to sleep with a much married man or even raise a love child. Where morality was more than a cowardly political ban on porn, or a short skirt being called out as the reason for rising rates of sexual violence.
Where sex was just sex — and nothing more. Or less.
Where even girls like us, raised in middle class, asexual homes, in conservative cities, with parents who never touched openly and watched Chitrahaar every Wednesday night, who attended closeted convent schools where the height of attraction was girls entering the bathroom hand in hand or us scribbling love letters to our seniors, who never used or heard the f*** word out loud, who waited to fall in love before having sex, just the way they were taught, and knew that pleasure is not meant to be their birth right, unless they landed themselves a man.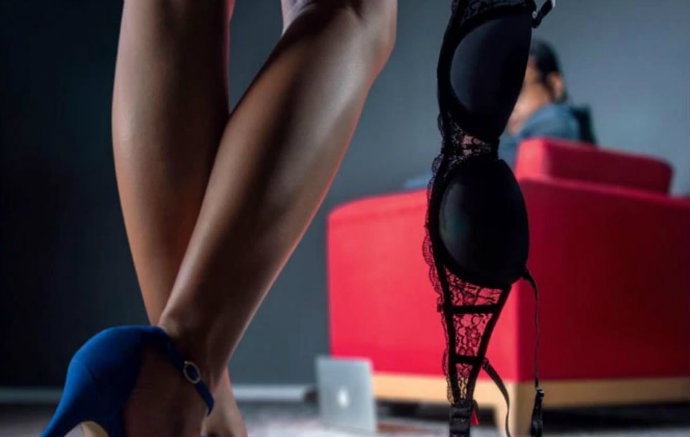 We're more than just wives or mothers. We can be. (Source: India Today Magazine)
A bride. And, a groom. And a child. By 30. Because anything after that was socially not sanctioned. And considered expired.
Where feminists like Kishwar think that by making a jibe against the Congress scion, and using the three words that we must never utter — alone or together.
By which time, our asexual parents had covered our eyes. Just the way their asexual parents had done to them.
I would like to ask Madam Kishwar — why she must deny us the same privileged pleasure?
After all, we too are citizens of the nation of Khajurao, Kamasutra, Konark, Sunny Leone, Savita Bhabhi and Gleeden — an extramarital connections app similar to Ashley Madison.
Sex is just sex for us too. And why not? (Source: DailyO)
Gleeden caters to women who are looking for an extra-marital affair (2,80,000 users have reportedly signed up for it). In an interview with an Indian news site, Solene Paillet, their spokesperson reportedly said, "Indian users who are signing up have been married for several years and most of them don't feel happy about their relationship anymore. They feel the need to blossom outside their relationship or their family sphere... Members can meet, chat and interact with other members to find whatever they may be looking for. They have the ability to reveal their marital status in complete transparency. Security, discretion and anonymity are the keywords."
Also, free of its procreative missionary…I mean, mission, of aiding in our reproductive prowess and functioning physiologically, with or without an iota of romantic bindings or lofty, Bollywood-esque romance — sex is to us, just that.
A vibrator.

A stranger on a strange app.

A fastfood-esque FAQ.

A wham, bam, Thank you, Ma'am.
And while you think you are insulting Rahul Gandhi, you may just be winning him more brownie points.
By making sex free for adult men on certain days of the year (did you mean GST-free, too?) — which is what you propose — you are also freeing us, women, of the docile duty of providing them pleasure, night after night, year after year.
Which is what our mothers did, before their own physical fantasies and kinks were drowned in a rough sea of polite duty, and shutting their eyes, as pot-bellied, hairy men climbed up their bare torsos and took off their blouses.
Sometimes, even tying up their wrists, against their wishes.
2019 is being touted as a critical election year. I, however, have only one dream as of now — like several women, girlfriends and acquaintances I've met.
That of wanting to derive pleasure from a partner — without waiting, or compromising, or being apologetic.
So, if you must advise Pappu — who's easier on the eyes, even when he isn't making any sense in his speeches — then tell him this:
By making sex free, you are also freeing us women. (Source: DailyO)
Sex — with a man, with a woman, with a man and a woman, more than once, with more than one person, beyond marriage and motherhood — is something that he can offer to us women, too.
We can ask for a lubricant or a massage oil or a rabbit vibrator or handcuffs.
Our self-worth isn't perishable. And neither are our privates.
What if Pappu actually pays heed to your Tweet?
What if life gets a bit like the popular Hindi adage — 'Pappu pass ho gaya?'