Keeping up with the trends is challenging nowadays. And big brands, at times trying to be different, end up creating something bizarre! In the latest, Zara, one of the most popular fashion retail brands among the youth, has come up with a pair of jeans. And it gone viral for all the wrong reasons.
Here's why: In a viral video posted on Instagram, which has more than 1.2 million views, an influencer has called out Zara's latest fashion trend, which is called the 'Inside Out Denim'. The jeans looks exactly what it sounds like. It is like taking your favourite pair of blue jeans and turning it inside out.
While some people have called these pair of pants absolutely ridiculous, others found it kinda cool. 
Now, if you're among those who didn't like the jeans, we've got some other ridiculous 'fashion stuff' which might boggle your mind. Check them out: 
1. Balenciaga's Paris Sneaker
Balenciaga is probably one of the most 'hated-loved' luxury brands. Why hated you ask?  Since most often the company comes up with designs that are not only ''not practical to wear", but sometimes they do not make any sense at all. 
Last year, Balenciaga came up with a new collection called Balenciaga's new 'Paris Sneaker' collection and faced online trolling due to its 'fully destroyed design'.
The line had 100 limited edition pairs of distressed high-top sneakers and mules with a price range between Rs 1.4 lakh (USD 1,850) and Rs 48,279 (USD 625).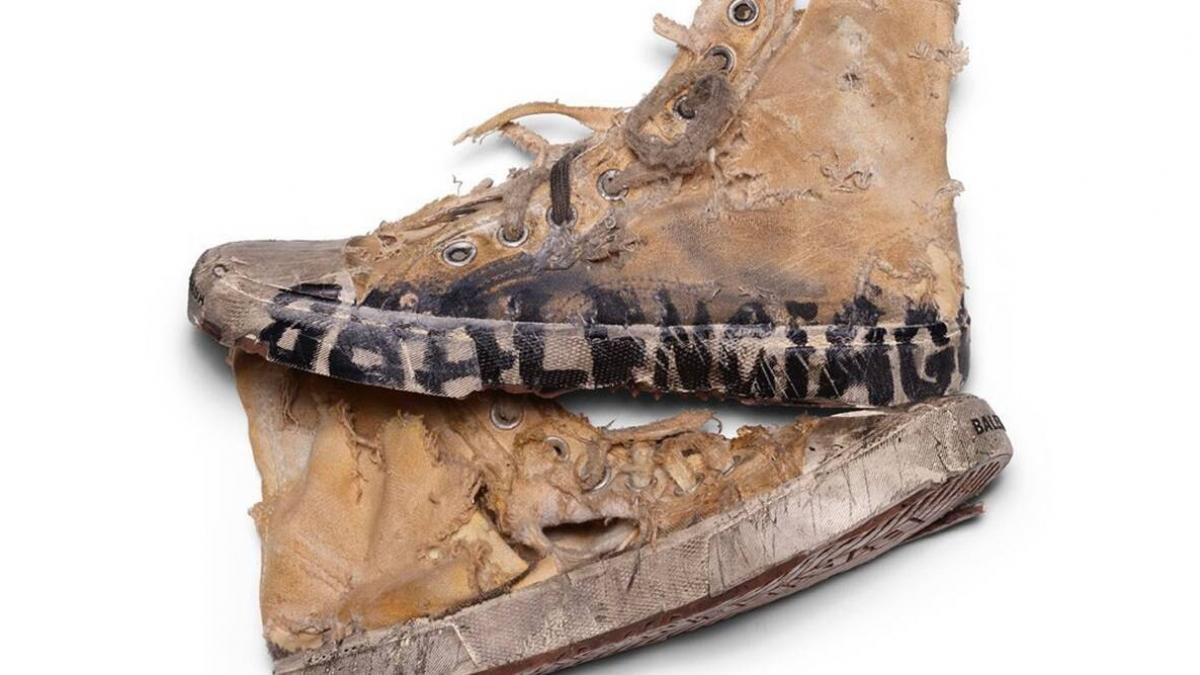 2. The 'Distress' Stocking by Gucci
There are definitely certain clothing items that look pretty cool if they are ripped. Like with certain trousers and denim jeans. But there's a limit? Isn't it?  Well, for Gucci, there is none. In 2020, they released a torn-apart version of stockings, which was sold in no time, despite being for $190 or ₹14,167! 
3.  Inflatable latex Trousers 
What started as a graduate show at the London College of Fashion, soon turned into high fashion brand, when designer Harikrishan showcased models wearing inflatable latex trousers.
Originally not intended for sale, the collection is now available for purchase at prices ranging from $1,100 to $1,961 (approximately Rs 85,500 to Rs 1,52,300).
4. Baguette Bag by Moschino
While some found it an interesting piece of a statement bag, others this Baguette bag by luxury Italian Brand, Moschino to be absurd. If you do not like Baguettes, Moschino has another option for you: Their Croissant bags. But it starts at INR 1 Lakh! 
5.  Tarak Mehta...sorry, Gucci ka Ulta Chasma
Someone is definitely a big fan of the Indian series Tarak Mehta ka Ulta Chasma is what the internet concluded after seeing Gucci's collection few years back when it was launched in 2020. Gucci faced a lot of criticism for this inverted cat eye sunglasses that cost Rs 55,000 sunglasses. 
6. The Grass stained denim 
How to spice up your normal wide-legged denim? Add stains to it. No we don't mean you need to add stains. Gucci, in order to be close to nature (we think), added a denim range, with grass stains on it. Price? Just 55,000 INR! 
7. Trash Bags (Quite literally) 
People are turning trash bags into all sorts of things. From dresses to tops, thanks to influencers. However, Balenciaga, what they refer as 'large man pouch' is nothing but trash bags of sorts with a whopping price of 1,48,286 INR!
These trends raise one important question: Will the audience buy anything if there is a designer tag slapped on it?