73rd Independence Day: Apna Time Aa Gaya, India is on its way to become a global superpower!
There is an inevitability about India's global rise. Her moment has finally arrived and we are here to witness it in all its glory.
For an ancient civilisation like India, time is counted in millennia, not decades. Yet, as this young nation celebrates 72 years of independence from British occupation, it is time to reflect on the challenges and opportunities that lie ahead.
After the great Mauryan and Gupta empires, India slipped into a stupor — it was invaded by warlords from Central Asia and later, by traders with guns from Europe. These conquests have left a psychological scar that still affects how Indians view the world and themselves.
India is beginning to shake off some of those complexes that have shaped its interactions globally.
The transition from a soft power to a resolute power has begun.
The clinical action taken to invalidate Article 370 of the Indian Constitution reflects the resolute new India.
Had Babasaheb Ambedkar, the guardian of India's Constitution, lived beyond 1956, he would have insisted on the revocation of Article 370 ten years after the "transient, temporary" article came into force.
No more a soft power: India is now overcoming its complexes and emerging as a resolute power. (Photo: India Today)
It was meant to last ten years. Babasaheb would not have waited a day longer.
India though waited. It was still a soft state. It lacked Ambedkar's steel, Sardar Vallabbhai Patel's vision and Mahatma Gandhi's wisdom.
The challenges in the weeks and months ahead will need the Narendra Modi government to harness all three attributes. A small but volatile section of the Kashmir Valley will test India's security forces once restrictions on free movement are lifted. The Valley's feudal leadership, on release from the palaces where they have been detained, will plot to regain their malignant hold on the Valley that has kept it isolated from modernity and social progress.
The calm before the storm: Tensions might rise in the Valley once the restrictions on movement are lifted. (Photo: India Today)
For its part, Pakistan will wait and watch till the crucial meeting of the 37-nation Financial Action Task Force (FATF) is held in October. The meeting will decide whether to place greylisted Islamabad on a blacklist.
That would devastate Pakistan's economy.
The Generals in Rawalpindi, stunned by events in J&K, are itching to launch terror attacks in the Valley — the threat of FATF blacklisting is holding them back.
Inflection Point
Why is the government's move to end J&K's special status an important inflection point in India's independent history? It is only the second time — the first was the 1971 Bangladesh war — that India has acted proactively and decisively to resolve a matter of significant national interest.
After 1971, India lapsed into inertia, allowing China, Pakistan and the United States to shape the geopolitics of the region.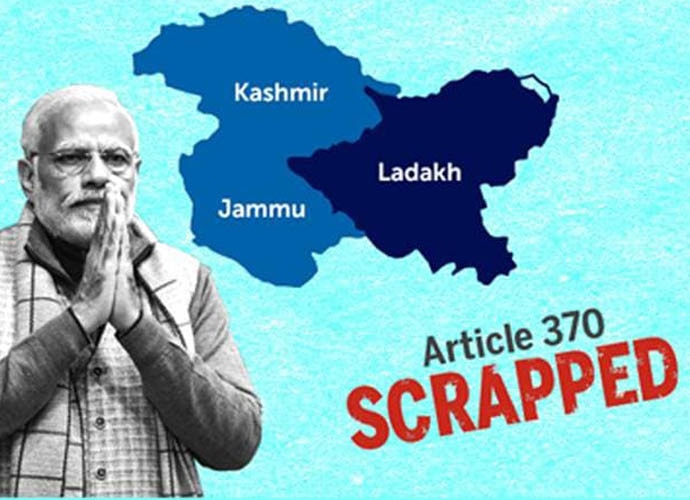 A massive geopolitical change: By scrapping Article 370, India emerged as a full power in South Asia. (Photo: Business Today)
The decisive action of August 5, 2019 comes in a changed geopolitical environment. India has grown into a $3 trillion economy, the fifth largest in the world. Its consumer market is too large and its military capability too strong for even a reflexively hostile China to ignore. That is why Beijing has advised Pakistan to resolve the J&K issue bilaterally. The United States, the United Nations and Russia have done the same.
What, then, are the challenges and opportunities that India faces, both immediate and distant?
India has historically punched below its geopolitical weight. That diffidence has allowed a renegade country like Pakistan, whose economy is one-ninth the size of India's and which has one-fiftieth of India's foreign exchange reserves, to claim a false equivalence.
In order to hyphenate itself with India, Pakistan goes to great lengths — it craves talks with India. It uses terrorism to maintain a low-cost conflict proxy war that gives the military a pre-eminent position in Pakistan where the armed forces already own vast businesses and land.
All this has changed overnight with the end of J&K's special status under Article 370. While Pakistan tries to come to terms with losing its existential crutch, India must deal with the enemy within.
An infiltration of epic proportions: Apart from known terrorists, Pakistan has planted ISI agents in Indian public life. (Photo: India Today)
A cabal of Indians, subverted for years by Pakistan's spy agency ISI, have infiltrated every crevice of the Indian public life. They come in several guises: activists, lawyers, politicians, former intelligence officers, ex-bureaucrats and — most shamefully — compromised journalists.
The ISI has a long reach — and deep pockets. Its project of subverting Indian public opinion flourished during 2004-2014. The Congress-led UPA had several Pakistani sympathisers. Pakistani terror attacks were downplayed. The myth of saffron terror was created by a helpful ecosystem of journalists, activists and lawyers.
Islamabad was delighted. Seminars and Track 2 meetings were held between retired Indian and Pakistani armed forces officers and former intelligence personnel to keep J&K alive as a slow-burning flame.
In its first term, the Modi government failed to come to grips with this malignant, subverted ecosystem.
In its second term, a new sense of urgency and resolution is apparent.
Cases of corruption and sedition against leaders of the ecosystem in J&K and the rest of India are progressing more quickly. But more needs to be done, more urgently. The enemy within can be as dangerous as the enemy beyond the border.
Call his bluff: By downplaying Pakistani terrorism, Pakistan managed — till now — to sway parts of Indian public opinion. (Photo: India Today)
The Modi government's record on governance though remains patchy. Only when India's internal governance improves can its geopolitical weight count in a world driven with conflict. The Middle East remains a tinderbox. The US and China are on a collision course over trade and technology. Britain is about to shed its European baggage but could, in the process, trigger an unravelling of the United Kingdom itself as demands for Scottish independence grow.
There is an inevitability about India's global rise, despite its propensity to take two steps forward and one step backward. As I wrote in my 2014 book, The New Clash of Civilisations: How the Contest Between America, China, India and Islam Will Shape Our Century: "As one of the pivots in this new world order, India has three priceless assets and two damaging liabilities. The assets are its large economy, market size and plural democracy. The liabilities — Misgovernance and social inequality. Inclusive growth follows from good governance. Without it, India's rise as a great power will falter."
As the nation celebrates its 73rd Independence Day, the Prime Minister must address those liabilities as a priority to ensure they don't slow India's inevitable ascent.
Also Read: August 15: Why Bangladesh's founding father Sheikh Mujibur Rahman was assassinated by the army
The views and opinions expressed in this article are those of the authors and do not necessarily reflect the official policy or position of DailyO.in or the India Today Group. The writers are solely responsible for any claims arising out of the contents of this article.