Aaditya Thackeray wants Mumbai, Pune to party all night on 31st December. This is why we need young leaders
"We need to trust our citizens," says Aaditya. We agree.
What's so asankaari about partying on 31st December? Nothing. And Aaditya Thackeray understands that.
Every election, every term, India's political leaders keep ageing like that banyan tree in the park you spread a picnic mat next to. They are not wine that gets much better with age. In fact, they are beer that goes flat with prolonged exposure.
So, yeah, we need young leaders.
And by 'young', we don't mean a 48-year-old Leo Tolstoy-quoting bachelor. We're talking 31st December-partying, pub-going millennials. And Aaditya Thackeray is the man.
Aaditya, in his letter to the Maharashtra Chief Minister, Devendra Fadnavis, categorically requests him to "allow Mumbai, Thane, Navi Mumbai, Pune and all other such cities that wish to celebrate New Year's Eve to be open to all legal activities of entertainment and celebration, especially in non-residential areas."
My letter to @CMOMaharashtra about 31st December and Mumbai 24x7 proposal pending for a few months. pic.twitter.com/uWqGVKWW5q

— Aaditya Thackeray (@AUThackeray) December 26, 2018
And right there, he wins a boozy Christmas cake from us for adding the phrase 'wish to,' giving agency to the city and its people, rather than issuing a diktat. A young leader who understands 'choice' and values 'consent' is a double whammy.
Aaditya further writes, "What is legal during the day can't become illegal at night," thereby hammering in the concept of Mumbai — a city that never sleeps. If the city isn't sleeping, then why can't we have the same privileges at night that we so enjoy during the day?
We are sensing sceptics shifting in their chairs, uncomfortable at the thought of 'aaj kal ke bachche' partying all night.
To that — and Aaditya reminds us in his letter — we'd like to say that the BMC had in fact proposed to keep restaurants and pubs open 24X7 in Mumbai, way back in 2013.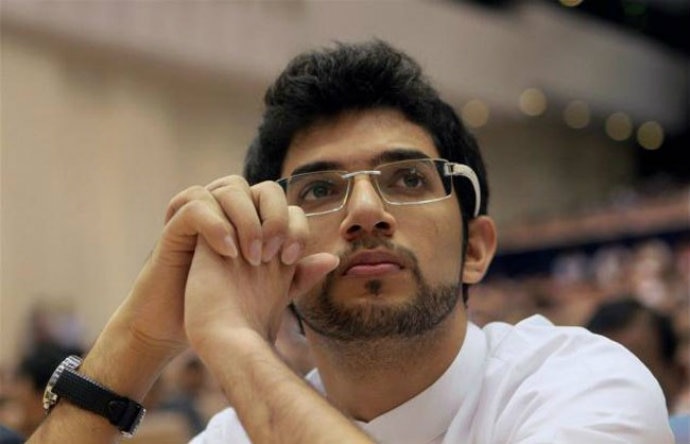 The partying, pub-going millennial leader we need. (Source: IndiaToday.in)
"A small reminder of the proposal of the BMC first based in 2013, then approved by the then Police Commissioner in 2015 and now legislated by the state in 2017, to let non-residential areas in Mumbai and other cities be open 24X7. The proposal for Mumbai is awaiting your approval from the home department for a few months now," writes Aaditya, as we almost spot sparks fly from his pen and paper!
I have lived in Mumbai for 8 years, and while the city actually never sleeps, the nightlife does. Mumbai local trains, considered its lifeline, take only about a 2-hour power nap between 2:05 am and 4:15 am (Western line), and between 2:45 am to 4:12 am (Central line), approximately. Yet, the pubs shut by 12 am, with waiters politely ushering you out.
Of course, if they were allowed to stay open for business, they wouldn't mind the extra money. And neither would you, Maharashtra. You know, with the extra GST and VAT levied on every bill. In fact, pubs and restaurants would probably hire another bunch of servers for the night shift. There — employment.
Cheers to that! (Source: YouTube screengrab)
Aaditya knows that. "This move would give our state more employment and revenue from all safe and legal places. If legal establishments in malls and mill compounds open 24X7 it will be a boon for the state." This is just common sense, but still, a walnut brownie to Aaditya for this too, for common sense is on the verge of extinction, like the Gangetic dolphin.
But, at the crux lies a very basic theory, an assumption that will take us a long way together as a nation — "We need to trust our citizens."
Trust that if you give us more space and time to unwind after work, we will only come back stronger the next day. Trust that self-censorship works, therefore you don't need to put a leash on Netflix and other video-on-demand services. Trust that if you let us be, we will be.
'Til-gud' for this line, Aaditya. Masterstroke!
Mr Fadnavis, however, is yet to respond, hence we do not know if this trailblazer letter would just break the Internet or actually break down biases. We shall wait.
For those who do not want to venture out to party, we do have a reading list — that starts with and ends with Rohinton Mistry's Booker-nominated novel Such a Long Journey — for you, so that you can quietly ring in the New Year with a literary genius.
Banning books to fighting biases, yes, it's been a long journey, indeed.
Also read: 'Young leaders' should relax - no one ever ages in India
The views and opinions expressed in this article are those of the authors and do not necessarily reflect the official policy or position of DailyO.in or the India Today Group. The writers are solely responsible for any claims arising out of the contents of this article.