To fight air pollution, India first needs to take the mask off privileges
New fault lines of inequality will emerge, as the poor continue to choke, while the well-off don N95 masks.
In India, those who can afford it have always dealt privately with the manifold failures of public services provision.
In the absence of adequate policing, we hire security guards. Confronted by bacteria-ridden municipal water, we install clean water filters. We deal with the lack of adequate parking space at shopping centres by hiring drivers to drive around and pick us up when we are ready.
Now, the middle classes have also begun to invest en masse on face masks and air purifiers to deal with the putrid air that is suffocating northern India.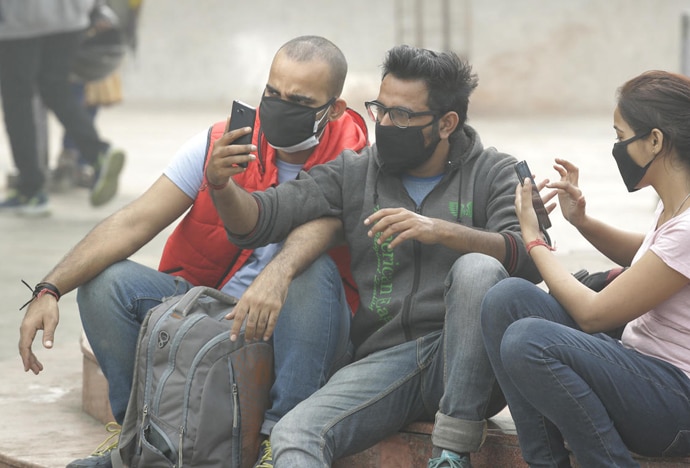 Image: AP photo
And new fault lines of inequality will emerge, as the poor continue to choke, while the well-off don N95 masks. This inequality is reinforced by the public discourse in India, which when it does focus on air pollution concentrates on ambient air, that is, the air that even the rich breathe. Household air pollution - the fumes resulting from the incomplete burning of biomass cakes, such as cow dung, used for cooking - tends by comparison to be neglected, even though it is a worse public health emergency, associated with 1.04 million premature deaths a year.
Image: AP photo
According to the Institute of Health Metrics and Evaluation it is the second most significant factor contributing to the national burden of disease in India, ahead of smoking and well ahead of ambient air pollution (which comes only in seventh place).
But since it mainly affects the poor and women, it makes fewer headlines. In India, 700 million people are still exposed to smoke from stoves made of stone or clay, or chulhas, that use cow dung and twigs as fuel.
In addition to PM2.5, carbon monoxide, sulphur dioxide and nitrogen oxides, traditional chulhas emit hundreds of other pollutants, including formaldehyde, benzene, polycyclic aromatic hydrocarbons, and dioxins. Tuberculosis, blindness and miscarriages are known outcomes.
Kirk Smith, a leading environmental professor at the University of California at Berkeley, estimates that the smoke from an open cooking fire is the equivalent of smoking 400 cigarettes an hour.
These sorts of comparisons can be problematic, but we do know that women who cook with biomass in poorly ventilated rooms on a daily basis breathe in more than 10 times the WHO norm of PM2.5.
Image: Reuters photo
Clearly, from a public health policy perspective, indoor household pollution should be as much of a priority as tackling ambient air, indeed more so. Unlike expats, tourists and the middle classes, the poor cannot afford mitigating action. Moreover, a substantial percentage of the ambient PM2.5 concentrations in India (up to 30 per cent according to some studies) is sourced to household pollution that escapes outdoors from dwellings.
This is not just a rural problem. In a city like Delhi, posh residential colonies are located side by side with shanty towns that are home to sweepers, drivers and other servants who cater to the elite. It is common, especially in the winter months, to see dense smoke clouds rising from slum shacks, because these homes use firewood, kerosene or cow dung for cooking and heating.
According to the 2011 Census, about 12 per cent of Delhi households, or over 1.2 million people, were still using these fuels. There is therefore self-interest, even for the rich, in addressing the problem.
(Pallavi Aiyar is the author of Choked published by Juggernaut.in)
Also read: It's toxic in Delhi. Does nobody care that pollution will kill us all?