No Podium for Palekar: When art is attacked, it's the people who lose
The NGMA is not a government fiefdom. It belongs to we, the people. It, and the art it houses, must be governed by our diversity and freedom, and not by sarsaari or sanskaari ideals.
"This is supposed to be a democratic country but under this present government, artists are stopped from speaking out."
– Lalitha Lajmi
The meme Early Warning Signs of Fascism, with 14 bullet points, is a familiar sight on social media.
The list was originally created by Laurence Britt in 2003, for an article published by the magazine Free Inquiry (a publication for secular humanist commentary and analysis).
Read the 11th point. Now look around you. (Photo: Twitter)
The 11th point — "Disdain for Intellectuals and the Arts" — was very much in evidence on February 9 at Mumbai's National Gallery for Modern Art (NGMA), when renowned thespian and director Amol Palekar was rudely interrupted many times and told to stop speaking, after being invited to speak at a panel discussion at the opening of 'Inside the Empty Box', a retrospective on the artist Prabhakar Barwe.
Palekar had started expressing his concern about policy changes that would give the ministry of culture the sole right to decide the contents and themes of exhibitions to be held at the NGMA in Mumbai and Bangalore. Up until October 2018, these were discussed and decided by the local artists' advisory committees, which were reconstituted every three years.
Palekar said, "This control over the NGMA, which is the sacrosanct venue for artistic expression and viewing of diverse art, is the recent-most casualty in this 'war against humanities' as someone recently put it! I am truly disturbed... what is more upsetting is that those privy to such unilateral orders did not speak out, protest or even question it."
Reportedly, Suhas Bahulkar, artist and former chairman, and show curator Jesal Thacker repeatedly heckled Palekar until he had to cut short his address and return to his seat. But not before he reminded the audience about how Nayantara Sahgal had been invited to speak at a Marathi literary convention recently — but the invitation was withdrawn at the last minute, because what she would say could be "slightly critical of the situation around us".
Palekar pointed out the significance of what this policy change meant. "Many of you may not know that this retrospective will be the last show decided by the advisory committee of local artists and not by some bureaucrat or an agent of the government with an agenda of either moral policing or proliferation of certain art commensurate with an ideological incline."
When the logo on the podium was bigger than the speaker. (Photo: Twitter)
Consternation and shock was writ large on the face of Lalitha Lajmi, acclaimed painter, also present on the panel, as she witnessed what was happening.
In a telephone interview with this writer, she said, "This is supposed to be a democratic country — but under this present government, artists are stopped from speaking out."
The NGMA was formally inaugurated by then-Vice President Dr S Radhakrishnan in 1954, in the presence of Prime Minister Jawaharlal Nehru. NGMA, Mumbai, was opened to the public in 1996, with art historian Dr Saryu Doshi serving as its first director.
There is a certain elasticity, or a bandwidth, if one will, in its vast collection of art, that traverses not only time (some of the works date as far back as 1857), but also social spaces, including expressions of social critique and feminist voice, as evinced by the works of painters like Chittaprosad and Amrita Sher-Gil.
A central authority formed of bureaucrats and regime-friendly artists would effectively nullify everything institutions like the NGMA stand for — overpowering freedom of expression, nuance and subtlety in form and content, which are the very cornerstones of creativity.
Totalitarianism and control have never been friendly to free-spirited artists. Mumbai NGMA director Anita Rupavataram reportedly reprimanded Amol Palekar, saying the NGMA was a "government gallery" and hence, he should have been aware. According to her, "The National Gallery of Modern Art is a subordinate office of the Ministry of Culture, Government of India. Thus, it functions under the aegis of the Ministry of Culture. The Ministry therefore has an important role in deciding its administrative and policy matters."
The NGMA was envisioned as a space that would give space to art. (Photo: http://museumsofindia.gov.in/repository/museum/ngma_mum)
The fact is that the NGMA belongs to the public — it belongs to the nation. It is not a government fiefdom.
One must remember that all censorship is not overtly evident or obvious in the traditional heavy-handed manner that popular imagination is used to. Fascism has evolved beyond the jackboots and burning of books in town squares. It now preens in democratic raiment, thriving on tacit acceptance and a climate of consent. It speaks a sophisticated tongue and validates itself through unanimity.
A government-appointed panel, say, a jury for the National Awards or the Indian Panorama (this writer has had the honour), or the NGMA, always had a heterogeneous mix of people, with dissimilar world views and opinions. Decisions were taken in an atmosphere of lively debate which could turn confrontational and heated — which was not a bad thing at all.
In the new dispensation though, you'll have the daffodils nodding each to each, never stepping over the Laxman Rekha, the line of official permissibility.
Where is the scope for dissent or the growth of new ideas beyond familiar imagery, symbolism and iconography?
There is a mounting intolerance in India towards art that is not in line with "sanskaar" or popular notions of traditional morality, and this has been thrust on the population by the RSS and Sangh Parivar, which have reportedly inserted their karyakartas in many government institutions.
As the FB page of the Artists Unite group says, "This is a time when cultural and social life in India is being torn asunder by a toxic cocktail of propaganda, violence, censorship and distorted histories. The right to life, the right to love, food choices, language and histories, cultural expression, all are under assault by a politics of hate which is at war with the people of India and their diverse cultures."
Artists have been the target of India's Hindutva outfits for quite some time now, ever since the resurgence of saffron nationalism in the early 1990s.
Over 10 years ago, the Vishva Hindu Parishad and the Bajrang Dal had complained to the police about an exhibition held at Baroda's Maharaja Sayajirao University, following which the artist, Chandramohan — 23 years old then — was suspended and arrested under Section 153 of the IPC, for "wantonly giving provocation with intent to cause a riot," and held in jail for four days before receiving bail.
His fault? He had portrayed religious icons with anatomical details.
His college passing certificate denied to him by the university for over a decade, Chandramohan finally, out of frustration, reportedly set fire to the VC's office in 2018.
Shivaji Panniker, who was dean-in-charge (Faculty of Arts) at the time of the exhibition, was suspended in May 2007 for defending Chandramohan. His post-retirement benefits have apparently been denied to him. At the moment, he is fighting a lone battle against the university. As for Chandramohan, every gallery has denied him space since the incident.
This is what happens when you buck the system. And of course, we all know about MF Husain and what happened to him.
In February 2018, a frustrated Chandramohan set fire to the Maharaja Sayajirao University VC's office. (Photo: ANI)
In 2016, another "fringe" Hindutva group called Lal Sena attacked the Jaipur Art Summit on December 8, vandalised paintings and assaulted one of the painters, protesting against the display of a semi-nude painting. They also snatched away a painting displayed at the art fair.
On January 20 this year, Loyola College in Chennai came under the attack of the youth wing of the BJP and the RSS after it held an art exhibition that apparently had 'derogatory' paintings of Hindu gods and Prime Minister Narendra Modi. Loyola College buckled and issued the following statement: "We are deeply pained, saddened and equally anguished that the venue to conduct a cultural event, Veethi Virudhu Vizha held on 19th and 20th Jan 2019 has been misused, our illustrious and pluralistic campus was used for derogative exhibits against a particular religious group, social institution, political party and the country's leadership."
Art is essential as a political tool that critiques society and reboots our imaginations. Or simply as a celebration of the untrammeled human spirit. It is not merely a decorative medium to prettify our walls or match with the cushion covers. Nor is it a 'play safe' medium to illustrate our traditional narratives and collective confirmation biases about what makes up aesthetics.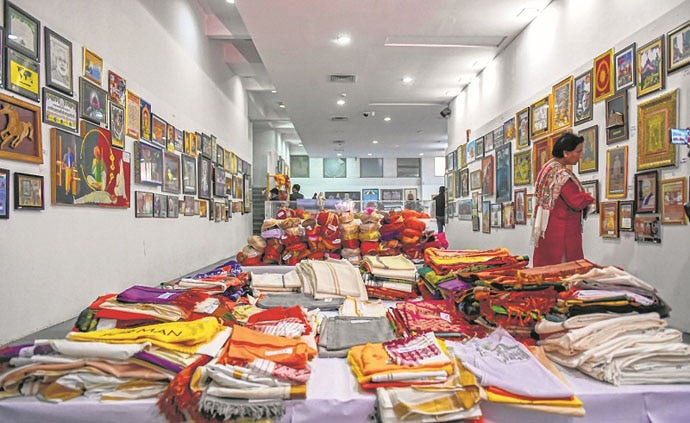 NGMA Delhi, meanwhile, recently auctioned off gifts received by PM Modi. (Photo: PTI)
On January 27, 2019, the NGMA, Delhi announced via a press release the first day of the physical auction of "statues, photographs, paintings and articles such as angavastram, shawls, commemorative coins, traditional musical instruments, hats, pagris and jackets, etc., to name a few" — gifts PM Modi has received over the years. There are several portraits of the PM in this. A painting of the PM at a railway station by Odisha-born Bijay Biswaal was sold for Rs 5 lakh.
One may debate whether this devotional painting or the above articles on offer would be considered the kind of art that is worthy of the NGMA till the cows come home.
After all, as many would be quick to point out, artistic excellence is subjective. And, as Anita Rupavataram has said: "No one should feel that the place belongs to a certain group of elites only. The place has to appeal to both the connoisseur and the commoner."
But one only hopes that in the process of the "de-elitisation" of art, the powers-that-be do not label art that the "commoner" does not fancy or understand as "decadent art" — like the Nazis did — and start banning it. That would be tragic.
Perhaps that was Amol Palekar's concern which he was trying to voice — before he was so rudely called off the podium.
Also read: Congress promises to scrap triple talaq law, Reuters bats for men's rights. Who cares for women in such a 'liberal' world?
The views and opinions expressed in this article are those of the authors and do not necessarily reflect the official policy or position of DailyO.in or the India Today Group. The writers are solely responsible for any claims arising out of the contents of this article.