The revocation of Article 370 has elicited several reactions from various sections of society. Some of them have been appalling, if not entirely unexpected. For instance, BJP MLA from Khatauli in Muzaffarnagar, Vikram Singh Saini, was in the spotlight for all the wrong reasons on July 6, 2019, after he reportedly said BJP party workers were "excited" because they would now be able to get married to "fair girls from Kashmir". 
He is not alone in his enthusiasm though.
This man is an elected leader of the BJP — and only the tip of the iceberg. There have been many tweets and comments on social media from many persons expressing the same sentiments and they mainly seem to belong to BJP supporters, celebrating the events of the last few days. In an interview published in Dainik Jagran, for instance, Sadhvi Prachi of the VHP is reportedly exhorting young men to buy land in Kashmir and treat it as their "sasural" (in-laws' place).
To my mind, the implication is clear — Kashmir is being regarded as conquered territory and in time-honoured tradition the land and the women are the spoils.
Shocking Views: Do Vikram Singh Saini (L) and Sadhvi Prachi (R) see Kashmir as conquered territory with its spoils? (Photo: ANI)
Of course, what immediately strikes one as odd is that those who don't accept food from a Muslim delivery boy and become 'uncomfortable' with a Muslim cab driver are now apparently drooling over fair Kashmiri damsels.
On some other minds, profit is uppermost. Social media is full of excited would-be real estate investors speculating about buying land in Kashmir.
Even Milind Deora, President of the Mumbai Regional Congress Committee, tweeted, "After the scrapping of Article 370, President of @FollowCII & my friend @udaykotak announces investor summit in J&K & Ladakh. This is a positive first step towards providing economic opportunities & jobs to the region's youth."
Of course, he must be unaware that Article 370 did not stand in the way of holding summit conferences in Kashmir all these years.
However, for some reason, Kashmir seems to have been singled out as a special case. Let us take a look at the following:
1.) Nagaland - Article 371A - Rest of Indians can't buy property or settle down in Nagaland. Even to enter this state, rest of Indians need an inner line of permit.
2.) Assam - Article 371B - In certain districts of Assam, like Karbi Anglong, rest of Indians can't buy land.
3.) Manipur - Article 371C - Rest of Indians cannot buy property or settle in Manipur.
4.) Sikkim - Article 371F - Rest of Indians cannot buy property or settle in Sikkim.
5.) Mizoram - Article 371G - Rest of Indians cannot buy property or settle in Mizoram.
6.) Arunachal Pradesh - Article 371H - Rest of Indians cannot buy property or settle down in Arunachal Pradesh. Even to enter this state, rest of Indians need an inner line of permit.
Here are some other facts:
1.). 90% of the central government assistance given to states of north-east India is treated as a grant and the remaining 10% is considered a loan. For the rest of the Indian states, including Kashmir, it is 30% grant — and 70% loan.
2.). People in Sikkim don't pay income tax like the rest of India.
3.). People from the rest of India can't buy land in many parts of Himachal Pradesh and Uttarakhand.
4.). Non-islander Indians need a permit to visit many islands in the Andamans and Lakshwadeep.
The move to abrogate Article 370 is not the Kashmiri people's problem alone — it is everyone's problem.  If you are a person who has uttered the phrases like 'the framework of the Indian Constitution', 'the federal structure of India', 'the Indian Union', 'India's plural and diverse character', then you should see that Article 370 represents the promise that 'We, the People' made a state that was the will of whoever who constituted the people.
There was a reason: The heavy history of Kashmir should have made this a weighty moment, not rushed through. (Photo: Reuters)
We made a promise to ourselves — the promise of negotiation as to terms of inclusion, of accommodation of difference, of non-majoritarianism, of protection of diversity, of federalism and participation, as the basis of this democracy. There is no precedent for turning a state into a Union Territory, especially by executive fiat. The rushing of the decision is also, as I see it, ominous.
Article 370 — along with its echo in Article 141 of the J&K Constitution — is just a modified version of the Instrument of Accession signed on October 26, 1947. The word "temporary" had a meaning assuming that there would be a plebiscite, a second referendum in Kashmir, about whether to endorse the treaty or not. That never happened. But the word "temporary" remained, losing all its meaning. The Supreme Court also admitted that in 2017. Anything "temporary" doesn't wither away automatically — there must be a logical path to it.
If you deny the Instrument of Accession unilaterally, the accession becomes null and void.
Repealing Article 370 in this matter also endorses and legitimises what Pakistan has done to Gilgit and Baltistan.
In abolishing Article 370 and Article 35 (A), India has taken a leaf from Pakistan's playbook.
Gilgit-Baltistan used to have State Subject Rule until 1974 when it was abolished by ZA Bhutto without the consent of the locals — this move allowed outsiders to purchase land and settle in Gilgit-Baltistan, raising fears of a demographic change.
Nationalist and progressive forces have been opposing such measures and demanding State Subject Rules revival in Gilgit-Baltistan. These rational and legal demands have continuously been called treasonous by the powers that be.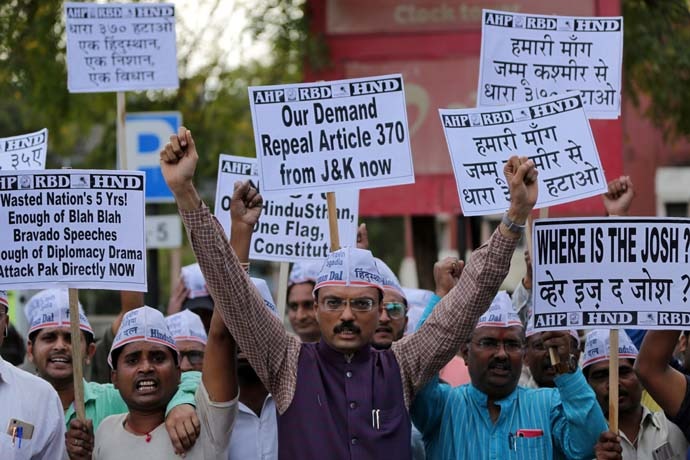 What the right-wing wants: The right-wing gets. But is this right for Kashmir and all of us? (Photo: Reuters)
What India has done in Kashmir appears as immoral to me as what Pakistan had done in Gilgit Baltistan. India, therefore, loses its moral right to blame Pakistan for the misery caused by them in Pakistan Occupied Kashmir (POK).
One is certain that many in Kashmir gave up the belief long ago that the Indian state was serious about Article 370 when no elected government was allowed to complete its term for most of independent India's life. But it is the rest of the country that cited Article 370 as a testament to how the overall intention was not occupation or annexation, and that one day, it would all be fixed. This move now strips away that excuse, carrying away the last shreds of consensual democracy that we may have had.
This is a dangerous precedent with a slippery slope.
To my mind, all this nationalist euphoria about Modi cutting the Gordian knot of decades is a smokescreen for opening up real estate for commercial opportunities that were on lockdown for the rest of the country for decades.  We are going to see new managements from established industrial houses from the mainland taking over the local economy.
We are looking at another Goa on the make.
There will be gated communities, mining, possible sweatshops, the takeover of the local handicraft economy, and the establishment of a tourism and hotel/taxi mafia — all of it.
The demographic composition of the Muslim-dominated J&K will also change, as much of the local population will happily sell off and migrate after the claustrophobia and oppression of decades that clipped their wings.