They may not acknowledge that deep within Atal Bihari Vajpayee lived a 'Nehru', but the Bharatiya Janata Party (BJP) leadership doesn't seem to have the slightest hesitation in milking the name of its departed leader — as long as it goes on to serve their limited electoral ambitions.
Many years before he actually died, Vajpayee retired from active politics. Having slipped virtually into a state of coma, his life sadly remained confined to a hospital bed in his home, where he remained as oblivious to the world around him as the people, who once looked up to him with awe.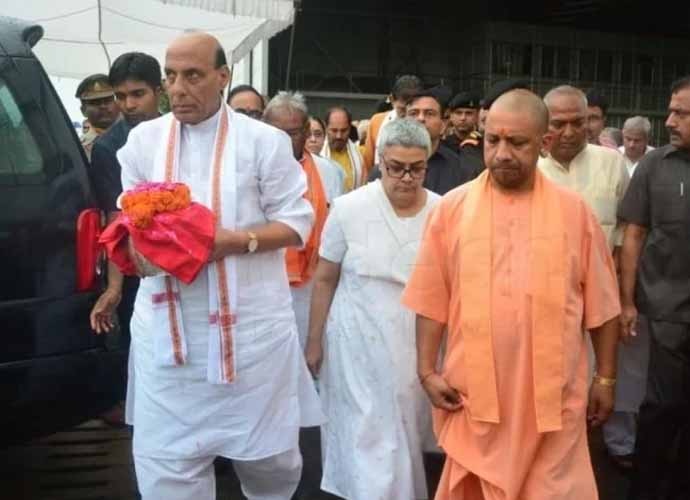 Union minister Rajnath Singh accompanies the 'asthi kalash yatra' with chief minister Yogi Adityanath. Vajpayee's foster daughter Namita Bhattacharya walks along. (Source: PTI)
With his demise came the end of an era, where democratic values prevailed over party politics, where ideological differences did not come in the way of interpersonal relationships, and where inclusiveness remained an essential part of the political ethos.
It were these unique qualities in the 93-year-old veteran that made his stand on a higher pedestal, making him a true 'Bharat Ratna'. Despite having grown in the company of RSS ideologues, deep down within him nestled a Nehru. And that was what took him miles ahead of all others in his right wing 'Sangh Parivar', where even Nehru's name is a taboo.
Those sitting at the top today may have inherited Vajpayee's political legacy, but surely they are still far from imbibing the Nehruvian values he cherished and practised. Yet they are not shy of drawing mileage out of his demise.
Even those among the BJP leaders, who hardly cared to call on Vajpayee over the past decade during which he lay bedridden, seem to have suddenly sprung into action and were seen paying homage to him.
The exercise commenced with the decision of UP chief minister Yogi Adityanath to carry Vajpayee's ashes to different parts of the state. A high-profile 'asthi kalash yatra' was planned for the ashes of the icon, whose 'heart was never in sync' with the much-hyped and controversial 'rath yatra' led by Lal Krishna Advani in support of the Ram Temple in Ayodhya, way back in 1990.
This was clearly an afterthought, since the formal immersion of the ashes had already been carried out in Haridwar. Apparently, Yogi Adityanath wanted to make his immersion ceremony a far bigger affair. A press release issued by his office said that Vajpayee's ashes would be carted to each of the 75 districts across Uttar Pradesh and immersed in every river in the districts. Sure enough, the task sounded incredible as the count of the immersions went up to 163.
When a scribe sought a party spokesman's comment on the practicability of the exercise, pat came the reply, "Obviously, there is some mistake in the official press release issued by the state information department; the ashes will be carried only to the 17 divisional headquarters and immersed in the key rivers in each of these places."
Thus the ritual began with a high-profile 'asthi-kalash yatra' along the main thoroughfares of Vajpayee's karmbhoomi, Lucknow, where the immersion was carried out in the Gomti river.
Union home minister Rajnath Singh accompanied the 'yatra' with chief minister Yogi Adityanath, while thousands of people followed the long motorcade to pay homage to their beloved leader.
As if that was not enough, Yogi Adityanath also got down to launching several development schemes named after Vajpayee. Moving of a condolence resolution by the Yogi cabinet was understandable, even though it was rather late in the day (four days after the demise). But for a government that had little to do with Vajpayee's ideals in 17 months of its existence, it was surely a surprise that a bagful of schemes were now being launched in his name.
Questions were also being raised about how many times had the UP chief minister visited Vajpayee during his prolonged illness. How much he subscribed to Vajpayee's school of thought was also a million dollar question.
Prime Minister Narendra Modi consoles Vajpayee's foster daughter Namita Bhattacharya and granddaughter Niharika. (Source: PTI)
Quite systematically now, the UP CM seemed to be going overboard. He has already announced several memorials for the former prime minister in different parts of the state. One of these was proposed in Vajpayee's native village Bateshwar in Mathura district, the DAV College at Kanpur, where he completed most part of his education, as well as his 'karmbhoomi', Lucknow, from where he was elected to the Lok Sabha five times. Another memorial is planned in Balrampur, from where he won his first Lok Sabha election in 1957.
Senior party leaders like Lalji Tandon, who has been named as the new Bihar governor, feel that a befitting tribute to Vajpayee would be to name a grand institution after him.
"I would urge the chief minister to name one of the new medical colleges that were coming up in UP after Atal ji," he said. Tandon, who was always seen as Vajpayee's closest lieutenant in Lucknow, was perhaps the only party veteran who made it a point to visit him regularly during his nearly decade long illness.
While he strongly refutes the charge that the party was out to play politics in the name of the departed leader, fact remains that the manner in which a series of events related to Vajpayee are being planned, shows that the party has the 2019 elections on mind.
Who does not know how Vajpayee was completely ignored in successive election campaigns of the BJP. But there was a sudden surge of emotion in the party rank and file to encash his political reputation.
In a nation ridden with caste politics, the advent of Narendra Modi did seem to give the party a backward tilt, leaving its traditional following of upper caste Brahmins somewhat disillusioned. In any case, the Adityanath regime has somehow created an impression that Rajputs are enjoying an upper hand.
The return of Vajpayee to the centre stage of the poll campaign could therefore act as the much desired shot in the arm at a time when Narendra Modi was desperate to get anywhere close to the astounding victory on 73 of UP's 80 Lok Sabha seats in 2014.
The changing caste equations and political re-alignments that were in the pipeline could upset Modi's applecart to an extent that all hope could turn into despair. Perhaps, the party's decision to play up the Vajpayee card was a consequence of some kind of realisation that all was not as hunky dory as it had been in 2014.