25 years after the calamitous events that culminated in the demolition of the Babri Masjid in Ayodhya on December 6, the Supreme Court has decided to restore the criminal conspiracy charges in the case against senior BJP leaders Lal Krishna Advani, Murli Manohar Joshi, Kalyan Singh and Union home minister Uma Bharti, among several others.
Barring former prime minister Atal Behari Vajpayee, the who's who of the Sangh Parivar, including the four prominent BJP leaders, were allegedly present during the time the mosque was attacked.
Advani, Joshi as well as Uma Bharti, along with firebrand Hindutva votary Vinay Katiyar, will be tried for criminal conspiracy with relation to the demolition, as also Kalyan Singh, presently the governor of Rajasthan, who was the chief minister of Uttar Pradesh when the disputed structure was attacked.
Singh's trial will commence once his term in office ends, as he enjoys constitutional immunity as a governor. The rest will face trial in Lucknow.
The CBI has stated that the leaders, including Advani, met at Katiyar's house on the night of December 5 where the decision to demolish the Babri Masjid was taken.
Without going into the merits of the case on whether or not these leaders are guilty, two questions that require answers are: Why did it take the courts 25 long years to come to this decision? And why now?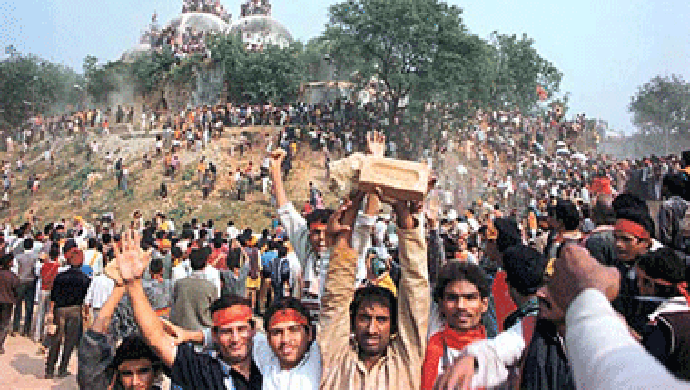 Post Babri Masjid demolition, 2,000 people lost their lives in riots across the country. Photo: IndiaToday
On the evening of December 6, the Supreme Court held a special hearing where the presiding judge, Justice MN Venkatachaliah is reported to have called the events of that afternoon the "gravest ever contempt against the apex court". It had prompted the counsel for the contenders, KK Venugopal to withdraw from the cause, declaring "my head hangs in shame".
MN Venkatachaliah went on to become the Chief Justice of India, but the case did not move forward, and has been stalled on one account or the other in the courts of Rae Bareli and Lucknow.
Like a bad penny, it has come back to haunt the accused. The development comes at a critical time for both Advani and Joshi. In July-August 2017, the country will have to elect a new president and vice-president.
While neither have said a word on the issue, their supporters believe that by virtue of their seniority and experience, they are rightful claimants for the job. However, the sudden commencement of the trial will automatically rule out the two leaders.
In the riots that followed the Babri Masjid's demolition, nearly 2,000 people lost their lives across the country. Restoring charges of criminal conspiracy against the tall leaders, even at this stage, will be meaningful if justice is met and it helps bring about closure to this rather painful chapter in India's history.