Even as I write this piece after a month of Bangladesh's 11th parliamentary elections, the parliament met on Wednesday afternoon at the Jatiya Sangsad in Dhaka for the new session. 
The elections — that restored incumbent Prime Minister Sheikh Hasina and her ruling party Awami League (AL) to power — seemed like a cakewalk. However, today the government seems fraught with internal and external challenges.  The other major political parties — including the Jatiya Party (JP) led by former President Gen HM Ershad with 22 seats, the Jatiya Samajtantrik Dal (JSD) with two seats, Workers' Party (WP) with three seats, and Bikalpadhara with one seat — that form the opposition are keeping their political options open to any eventuality.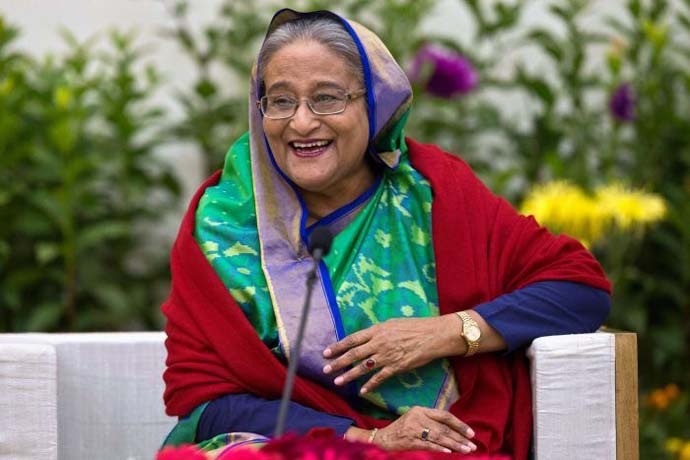 An overwhelming majority in Bangladesh's general elections does not afford Prime Minister Sheikh Hasina the comfort of peace as her government is increasingly fraught with challenges from outside and within (Source: Associated Press)
The opposition sits in the parliament with a sense of satisfaction for having acted against the complete perceived compromise or sell out to the ruling party.
However, the AL leadership needs to remain on guard. Given the opportunistic Machiavellian machinations of General Ershad in the past, the nonagenarian former Bangladeshi Army Chief cannot be ruled out for pinpricking the government.
Furthermore, the leaders of Bangladesh Nationalist Party (BNP) — with the chairperson Khaleda Zia incarcerating in the prison on graft charges and her much-tainted son Tareq Rahman exiled in London — would want to taste power again.
Meanwhile, the common hostile neighbour of India and Bangladesh — Pakistan and its infamous Inter-Services Intelligence ( ISI) — have been working on their continued support to an anti-India conglomerate of BNP and Jamaat involved in Bangladesh for fomenting communal forces.
In the latest move, BNP and Jamaat activists present overseas — especially at Tareq Rahman's temporary bastion in London — are stepping up anti-Hasina and anti-AL activities to keep their presence alive in the international circuit. 
In this direction, a high profile meet is being organised at the House of Lords in London on February 5 under the chairmanship of Lord Stunnel, senior British MP in collaboration with Jamaat support group — Voice of Bangladesh — to discuss the impact of the recently-held Bangladeshi elections on democracy and human rights. Thus, the aforementioned external challenge.
Hasina and her party cadres should not underestimate their detractors and let their guards down even for a second. AL and Hasina have some political comfort back home with their victory by a huge margin. However, with avoidable yet disruptive activities happening abroad at regular intervals, AL and Hasina may be hit hard.
Earlier, British MP Lord Carlile, who had said that the case against Khaleda Zia is politically motivated, was denied the permission to go to Dhaka a few months ago to represent Khaleda on her corruption case. We are seeing an increasing trend of lobbyists abroad targeting Hasina — a trend that has gone unabated so far. Professionally, such trends merit an incisive neutralisation — and an early one at that.
It is imperative that any further inordinate delay will give leeway to the anti-India and anti-liberal forces — on both sides of the borders — who are constantly trying to drive a wedge between the growing friendship between India and Bangladesh. Indian and Bangladeshi intelligence outfits should pool in their technological and human intelligence resources to launch a proactive operation, that will muffle the designs of anti-liberal forces.
If both these countries could defeat the evil divisive forces 41 years ago in a joint action, there is no reason why a similar venture cannot be undertaken now to silence the ISI and its destructive plans trying to weaken our ties. An additional media and diplomatic blitzkrieg that takes our friendly allies into confidence will also look helpful to achieve this.